Kisawa Sanctuary aims to protect the Indian Ocean and its people
Kisawa Sanctuary, a 'resort-to-research' hotel, harnesses the power of luxury tourism to fund scientific projects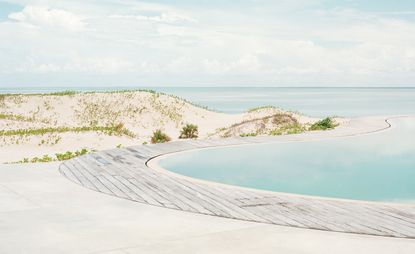 (Image credit: Kent Andreasen)
Mozambique, the emergent southeast African nation now home to Swiss entrepreneur Nina Flohr's Kisawa Sanctuary, is sometimes described as the pearl of the Indian Ocean in reference to its stunning 2,470km-long tropical coastline. Recognising this, Flohr has made the aquamarine waters surrounding Kisawa a strategic feature in her ambitious first development, a 'resort-to- research' venture on Benguerra Island, the second largest of six islands in the Bazaruto Archipelago in southern Mozambique.
Set amid pristine dunes on the southern tip of Benguerra, Kisawa is a blissful hideaway conceived and piloted to completion by Flohr's Dubai-based design studio NJF. The core of the resort is a collection of 11 one-, two- and three-bedroom residences, tactfully located out of view of one another. Each residential compound has its own open-air deck space with infinity pool and thatched kitchen and living room. Befitting its luxury pedigree, Kisawa offers fine dining at three dedicated sites, as well as a wellness centre with a menu of Ayurveda treatments and, uniquely in Africa, Iyashi Dôme infratherapy.
But it is the variety and profusion of marine life that is Kisawa's real draw. Large sea animals abound here, among them manta rays, hammerhead sharks, various turtles and dolphins, game fish like marlins and wahoos, as well as migratory humpback whales. Bazaruto is also home to the last viable dugong population in East Africa. One imperturbable member of this critically endangered species of sea mammal, a relative of tropical Atlantic manatees, has a reputation for foraging sea grass in the shallow waters off a neighbouring island.
Kisawa offers viewing expeditions aboard a sleek Axopar bay cruiser. The boat's route follows tidal channels used by the seafaring people that first settled on Benguerra in the late 19th century. Many of them still use traditional dhows to fish the fertile waters. Some of these locals have, however, opted to participate in Flohr's eco-tourist project (which pairs luxury hospitality with critical marine science) as butlers, servers, marine escorts, groundskeepers, activity guides and even entry-level scientists.
Dugong spotting is not a science, but rather a form of sightseeing. As an activity, it is also remarkably similar to terrestrial big game viewing in that it involves scanning an undifferentiated topography, here a glassy water mass, and hoping. 'There!' exclaimed a crewman after a period of our crisscrossing the same waters. He pointed to a dark form lazily gliding through the clear water. Eventually the elusive animal gracefully surfaced for air. With their downturned cleft snouts and crescent-shaped tails, dugongs are a bewildering marvel of natural design – think a walrus sutured to a mermaid. They are unlike any marine or terrestrial mammal one is likely to encounter in any of Africa's increasingly atomised wild places.
A former creative director of VistaJet (a private jet charter company founded by her father) and a seasoned traveller to Africa since her teens, Flohr is clear about the importance of Mozambique's submerged marine richness in her vision of integrating for-profit luxury hospitality with non-profit marine research. 'Africa has an abundance of safaris all over the continent,' explains Flohr, who first visited Mozambique in 2011. 'What interested me in Mozambique was that I could do something interesting from a hospitality and design point of view that incorporated marine wildlife and the ocean rather than a terrestrial landscape.'
Kisawa distinguishes itself from East Africa's growing number of luxury marine resorts (among them a neighbouring property, also on Benguerra Island, operated by safari group &Beyond) through its close partnership with the Bazaruto Centre for Scientific Studies (BCSS). A series of pitch- roofed wooden structures snugly embedded into the landscape on the northern end of the same island as Kisawa, BCSS is Africa's first permanent ocean observatory focused on multi-ecosystem research. Flohr established the marine observatory in 2017 as a precursor to her hospitality project. While it operates independently of Kisawa, BCSS is central to the resort's ocean-conscious ethos.
'We are trying to create a 21st century luxury understanding of nature and the environment, and how to live within it rather than against it,' says Flohr, who, since her 2020 wedding to a member of the non-reigning Greek royal family, has acquired the title Princess Nina of Greece and Denmark. 'This is something exciting and goes beyond the design of a hotel room or the sustainability management that you would see at most resort properties.'
Heading up BCSS is Dr Mario Lebrato, a Spaniard with expertise in oceanography, marine biology and ecology, chemistry and data management. His duties are split between defining the station's scientific agenda and its day-to-day management (BCSS employs 24 staff, including 16 islanders, five Mozambicans and three expatriates). Spending time on the water is the sweet spot of his professional responsibilities. BCSS's scientific activities are guided by four marine- specific themes: ecosystem monitoring, species identification and habitat mapping, fish population dynamics, and marine debris monitoring, notably involving plastics.
Marine observatories are not new in Mozambique. In the 1950s, a university in Johannesburg inaugurated a marine biology research station on Inhaca Island, near the capital Maputo. At nearby Tofo Beach, a tourism company operates an accredited field station involved in marine research. BCSS is different from these operations, as well as the new European Union-sponsored Odyssea maritime observatory near Tangier in Morocco, in its time-based focus on data collection linked to a defined territory. Equally novel is its open-source approach to sharing data related to its time-series monitoring of the Bazaruto Archipelago.
'We don't have the expertise to process everything,' says Lebrato, a keen surfer with a strong scientific publishing record. 'For instance, we have hydrophones to record process that data, but a collaborator analysed the sounds and found three whales that we have never seen here. BCSS was listed as a co-author, which is very unusual. Scientists are typically very guarded about their data and won't share it – but we do.'
Flohr is keen to underscore the regional implications of her non-traditional model of funding research. 'In an environment where science is usually funded on a grant-based basis, we have a platform where we can provide long-term science in a stable format to a team of scientists with the support of the hotel,' says Flohr. 'This enables international collaboration with other research platforms, but, most importantly, it enables us to provide data and information to the Mozambican government and NGOs with the idea of contributing to long-term conservation and better environmental information.' In the short time since Kisawa opened in November 2021, diving has emerged as the most popular activity with guests visiting BCSS. The dive tours are typically paired with three-dimensional seabed mapping exercises. Covering an enormous spatial radius (50km in any direction) and encompassing a number of offshore shoals, this expensive empirical activity falls beyond the capabilities of professional tour companies. Lebrato says participation in this activity by Kisawa guests establishes a direct link between the visual feedback of diving and the science of marine environmentalism.
Kisawa and BCSS are both located within a state-supervised national park on an inhabited island. This presented unique environmental, social and governance issues to the Kisawa project. The social concerns are self-evident on the unpaved roads between the lodge and marine observatory. They pass through the island's small pockets of residential settlement. Mozambique, which briefly adopted a socialist ideology after winning independence from Portugal in 1975, is one of the poorest countries in the world.
An important virtue of the overall Kisawa project, insists Flohr, is its reliance on local know-how. Kisawa took three years to complete. At one point, there were 1,500 labourers on site, many of them local. Flohr, a dedicated taskmaster by all accounts, visited the island every six weeks to supervise the project to completion. Kisawa is the product of various collaborations, with the likes of industrial designer Ivana Porfiri and architectural practices Menezes e Peral in Maputo and Plus Design Studio in LA, but also with local islanders. Cristiano 'Nelson' Machel supervised the rustic thatching of the residences and straw domes atop the wellness centre. The Chizungune family led the weaving on the interior sliding doors and ceiling panels in the residences, and members of the Zivane family helped carve the modernist chairs and tables from local jambir and sambiri woods.
The colour palette and choice of woods for the resort was strongly informed by local traditions. Flohr, whose design studio has just completed a luxury residential project in Kenya, says her eclectic approach to design is informed by her studies in art history at New York University. 'It is in my training to reference and research rigorously. I don't know any other way.' Her research was both technical and aesthetic. It involved sourcing building technologies like Surefoot, a concrete-free alternative to traditional piling and concrete slab foundations, and spending time in Johannesburg with Hartman's Woodcraft, whose joinery fulfilled her exacting residential standard for Kisawa.
In March, Kisawa lived up to its name ('unbreakable' in Tswa, the islanders' language, a reference to the bond between people and land) when it came through the longest and most intense tropical cyclone ever recorded worldwide. It was a marked win for a worldly resort that purposefully shuns the colonial-era modernism of architects such as Amâncio 'Pancho' Guedes. Not that Kisawa disavows earlier know-how. The large porthole windows in the beach- facing Main Terrace restaurant, which incidentally houses an exceptional wine collection, reference a circular motif from Jean Prouvé's prototype Maison Tropicale flatpack houses, designed between 1949-1951. Kisawa also acknowledges the unique Swahili culture linked to the maritime trade between Oman and Zanzibar, all the way down to Mozambique. 'We have created a modern dialogue that is multi-referenced and multilayered,' says Flohr. 'The idea of interpreting modern-day Mozambiqueconstantly came back as a stable pillar.'
kisawasanctuary.com, studionjf.com
A version of this story appears in the June 2023 Issue of Wallpaper*, available now in print, on the Wallpaper* app on Apple iOS, and to subscribers of Apple News +. Subscribe to Wallpaper* today
Sean O'Toole is writer, editor and curator based in Cape Town. He has published two books, most recently a 2021 monograph on the expressionist painter Irma Stern, as well as edited three volumes of cultural essays, including 'The Journey: New Positions on African Photography', which received a New York Times critics' pick for Best Art Books 2021. His exhibition projects include 'Photo book! Photo-book! Photobook!' at A4 Arts Foundation, Cape Town.