Artist's Palate: Jeppe Hein's 'Breathe with Me'
Take a moment to reflect with the Danish artist's meditative sharing platter: five South Asian dishes to soothe the mind and body, as featured in our monthly artist's recipe series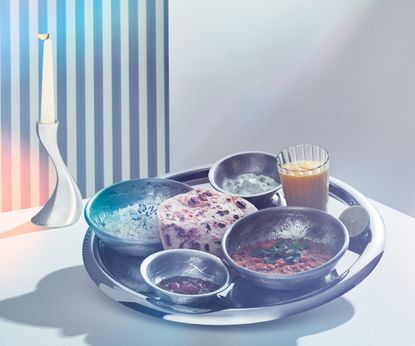 (Image credit: Baker & Evans)
A personal breakdown about ten years ago led Jeppe Hein to take up conscious breathing. What began as an exercise for balancing body and mind has since become an art form, firstly in his Breathing Watercolours series, where the Danish artist represents his breaths as vertical strokes of ultramarine blue paint on a white surface; and now in the 'Breathe with Me' movement, which invites people to join in the action and create a collaborative artwork, reminding participants 'to cooperate if we want to share this world together, today and in the future'. Hein has now given his project a culinary expression for Wallpaper*. His spiced dal, rice, chapati, vegetable raita, mango chutney and mango lassi are meant to be shared between ten people. Says the artist, 'The dishes bring everyone to the same table, giving us the opportunity for communication and making us aware of what unites us.'
'Breathe with Me' buffet (serves 10)
Please use organic products only
Spicy vegan dal with rice
250g whole, peeled red lentils
21/2 tsp coconut oil
21/2 onions, peeled and chopped
21/2 garlic cloves, peeled and chopped
625ml coconut milk
375g jasmine rice
21/2cm piece fresh ginger, peeled and chopped
21/2 tsp ground coriander
21/2 tsp turmeric powder
21/2 tsp garam masala
21/2 tsp Indian curry powder
21/2 tsp chilli powder
21/2 tsp roasted black sesame seeds
21/2 bunches of fresh coriander, chopped
lime slices
salt and pepper
Rinse the lentils. Heat the coconut oil in a pan and fry the onions until translucent. Add the garlic and lentils and deglaze with 375ml water and the coconut milk. Cook for about 12 minutes until the lentils are soft. In the meantime, cook the rice according to the packet instructions. Add the ginger and all the spices to the lentils, season with salt and pepper, then simmer for another 3-5 minutes. If necessary, add some more liquid (coconut milk or water). Fry the sesame seeds briefly in a pan. Arrange rice and dal on a plate. Garnish with sesame seeds and fresh coriander and serve with a slice of lime.
Roti chapati
800g ghee
1200g wheat flour
salt
Put the ghee, flour and a pinch of salt in a bowl with 640ml lukewarm water. Knead first with a kneading chopper, then with your hands. Cover and allow to rest for 30 minutes at room temperature. Cut the dough roll into slices and roll out smooth. Bake in a pan without fat.
RELATED STORY
Raita with vegetables
750g natural yoghurt
450g salad cucumber, peeled and cut into pieces
11/2 tsp ground cumin
11/2 tsp sugar
11/2 tsp paprika powder
3 tsp ground coriander
salt and pepper
Add a little water to the natural yoghurt and whip vigorously with a fork. Add the cucumber pieces, cumin, sugar, paprika, ground coriander, and salt and pepper to the yoghurt. Mix well.
Mango chutney
2 lemons, juice and zest
2kg mango
4 chillies
2 bay leaves
4 cardamom pods
1 tsp coriander seeds
2 tbsp Indian curry masala
1 tbsp black mustard seeds
1 tbsp turmeric powder
300g brown sugar
4 medium onions, peeled and chopped finely
100g fresh ginger, peeled and chopped finely
50ml peanut oil
100ml white wine vinegar
400ml clear apple juice
1 tbsp sea salt
Fill a large bowl with cold water and add the lemon juice. Wash, peel and halve the mango and remove the stone. Place the mango halves in the lemon water. In a pestle and mortar, grind the chillies, bay leaves and spices until the mixture has a fine consistency. Caramelise the sugar in a large saucepan set over a medium heat, watching it carefully so it doesn't turn darker than needed. Add the onions, ginger and peanut oil. Carefully add the spices and deglaze with the vinegar and apple juice. Allow the chutney base to reduce to half before adding the strained mango halves. Cover with a lid and simmer at a medium heat for 15 minutes, stirring occasionally. Transfer the hot mango chutney to sterilised jars.
Mango lassi
3 very ripe mangoes
500g natural yoghurt
Cut the juicy flesh off the mangos and place with any juices in a blender with the yoghurt. Blitz until smooth. Taste, adding a little honey, if needed. Serve immediately.
A version of this article originally featured in the May 2020 issue of Wallpaper* (W*254) – on newsstands now and available for free download here
INFORMATION
Hein's solo exhibition, 'Nothing is as it appears', is featured in the online viewing room of König Galerie here.
breathewithme.world
TF has been editor of Wallpaper* since December 2020. He is responsible for our monthly print magazine, planning, commissioning, editing and writing long-lead content across all our content pillars. He also plays a leading role in multi-channel editorial franchises, such as our annual Design Awards, Guest Editor takeovers and Next Generation series. He aims to create world-class, visually-driven content while championing diversity, international representation and social impact. TF joined Wallpaper* as an intern in January 2013, and served as its commissioning editor from 2017-20, winning a 30 under 30 New Talent Award from the Professional Publishers' Association. Born and raised in Hong Kong, he holds an undergraduate degree in history from Princeton University.
With contributions from