Popl wins Best Burger Bar: Wallpaper* Design Awards 2021
Designed by Danish architects Spacon & X, the new Popl in Copenhagen sees the world's most influential restaurant chart a more populist course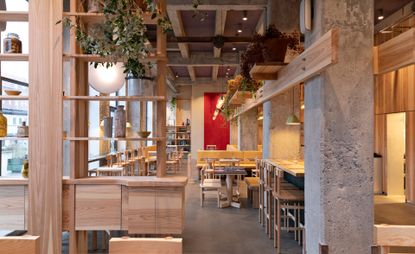 (Image credit: Bjørn Bertheussen)
In a year of stay-at-home orders and restaurant closures, the arrival of the Noma burger was an unexpected culinary highlight. In mid-May, as Denmark was emerging from its first lockdown, chef René Redzepi announced the opening on Instagram with an image of a beef patty and bun – photogenic and alluring, but certainly more neighbourhood fare than fine dining. 'Before we reopen Noma as we know it, we will transform into a no reservation, drop-in only, wine and burger bar,' he wrote. 'We feel in the first phase of the reopening that we want to be open for all. We need to heal, so let's have a glass and a burger, you're all invited.'

So began a month-long experiment that would mark a gear shift for the world's most celebrated restaurant. In a bid to draw Danes out of isolation and once again foster a sense of community, Redzepi and team set up outdoor seating in their Piet Oudolf-designed waterside garden and served up burgers and wine on every Thursday to Sunday. The pop-up was a roaring success, making Noma more of a household name than ever before.
The experience inspired them to find the Noma burger a permanent home, which opened earlier this month in the picturesque neighbourhood of Christianshavn, replacing the now defunct 108 (a sister restaurant of Noma that won critical acclaim but couldn't weather the economic downturn). Named Popl, after the Latin word 'populus' meaning community of people, it reflects their vision of 'a new place full of energy, open for all people, with a simple menu that has something for everyone.'

Though put together in just a few months – a short time for a restaurant group that is famed for attention to detail – every element of Popl has been carefully thought out. The playful graphic identity is by New York creative studio Gretel, which had 'Popl' set in a rounded sans serif with a colon in front, so the first 'P' resembled the tongue of an emoji licking its lips. The burger graphics are charmingly chunky and rendered in bright orange woodcuts, instantly evoking the craft that goes into every item on the menu.
Meanwhile, the interior and spatial design were entrusted to local architects Spacon & X. Redzepi was charmed by a ramen bar that they had designed a few years ago. 'He liked our honest expression with functional and raw materials, and that's why he thought us a good fit for an informal space,' recalls Spacon & X partner Malene Hvidt, who led the project.

Spacon & X envisioned a warm, friendly ambiance that would call to mind Japanese izakayas and American diners. From 108, they retained the exposed concrete pillars and brickwork that referenced the space's industrial past, as well as the terrazzo floor, but everything else would be custom-made, with plenty of help from manufacturing partner Holmris B8: wood panels on the main wall, with slatted areas that resemble abstracted burger ingredients; a 'plant bridge' suspended across the concrete pillars; the bar, service station, shelving and booth seating.
References to Denmark's four seasons abound: alongside the trailing fauna on the plant bridge, there's a colour palette of poppy red, moss green, a pale yellow that suggests spring blooms, and varying shades of wood. In a particularly inspired touch, the acoustic panels (a necessity, given the remarkable ceiling height) are made from dried and compressed meadow flowers, by Austrian surface experts organoid. 'It's a fascinating product visually; the closer you get, the more detail you see in it,' says Hvidt. 'Then you have the floral scent, which is just amazing. The reason why we looked for a material like this was because Noma has always embraced natural elements. It has an acoustic function, but works sensorially too.'

Local designer Jonas Edvard, who had previously created pendant lamps for Noma, created new pale yellow versions in seaweed for the bar area, while the strip lighting is encased in robust yellow glass tubes, hand blown at Ebeltoft-based Pustglas. Against the floor-to-ceiling windows are further disc-shaped pendant lights by Spacon & X – crafted in ricepaper, they emit an ethereal glow that adds to the sense of lightness within the space.
Most remarkably, Spacon & X managed to develop an original range of furniture within the tight time frame. 'It helped that we had an in-house carpenter who could create initial prototypes,' explains Hvidt. For the design development and manufacturing, they turned to Frankfurt-based furniture brand E15, collaborating virtually while it was not possible to travel back and forth. They created dining chairs and high chairs, with exposed joinery that emphasises their handmade nature; bistro tables with table tops of Richlite (a composite of recycled paper and bio resin), and semicircular dining tables that can be easily joined together to accommodate bigger groups. A valet stand, called the 'Butler', completes the ensemble, offering a convenient spot for guests to stash their coats and bags. All the pieces have been made in brown core ash, sourced from the Oldenwald forest and finished with a matt clear lacquer that accentuates the grain.

'At E15 we are always looking for straightforward designs, so this project came about very naturally,' enthuses the brand's managing director Philipp Mainzer.
The project involved every member of the Spacon & X team, a rarity for the 25-person practice. 'It was a joy to be able to come in with our holistic approach,' reflects Hvidt.
In the spirit of offering something for everyone, and following the example of the summer pop-up – the burger patties are not only available in organic Danish beef (from the shores of Wadden Sea National Park, where the animals keep the grass low to ensure a richer insect life that benefits the birds). There are vegetarian and vegan options too courtesy of Noma's fermentation lab, made of cooked quinoa that's been inoculated with tempeh spores and left to ferment overnight. Brushed with a glaze of yeast garum, fava bean shoyu and smoked vegan butter, there is flavour enough to win over the most ardent carnivore.
Also on the menu is a chewy cookie that comes apart gently, as showcased in a tantalising Instagram video. All of this is available for takeaway too, allowing Popl to continue operating when the Danish government recently ordered dine-in restaurants and bars to shut again in a bid to control the spread of Covid-19.

When Redzepi informed a friend that the Noma burger would be coming back, he was told, 'this is either the best idea in the world, or the worst'. Considering its pitch-perfect design, gastronomic offering and inclusive spirit, we're confident that Popl is the former.
INFORMATION
A version of this story will appear in the February 2021 issue of Wallpaper*, on newsstands from 7 January 2021. Subscribe now and save (opens in new tab)
Strandgade 108, Copenhagen, poplburger.com, @poplburger
TF Chan is a former editor of Wallpaper* (2020-23), where he was responsible for the monthly print magazine, planning, commissioning, editing and writing long-lead content across all pillars. He also played a leading role in multi-channel editorial franchises, such as Wallpaper's annual Design Awards, Guest Editor takeovers and Next Generation series. He aims to create world-class, visually-driven content while championing diversity, international representation and social impact. TF joined Wallpaper* as an intern in January 2013, and served as its commissioning editor from 2017-20, winning a 30 under 30 New Talent Award from the Professional Publishers' Association. Born and raised in Hong Kong, he holds an undergraduate degree in history from Princeton University.