Elevate your entertaining with these designer tablecloths
Turn the tables on drab dining with these exuberant designer tablecloths from London's Summerill & Bishop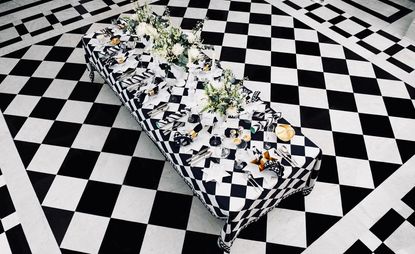 (Image credit: press)
Raise your entertaining game with extraordinary designer tablecloths by Summerill & Bishop – the brand that is on a mission to elevate tableware and the dining experience.
Unfurling one of these beauties instantly transforms the whole dining room, and lays down a base layer of elegance and luxury that turns any gathering into a special occasion. CEO and creative director Seb Bishop holds a firm belief that a beautifully presented table brings joy and inspiration.
'From our 27 years of "professionally" laying the table, we know that table-dressing not only heightens the enjoyment of your meal, but also extends the time spent at the table,' says Bishop. 'The kitchen table is the heart of the home, a place where you can sit with loved ones, mull over decisions, download anxieties, share your day and put the world to rights.'
Summerill & Bishop was founded by June Summerill and Bernadette Bishop, friends who first opened the doors to their shop in London's Holland Park in 1994 – a wonderful bazaar filled with fantastic objets trouvés from around the world. With a unique sense of style, and visionary from the start, the brand anticipated a growing appreciation for beautiful homeware, and was the first in London to stock Diptyque luxury candles and Astier de Villatte ceramics.
Seb Bishop took over after his mother, Bernadette, passed away in 2014. He confesses that he didn't really know what to do with the store, until one day in 2015, walking into the shop with the intention of winding it down, he was filled with a strong sense of his mother's presence, and determined then and there to keep Summerill & Bishop going.
With genuine passion and belief in the brand, he not only maintained its spirit, but brought it forward with new energy and ideas, and has produced a stunning collection of vibrant and dramatic table linen. Not simply a supporting cast – these unique tablecloths take a starring role, and bring mood and excitement to the table. The designs range from bold graphics to florals and intricate, colourful marbled patterns.
Summerill & Bishop regularly collaborates with creatives and celebrated institutions – and has created exclusive table linens with La Colombe d'Or, The River Café and most recently, to stunning effect, with Claridge's, with tablecloths that are an homage to the hotel's iconic art deco chequerboard lobby.
Whether in a hotel, restaurant, or your own kitchen, laying the table is an art form, and one that we can all aspire to. Starting with a beautiful designer tablecloth is an excellent first move.
INFORMATION
Melina Keays is the entertaining director of Wallpaper*. She has been part of the brand since the magazine's launch in 1996, and is responsible for entertaining content across the print and digital platforms, and for Wallpaper's creative agency Bespoke. A native Londoner, Melina takes inspiration from the whole spectrum of art and design – including film, literature, and fashion. Her work for the brand involves curating content, writing, and creative direction – conceiving luxury interior landscapes with a focus on food, drinks, and entertaining in all its forms