Studio Shamshiri gets a midcentury Hollywood Hills home ready for its close-up
French-Tunisian entrepreneur Franck Nataf enlisted designer Pamela Shamshiri to oversee a refresh of his jewel box Hollywood Hills house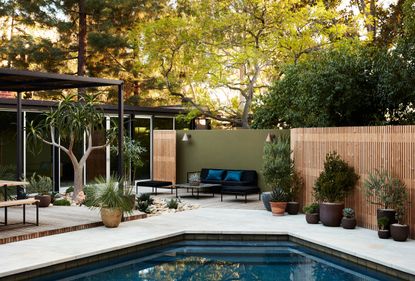 (Image credit: Stephen Kent Johnson)
Nestled in the verdant Hollywood Hills, shaded by lush foliage and giant palms, is Ledgewood, a single-storey, modestly sized 2,298 sq ft house. The 1961 building actually has a lot to shout about: its designer and initial owner was Robert Kennard, an associate of Richard Neutra and a leading Black architect of his generation. Not grand by Hollywood standards, this handsome jewel box of a property is situated in perhaps the least inconspicuous of locations – just below the Hollywood sign.

Six decades on, Ledgewood maintains a confident, graceful presence, thanks to two great creative minds: its current owner, French-Tunisian entrepreneur Franck Nataf, and designer Pamela Shamshiri. Nataf, the founder of LA-based Exquisite Surfaces (opens in new tab) (which has become design world shorthand for exemplary European and North African flooring and surfaces in stone, wood, terracotta and tile), bought the house in 2017 from Kennard's daughter, after a year of searching for the perfect property. Then in her sixties, the daughter had lived in the house since she was eight years old.

'She had kept it exactly as he intended,' says Nataf. 'She is also part of an architectural foundation that preserves midcentury architecture in the city, so she had a book of every receipt for every purchase made for the house.' Nataf's challenge was to treat the architecture with reverence and sensitivity while updating the house for contemporary life. 'I wanted to keep the essence, and I knew what I wanted eventually,' he says. But although he was seasoned in interior design, 'I didn't know how to get there right away.'
He appointed Shamshiri to redesign, renovate and restore the property. Considered California design royalty, Shamshiri is one of the most influential forces in American design today. A founder of Commune Design and a set designer in earlier years, the Iranian-Italian founded Studio Shamshiri with her brother Ramin in 2016 and has since designed homes for musician Paul McCartney, actor Anne Hathaway and comedian Seth Rogen, a flagship store for jeweller Irene Neuwirth, the Maison de la Luz hotel (opens in new tab) and more.

Wallpaper's US Editor Michael Reynolds has collaborated with Shamshiri extensively, and styled our shoot at Ledgewood. He affectionately describes her as 'a triple threat with a magnetic, rockstar personality. Firstly, she is beautiful. Secondly, she is nurturing and compassionate, with a maternal, salt-of-the-earth vibe. On top of all of that, she is incredibly talented with exquisite taste.'
'Pam was already a friend,' says Nataf, although the pair had never worked together on a personal project until Ledgewood. They first met years before, when Shamshiri was still at Commune, and in time they became each other's clients and collaborators. 'When I got the house, she was the first person I showed it to,' says Nataf. 'Her own place is close by and it just reminded me of her. She knows exactly this type of architecture and its challenges.'

By coincidence, Shamshiri had recently viewed the house for herself as she was also on the hunt. 'We were both going through life transitions, setting ourselves up for the next chapter. I love translating those life moments into interiors, because that's the purpose and point of a home,' says Shamshiri. 'I knew Franck needed something that was very indoor-outdoor, elegant and family-friendly, but really pretty slick. He is very stylish and he lives his life a certain way,' she says, reeling off a verbal tearsheet of inspirations including Craig Ellwood, James Bond, Tom Ford's A Single Man, and John Lautner (opens in new tab).

Having deftly restored many homes by prestigious architects, including Archibald Quincy Jones, Stanford White, Nigel Coates and Rudolph Schindler, Shamshiri knew the balancing act that was required. 'Buildings like this one have so much DNA in them and it can be overwhelming being a steward of one. I free myself up by thinking, "What would Robert Kennard have done if he were doing it now?"' says Shamshiri. 'The liberties we take tend to be with the kitchens and bathrooms, because we use those spaces so differently now, and the outdoors.' Updating the kitchen – 'the trickiest part of the house to resolve' – involved a major overhaul, relocating it from its former central location in the house and splitting it into two adjoining areas: one that discreetly houses appliances and a second, clean space with a large island and open vertical shelving.
Featuring Exquisite Surfaces' range throughout the house was a natural move, although the surfaces were utilised in a new light. 'I really wanted to show their materials in the context of California modernism, as opposed to the historical homes that you see them in more often,' says Shamshiri. Particularly inviting is the master bathroom, with its sunken soaking tub and steam shower that looks out onto the Hollywood Hills. Shamshiri suggested using traditional handmade Moroccan zellige tiles, which have a natural variation in colour that creates warmth, but cut unusually small, and stacked vertically to accentuate the geometry of the house. 'It was very laborious but Franck was game,' she laughs. Shamshiri pushed Nataf's comfort zone with colour; she chose to mirror the sultry, leafy exterior landscaping (opens in new tab) by local studio Terremoto with a deep turtle green used throughout the interior, from the lounge to the master bedroom, where it is complemented with a chestnut leather-panelled wall. 'Midcentury houses are generally not done with a lot of colour. I had to hold Franck's hand on that one, but he really did let go,' says Shamshiri.

'If it was anyone but Pam, I would be second guessing everything,' confides Nataf. 'I have a very strong opinion, but I trust her taste entirely. The only restriction was the budget! I'd say, "As long as it fits the budget, I'm good with whatever you want to do!"'

Pieces such as Poul Kjærholm wicker and metal lounge chairs, a Christopher Farr x Studio Shamshiri 'Tibetan Tantric' rug and vintage objects dress the rooms. Due to space constraints, each piece of furniture was specifically sourced for a set position.
Consistent with Studio Shamshiri's ethos, conscientiously selecting and responsibly sourcing materials was important. 'All the cabinetry was made locally, primarily oiled and using low-VOC sealers,' says Shamshiri. 'The stone did come from far away, as everything for Exquisite Surfaces comes from Europe, but the zellige tiles use the oldest of production techniques and we wanted to support the original artisans doing that.' Respect for the natural world plays directly into design elements, too. 'You enter the house on the axis of its long hallway, the life thread of the house, and we replaced all the glass on the left and opened up the hallway as much as possible to the outside, so as you're travelling linearly up and down the house, there is always a garden on one side,' says Shamshiri.

'I feel like I'm suspended in a tranquil tree house when I'm sitting in the living room, with the green walls hitting the green leaves outside,' says Nataf. 'The entire house is very Zen and meditative; you feel very calm there. The past year, little by little I have been noticing how all these considerations work perfectly.' The renovations concluded just before the world ground to a halt in early 2020 due to the pandemic. 'Before the pandemic, I barely spent any time in the house as I am a big traveller, often spending time in New York and Paris. But it quickly became my sanctuary,' says Nataf.

'Franck called me right away when Covid happened and he was so happy to be nesting there,' says Shamshiri. 'I was thinking about how efficient his space is, there isn't a wasted corner, and it feels spacious and appropriate. There is no excess but it feels luxurious. I love that and I want to carry that forward and encourage people to live that way.
INFORMATION
studioshamshiri.com (opens in new tab)
xsurfaces.com (opens in new tab)
Tilly is a British writer, editor and digital consultant based in New York, covering luxury fashion, jewellery, design, culture, art, travel, wellness and more. An alumna of Central Saint Martins, she is Contributing Editor for Wallpaper* and has interviewed a cross section of design legends including Sir David Adjaye, Samuel Ross, Pamela Shamshiri and Piet Oudolf for the magazine.
With contributions from