On the tiles: a force in American interiors celebrates its 20th birthday in style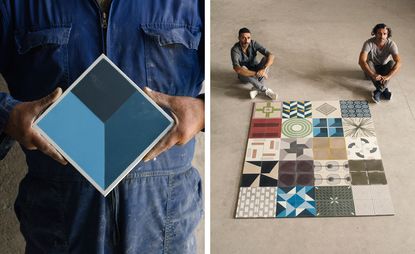 (Image credit: Mark Hartman)
Half an hour outside the city of Fez, in the rafters of a rural Moroccan factory, sits a wizened old man who has been making metal moulds by hand for 50 years. In time, the moulds will have coloured liquid cement poured into them, before being packed with coarser cement, then compressed, popped out and dried. The resulting tiles will be shipped all over Europe, the United States and as far away as Australia. Stateside, they will arrive in the six showrooms of Exquisite Surfaces, a company that has been providing American interiors with stone, wood, cement and ceramic tiles from around the world for 20 years.

Like many of the best stories in business and design, Exquisite Surfaces has a family at its heart. The Natafs consist of matriarch Paula and her two sons Franck and Alexis. Paula grew up in Tunisia before moving to France and then to LA, where she established the company with her sons. She now splits her time between LA and Paris with a more low-key role in Exquisite Surfaces, while Franck and Alexis man the business full time from LA and New York respectively. Today, the three are together in Morocco to put the finishing touches on a special project.

In celebration of the brand's 20th anniversary, they invited 20 designers from across the US to create an 8x8in cement tile, a project they have called E/S 20. It's an eclectic group, drawn from different areas of the design world: from Lisa Eisner and Kelly Lamb to Suzanne Tick, Michelle Nussbaumer and Jamie Bush. That the Natafs have managed to corral such a talented team is testament to the company's reputation, one it took time and effort to build.
'When I started by myself in 1997, it was hard,' Paula admits. Shipping stone across the Atlantic is a heavy business, and not risk-free. 'I had a small showroom, and we sold straight from the container that was out the back. I had an actress come in and ask if I could make a table of tile mosaic. I made it by hand myself, using epoxy, which I didn't realise I was allergic to and my face swelled up horribly. Thankfully, she became a very good client and a friend, too.' Alexis started helping his mother for $9 an hour, and Franck joined to look after operations not long after.

Here lies the secret to the Natafs' success: building relationships. 'We care, it's as simple as that,' says Alexis. 'We have always provided strong, personalized customer service and people respond to this. They come back to us, they tell others.'

Paula adds, 'We've always connected with people; my kids used to think it was because of the accent [still reassuringly French], but I think it's because we tell them the truth. They know what they are getting and we don't sell them bullshit.'

If relationships with clients are key, so too are those with suppliers. This is a competitive market – not just in pricing, but in sourcing the very best, the most interesting and getting it from A to B. Logistics is not the sexiest side of design, but in the world of materials, it's everything. And relationships make it happen. Moroccan operations are overseen by Gilles (the family is reluctant to reveal Gilles' full identity, fearing he will be poached), who has worked with the Natafs for 12 years since Paula bumped into him in the aisle of a trade fair in Paris. 'She is spontaneous, loyal and demanding,' he says with a smile. Gilles has a healthy combination of love and fear for Paula, which translates into loyalty and deep respect. He is part of the family – Alexis and Gilles talk like brothers.

There is another component in the success story of Exquisite Surfaces, and that's a genuine passion for materials. 'We were dragged on sourcing holidays by our mum, so I guess it's in our blood,' says Franck.
Paula tells stories of finding aged limestone and knowing there was nothing else like it in LA, and that it would be a hit. She discovered a weathered blue oak table in the home of a dealer in Belgium and spotted an opportunity to move tastes on from sanded walnut flooring. Blue oak, as it happens, is native to California. Sales went up 30 per cent that year. 'Oh, and I bought 30 French fireplaces, too,' she adds. 'The Beckhams shipped one back across the Atlantic.'

It's thanks to Paula's tenacity and intuition that Exquisite Surfaces has, in 20 years, had a quietly significant impact on interior design in the US, first on the West Coast and now across the country (its seventh showroom opens in Miami in December). A collaboration with LA-based design studio Commune, on store design and with a tile range, has only increased Exquisite Surfaces' cachet. Commune designed Paula's Paris apartment, too.

The family's love for materials resulted last year in an initiative called Choose to Reuse. More than just a mission to raise awareness of reclaimed materials, it's a research and education initiative to properly embed an understanding of how salvaged materials can be used in the construction industry. Five per cent of all sales from the E/S 20 collection will go to supporting Choose to Reuse. 'Materials are too precious to only have one life,' says Alexis.

'There's an honesty in materials,' adds Paula. 'I was recently in the store of a well-known diamond seller in Paris and they had a wood veneer floor. There's something wrong when you're selling diamonds and you don't have a real wood floor. You have coffee shops that spend more money on creating an atmosphere with their materials. So I told them.' It's not just materials that have honesty at their core.

As originally featured in the December 2017 issue of Wallpaper* (W*225)
INFORMATION
E/S 20 tiles, $27.50 per sq ft, by Exquisite Surfaces. For more information, visit the Exquisite Surfaces website (opens in new tab)