Five unique tables up for auction by &Tradition and Bruun Rasmussen
&Tradition and Bruun Rasmussen present Studies of a Table, featuring designers from five countries exploring design approaches to the table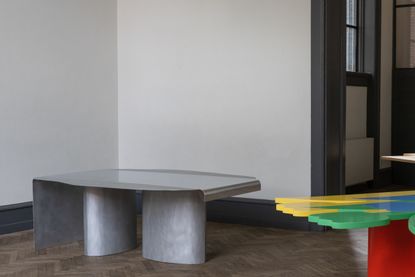 (Image credit: andtradition.com)
Lasting memories of design weeks past often involve a convivial experience around a table outside of the main event set-pieces or shows. Those unscripted moments when people of like minds from all over the world come together over a shared passion for design.
With that in mind, &Tradition made tables the main game for a hybrid art-design exhibition, 'Studies of a Table', originally unveiled during 3 Days of Design 2022 and now presented in collaboration with Danish auction house Bruun Rasmussen. Now on view at Lindencrones Palæ, the designs will be sold at an online auction on 25 October with the proceeds going to charities chosen by the designers, supporting the arts, creativity, and entrepreneurship. These include Hand in Hand International (London), People's Archive of Rural India, Jacques Buys ScHULPture Academy NPC (Stellenbosch, South Aftica), Noguchi Foundation (Japan) and Free Arts (California).
With that in mind, &Tradition made tables the main game for a hybrid art-design exhibition, 'Studies of a Table', during 3 Days of Design 2022. And not just any tables, but five created by studios and designers from five different countries to push the boundaries of what is considered archetypal as well as express something about their origin, through using local materials, techniques and artisans. Logistical achievements aside – one table weighing 600kg was shipped to Denmark from India – the tables became the medium for cross-cultural, cross-disciplinary exchanges.
'Everything happens and evolves around the dining table – stories are told, strong thrusts shaped, relationships deepen or vanish, and in the centre, a table cloth with food and wine,' say Tanja Vibe and Petra Olsson Gendt of Copenhagen-based All the Way to Paris of their 'Table Cloth' table.
A departure from the Danish wood tradition, the table is made of aluminium, a material Vibe says she's always wanted to work with. The table uses aluminium in two states, unpolished for the table form and highly polished for the 'cloth', somewhat askew to evoke the aftermath of the dinner party, says Vibe.
The only wooden table is 'Éclair' (from the French word for lightning) by Teruhiro Yanagihara, who used Japanese chestnut from an anonymous old-growth forest in Hiroshima. Chestnut is considered a waste material and Yanagihara wants people to reconsider its potential as 'another forgotten beautiful Japanese wood'.
He also employed a master craftsman to make the table in the Sashimono technique using neither glue nor nails, but instead making complex wooden joints carved out with simple chisels and planers.
With their 'Don't be a Square' table, father and son enterprise Stellenbosch Art Foundry wanted to upend the hierarchy of how people sit around a table and invite us to think outside the box.
Through a Tetris of stainless steel, aluminium and bronze cubes in vivid tones under a glass tabletop, the table represents South Africa's 11 languages, diverse culture and heritage as well as being a symbol for a global discourse.
Los Angeles-based artist and designer Luc Fuller, who practises under the name of Spiritual Objects, wanted to use colour and form as the primary expression and also make something that felt 'sweet and optimistic'. His 'Tulip' table is made from laminated marine plywood, cut into shapes like a child's wooden jigsaw puzzle, painted bright blue, green, yellow and red.
'Tulips for me are a very special flower and a table, of course, is already a special object that is very human. It's both a communal space to share a meal, a conversation, or a solitary surface to work, write, think and draw,' says Fuller.
Naming the 'Khokhar' table after a small village neighbouring their studio in Rajasthan, Studio Raw Material's Priyanka Sharma and Dushyant Bansal used waste fragments of Dune Yellow marble found in the desert plains of western India.
The fragments, collected from construction sites, were preserved in their original form but combined to form a harmonious whole. In this way the table celebrates the ideas and acts of gathering, a theme manifested on Thursday evening when the designers and kindred spirits came together around their tables.
INFORMATION
The tables are on display at Lindencrones Palæ, Bredgade 26, 1260 København, Denmark. Bidding is available until 7PM CET, 25 October 2022, via bruun-rasmussen.dk
andtradition.com (opens in new tab)