Danish design brands contemplate work-life balance
Denmark's annual design event, 3 Days of Design, focussed on slowing down fast living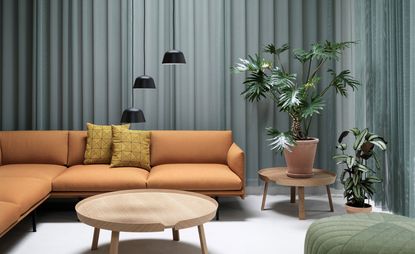 (Image credit: Muuto)
'As we look to the future of design, we should consider that a balanced lifestyle sometimes means living where we work, and working where we live,' said Rolf Hay, co-founder and creative director of furniture brand Hay on its 3 Days of Design showcase. Many of the displays during the fifth edition of the fair followed this philosophy. New launches, installations and exhibitions melded experiences and geared towards how we can slow down in our overzealous lifestyles.

Inside 1751 Lindencrone Mansion, Hay displayed its new wares (the Danish brand participate in Salone del Mobile every other year) and curated a homely environment, that is also felt at the Hay House flagship nearby. Using launches like a perforated iron bin and Bernard chair by Shane Schneck, they created scenes that could be for either work or play – shelving was filled with both dining and office accessories, while new lighting by Ana Kraš lined up above a long Palissade table for working lunches in the the elegant 18th-century palace.

At its HQ, Muuto invited guests into a newly expanded space that celebrates its refined universe that has transformed from a 'start up' of 28 people to a 90-strong office in the past six years. This growth pours out into the 1400 sq m space that encompass its warm aesthetic through mise-en-scènes of its collections, sensually divided by sheer curtains. Co-working reaches a highpoint on the roof where the brands biggest moment of the year, its first outdoor collection, basked in Danish sunlight.
A similar warmth was felt at Montana, this time through colour. The brand appointed designer Margrethe Odgaard for a new palette of 30 hues (they refresh these every eight years), with its roots at the grey tone scaler from the previous palette. 'This has been interesting in terms of creating a full palette not only the colour in the surface, and express some level of materiality.' The textured tones range from a rich yellow titled 'Cumin' to muted 'Flint' that was inspired by 1950s architecture. Odgaard's vibrant vision extended to Kvadrat's Erwan and Ronan Bouroullec-designed Nordhavn showroom too, where she developed a layered installation from her textiles.

We were invited to slow the pace at Frama's transformative space. Known for its showroom reinventions, for this edition, they turned to London-based Louisa Grey who turned up her minimalist tune for an exhibition inspired by the senses. 'We live in a world where overstimulation from the daily routine, online interactions, consumerism and a shortage of time – let alone down time, has become evidently depleting.' Inside its apothecary space dating back to 1878, they offered areas for repose, from a scent room (featuring Frama's latest smell) and a place for nourishment, to a retreat, where the team realised a wooden Japanese bath and enhanced the meditative aura using stones sourced from local quarries.
The melding of Japanese and Danish design ideologies was embraced at the launch of a new sub brand to Karimoku, Case Studies, that joins its catalogue of Karimoku New Standard and Karimoku Kunst. A collaboration between Norm Architects and Keiji Ashizawa Design, this collection grew from furniture pieces made for an interior collaboration of 36 Kinuta Terrace apartments in Tokyo. The range of minimalist wooden pieces were set on an organic backdrop at Kinfolk gallery full of earthy tones and including woven wood artworks by Sara Martinsen on the chalky walls.

While only a five year old event, many brands geared showroom openings towards the 3 Days of Design dates, with knowledge that international press would be cluttering the city streets. Two poignant ones were Studio X Viaduct and The Audo. The former saw the design agency (that collaborates with London-based showroom Viaduct) pair up with E15 and new brand Mazo Design for an opening exhibition that intended to create an atmosphere of ease in its showroom in modernist complex Dronningegården. Bauhaus-inspired brand Mazo Design showcased reissues of seating by Danish architect Magnus Læssøe Stephensen wrapped in Christopher Farr's Anni Albers print upholstery, while a pop-up of Valerie Objects' finest wares took up the basement space.

This was an understated opening compared to The Audo – the latest brainchild of Menu which is a medley of its new HQ, a concept store, co-working space, restaurant and hotel in Nordhavn. The one-stop-shop, a project that includes creative minds Nathan Williams from Kinfolk and Norm Architects, unified a week of fusing worlds as it hopes to evolve and grow as a creative hub.
INFORMATION
For more information, visit the 3 Days of Design website (opens in new tab)