3 Days of Design 2022: best of Danish design, and more
Explore the best new spaces and furniture launches from Danish and international brands and designers at Copenhagen's 3 Days of Design 2022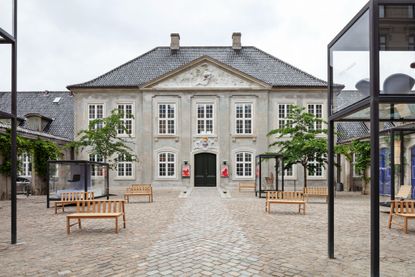 (Image credit: press)
Copenhagen's 3 Days of Design (15 – 17 June) has returned with a city-wide showcase of innovative designs, furniture design classics, latest launches as well as new spaces that explore new approaches to our interiors. Discover our highlights from the three-day design festival.
3 Days of Design 2022: the Wallpaper* highlights
'Shaped by Silver' by Spacon & X for Georg Jensen
Georg Jensen celebrates its silver icons with a special installation by Copenhagen-based design and architecture studio Spacon & X. Titled 'Shaped by Silver', the exhibition includes pieces by Verner Panton and Henning Koppel, as well as the most recent launch of vases by Nendo. 'Shaped by Silver honours the craft that lies at the heart of all we do,' says Georg Jensen Creative Director, Ragnar Hjartarson. 'The art of silversmithing and the centuries-old craft behind it have informed our design for decades, leading up to our new collaboration with the great Japanese studio Nendo.' The space features a multisensory design characterized by a dramatic silver wall at the store's entrance, continuing upstairs with a display of the silver icons.
Amagertorv 4
georgjensen.com
'Companion' by Raawii with Tableau
Nicholai Wiig-Hansen and Julius Værnes Iversen (respectively of Raawii and Tableau) have been collaborating for the past six months, and at 3 Days of Design present their ongoing experiment, 'Sketchy', with a glass piece created with the Holmegaard Factory. Shown at the Copenhagen Polestar showroom, their further joint project, 'Companion', features decorative objects referencing the botanical world.
Kristen Bernikows Gade 3
raawii.eu
Hay House
Always a must-visit when in Copenhagen, Hay's four-storeys in town present a series of new collaborations, from tableware and table linens by Laila Gohar to cabinets in 'organically dyed Valchromat and glass by Muller Van Severen (above), tables and shelving by Studio Bouroullec as well as lighting pieces addressing a variety of domsetic uses.
Østergade 61, 2
hay.dk
'Studies of a Table' by &Tradition
At Apollo Kantine, &Tradition presents 'Studies of a Table' – a hybrid art-design exhibition in collaboration with five designers and design studios from across the globe, who will push the boundaries of what is traditionally considered to be the archetypal table. The designers taking part are: Studio Raw Material (India), Teruhiro Yanagihara (Japan), Luc Fuller (LA), Stellenbosch Art Foundry (South Africa), and All The Way to Paris (Denmark). These masterly designs will be spread out across three floors, allowing us to truly take in each varied piece.
Apollo Kantine, Nyhavn 2
andtradition.com
'Confessions' by Tableau
After debuting the show at Alcova during Milan Design Week 2022, Tableau brings to Copenhagen 'Confessions', an exhibition with Post Service addressing men's mental health. Featuring commissioned work by 14 male artists, designers and architects, the show reflects on toxic masculinity, vulnerability and mental health through furniture, installations and objects.
Jens Kofods Gade 1, 4th Floor
tableau-cph.com
Fritz Hansen Pavilion at Designmuseum Danmark
For 3 Days of Design, Fritz Hansen takes over the garden of the Designmuseum Danmark (set to reopen on 19 June after a two-year restoration), joining forces with architecture firm Henning Larsen to create a specially designed pavilion in conversation with the leafy surroundings and a soundscape curated by Bang & Olufsen. Designed with a distinctively Nordic approach with particular attention to daylight and natural materials, the pavilion is a celebration of Fritz Hansen's 150th anniversary and a fitting example of the sustainable design thinking shared by the company and the architecture practice.
Designmuseum Denmark, Bredgade 68, 1260 Copenhagen
fritzhansen.com
Vipp Garage
At the newly opened Vipp Garage, interior stylist Julie Cloos Mølsgaard has commissioned artists Pettersen & Hein and Alexander Kirkeby to create artworks for a supper club table setting. A medley of music, design, art and food will be held in this cultural hub, including a public unveiling of Mathias Malling Mortensen's mural and a range of carefully curated installations. Vipp's outdoor collection is also being previewed on site, while the brand's journal is launched, chronicling Vipp's design tales.

Snorresgade 22, Copenhagen
vipp.com
Hans Bølling and Brdr Krüger
Nonagenarian Danish designer Hans Bølling presents a new trio of pieces; a stool, a lounge chair and a coffee table. Bølling's work is a product of collaboration with Brdr Krüger and AHEC, in which they were inspired by the 1964 design of the wooden 'Tray' table. Pinpointed as his proudest achievement, this early design was deemed a work of simple genius, with its reversible trays and collapsible frame, combining design with practicality. Bolling's geometric rigour and timeless style signals a promising new collection, which you should not miss.
Bredgade 28
brdr-kruger.com
'Co/Work' by Karakter
The interplay between home and work is the focus of Karakter's 'Co/Work', an exhibition at the company's Frederiksgade showroom presenting furniture and lighting by the likes of Gijs Bakker, Achille Castiglioni, Aldo Bakker, Michael Anastassiades and Joe Colombo. Styled by Pernille Vest, the space is a sophisticated merging of domesticity with workspace, each object performing multiple functions.
Frederiksgade 1, 2nd Floor
karakter-copenhagen.com
'Ta-ke' and 'Relay' by Michael Anastassiades
In collaboration with Anker & Co, Michael Anastassiades reveals new lighting from his own Unlimited Collection. The 'Ta-ke' and 'Relay' are the development of a lighting design language Anastassiades has been evolving for a few years, featuring a linear borosilicate LED bulb giving off all-round illumination, combined with a stone base ('Relay') or fastened to a composition of bamboo elements ('Ta-ke').
Smedjen (Pakhus 11)
michaelanastassiades.com
'Sui' by Raw-Edges for +Halle
Designers Yael Mer and Shay Alkalay of London-based design studio Raw-Edges have created this armchair for +Halle, inspired by 'the dynamic nature of production in public spaces'. A hybrid furniture piece, the armchair features a swivel and is defined by a niche-like platform doubling as a desk, expanding its function from the domestic realm into the workspace. Say the designers: 'When [the user is] seated, every aspect of the object evokes free movement, with refined yet generous angles, opening for a wide welcome yet private sphere.'
Kattesundet 4,1
plushalle.com