Men's mental health takes centre stage at an art and design exhibition by Tableau
'Confessions', which travels to Copenhagen's 3 Days of Design following its debut at Milan Design Week 2022, features commissioned work by 14 male artists, designers and architects, reflecting on toxic masculinity, vulnerability and mental health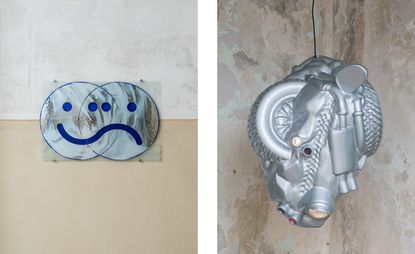 (Image credit: Photography: Piercarlo Quecchia and DSL Studio)
In spite of increasing public awareness of mental health in recent years, many men still suffer in silence – this is a problem that multidisciplinary design studio Tableau has gamely taken on in a new exhibition, 'Confessions', which debuted during Milan Design Week 2022 and will travel to the studio's hometown of Copenhagen for 3 Days of Design (15 – 17 June 2022).

As Tableau creative director Julius Værnes Iversen explains, the aim of the exhibition is to create 'an open-minded space'. He has invited 14 male participants to articulate their anxieties through commissioned pieces: 'All artists, designers and architects have been asked to create a piece which shows vulnerability, something they've been struggling with or something they thought about when thinking about their own mental health.'
The day bed – a piece of furniture that calls to mind a psychotherapist's office – was the starting point for Rotterdam-based architect Paul Cournet, who presents a reinterpretation of Mies van der Rohe's 1930 'Barcelona' day bed.

His version uses a second-hand frame – its original horizontal straps replaced with silver-coated ones (courtesy of Dutch manufacturer Ecco Leather) – supporting a mattress and headrest, both filled with recycled tennis ball foam underneath a silver coating made from waste from the metal industry. It's a piece that encourages the visitor to lie down and release their inhibitions, explains Iversen.
Nearby, a mirror by Austrian designer Laurids Gallée, depicting a monkey clutching at a blanket (like a matador with his cape), has a similarly silvery sheen. Closer inspection reveals that it is made from chrome resin – Gallée applied the resin drip by drip into small patches to create the desired pattern, which is inspired by his reflection of not being very good at receiving help from others.

Cars, which are often associated with masculinity, are unsurprisingly the subject of multiple confessions: struck by the way many men purchase muscle cars by way of papering over their insecurities, Copenhagen-based artist Jacob Egeberg devised a chandelier that resembles car parts crumpled into the shape of a human heart, with the sharp glare of headlights softened into a gently pulsating glow – a reminder to measure one's worth by emotional capacity rather than material possessions. Despite its industrial appearance, 'Fast as Lightning' (as it is titled) was in fact hand-carved out of styrofoam, to create a precise form that couldn't be achieved by CNC-cutting.
The word 'car' is likewise emblazoned in red on the seat of an exercise bench by fellow Copenhagener Kevin Josias, titled 'Spinebender_x_fatigue'. Upholstered in an imprinted leather that mimics snakeskin, the bench is a critique of gym culture as fetish: 'He feels that going to the gym is like going into a sex club, because it gives him the same social anxiety,' explains Iversen.

The use of text is even more poignant in Dutch designer Willem van Hooff's ceramic vessel, on which he has scrawled the words 'I didn't do enough'. It's an eye-catching, heart-wrenching piece that nonetheless offered its creator a sense of catharsis. 'Why do we as humans doubt ourselves? Why is it never good enough? [...] As a maker I hear this voice when a creation is finished, when people can criticise my work,' van Hooff reflects. 'For me this trophy is a celebration of the moment I accepted that little demon in the back of my head.'
The same celebratory spirit is present in Belgian designer Arnaud Eubelen's lounger. Eubelen creates his work exclusively out of salvaged materials, and this contribution to 'Confessions' is no exception: the combination of the metal frame, corrugated plastic seat, wooden armrest and upholstered headrest, all rescued from a dump yard outside Brussels, suggests the possibility of rescue and repair; and visitors to the exhibition are invited to sit and put on the accompanying pair of headphones, which play a transporting electronic soundtrack, composed in collaboration with musician Cédric Elisabeth.
Elisabeth has additionally created the background music for the exhibition, imbuing the visually dynamic space with tranquillity and calm.

'Confessions' responds beautifully to its exhibition venues. The Milan debut took place at Alcova – a former military hospital, while the Copenhagen iteration will take place at Post Service, a clinic dedicated to mental health, grief and mindfulness (for which Tableau did the interior design in 2021).
In its confrontation of toxic masculinity, 'Confessions' echoes Tableau's origins in the world of floral design, which for a long time was considered an exclusively feminine domain and therefore not accorded the same value as other artistic expressions.

The exhibition is an important instrument for changing hearts and minds, and ultimately, Iversen hopes it can also nurture more inclusive attitudes towards LGBTQ communities and other minorities.
INFORMATION
'Confessions', presented by Tableau and Post Service, is at Post Service, Copenhagen during 3 Days of Design, 15 – 17 June, confessnow.cc, tableau-cph.com
ADDRESS
Jens Kofods Gade 1, 4th Floor
1268 Copenhagen K
Denmark
Receive our daily digest of inspiration, escapism and design stories from around the world direct to your inbox
TF Chan is a former editor of Wallpaper* (2020-23), where he was responsible for the monthly print magazine, planning, commissioning, editing and writing long-lead content across all pillars. He also played a leading role in multi-channel editorial franchises, such as Wallpaper's annual Design Awards, Guest Editor takeovers and Next Generation series. He aims to create world-class, visually-driven content while championing diversity, international representation and social impact. TF joined Wallpaper* as an intern in January 2013, and served as its commissioning editor from 2017-20, winning a 30 under 30 New Talent Award from the Professional Publishers' Association. Born and raised in Hong Kong, he holds an undergraduate degree in history from Princeton University.