Danish studio Tableau takes flower arranging into uncharted waters
We talk to Tableau Copenhagen founder Julius Værnes Iversen on the studio's evolution from flower shop to fully-fledged design operation and its collaboration with artists, designers and design brands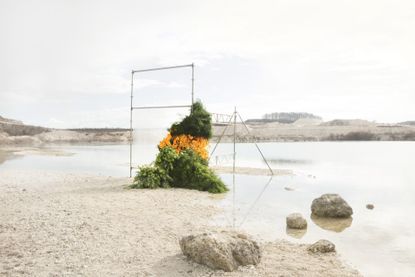 (Image credit: Irina Boersma César Machado)
Once home to prehistoric sharks, crocodiles and an expansive coral reef, the Faxe Kalkbrud limestone quarry, in eastern Denmark, is today distinguished by its pristine pools, unclouded by plankton and mirroring the hues of the chalk cliffs and skies above. Floral designer Julius Værnes Iversen chose the quarry as the backdrop for the images in this story, playing off his vivid blooms and avant garde design pieces against the quarry's primordial, earthy features.

Iversen is the founder of Tableau, a Copenhagen-based multidisciplinary design studio that uses flowers as its primary medium and thrives on material contrasts. His concept store, in a 19th-century building on the upscale Store Kongensgade, was designed by local architect David Thulstrup and defies every stereotype of a luxury florist (opens in new tab). The ceiling and walls are stripped back to reveal weathered concrete, podiums are made from architectural materials such as terrazzo, glass bricks and perforated metal, and there's a vinyl floor underfoot, in an electric, almost Yves Klein blue that has become Tableau's signature.

The floral arrangements are equally eccentric: soon after its establishment, the studio found viral success with a series of monumental gypsophila clouds; other installations have featured bundles of exotic blooms interspersed with humbler varieties such as reindeer moss and asparagus fern, often in bright block colours, and arranged on scaffolding. Bouquets are an exuberant juxtaposition of natural and dyed flowers.
Considering Tableau's innovative spirit, it may come as a surprise that Iversen's background in flowers is as traditional as it gets. He joined his family's more conventional chain of flower shops, Blomster Bjarne, two decades ago, at the age of 12. He later became its accountant, before taking over the reins alongside his brother Magnus in 2015, following the death of their father. But Iversen yearned for an additional creative outlet, a platform that would allow him to reconcile his passion for art and design with his floral expertise. Already he was gaining recognition for 'odd-looking flower installations' created under his own name for Danish fashion houses. With Tableau, he could push the boundaries of what can be done with flowers.
The opening of the store presented the opportunity to launch a series of product collaborations, bringing together floral inspiration and an alluringly industrial aesthetic. First came a team-up with local interiors brand Ikon for a series of rectilinear vessels made from square ceramic tiles, with a removable water container to ensure functionality. With the Carrara-based Bloc Studios, Tableau transformed marble offcuts into floral displays: the marble is roughly cut on the outside to preserve its raw beauty, while cylindrical cavities allow the insertion of brushed steel pipes sealed on one end – the original collaboration in 2019 put Tableau on the international design map, a second series was released earlier this year, and the two studios now have plans for a full collection of tableware.
With time and recognition has come more room to experiment. A new collection of 12 vases (opens in new tab) with textile designers (opens in new tab) Röd Studio, titled 'Cornucopia', sees brushed steel pipes contrasted with handtufted wool sleeves featuring unusual colour combinations and outlandish details, including horsehair skirts and threads sprouting from artificial pearls. The concept may sound garish, but in practice the collection is inviting to the touch and has an idiosyncratic elegance, accentuated by a campaign shoot at Denmark's oldest patisserie, Conditori La Glace, whose sweet treats inspired the titles of the individual pieces.
RELATED STORY
Iversen's daring design approach, alongside high-profile installations commissioned by the likes of Normann Copenhagen, Christian Louboutin and Georg Jensen, as well as a 2020 Wallpaper* Design Award (opens in new tab), have meant a surge in requests for collaboration. Most recently, he has worked with Laurids Gallée, an Austrian graduate of Design Academy Eindhoven, on a collection of resin pots, and there's also been a series of wall hangings with textile brand Arne Aksel – one features a close-up shot of hydrangeas overlaid with bubble wrap that is printed on sateen and inserted into a ready-made stainless steel frame, putting a strikingly contemporary spin on a flower species that Danes often associate with their grandmothers. Up next and previewed exclusively in this shoot is the 'Sit on It' stool, by architect Poul Høilund, with a seat in Tableau's electric blue (available either in oak, patinated by joinery workshop Brdr Krüger, or mink, courtesy of furrier Mikkel Schou) and supported by a trio of brushed stainless steel cylinders, as well as a rug (opens in new tab), in collaboration with Stockholm's Nordic Knots.
Iversen is proud of the enthusiastic reception that Tableau has found among an elite clientele, and rightly so. But he's equally keen on democratising its output. Rotating art and design exhibitions at the store, which are free to enter and continued throughout lockdown because of Tableau's categorisation as a flower shop, offered much-needed creative nourishment for Copenhageners denied trips to galleries.
Recent headliners include whimsically shaped wooden shelves (opens in new tab) and podiums by furniture designer Anne Brandhøj, and ceramics (opens in new tab) by Norwegian-Danish duo Pettersen & Hein, inspired by a superbloom, a rare desert botanical phenomenon in which long-dormant wildflowers germinate and blossom simultaneously. Iversen personally curates the programme and devises all floral elements at the store to become part of each exhibition.
Also in the pipeline are set designs for album covers and music videos by local musicians, and a print section on Tableau's website, launching later this year offering fine art prints and posters alike. Iversen is sending flowers to 15-20 artists and designers around the world, who will use them to create images that are exclusive to Tableau – an early submission from Frederikke Nørgård superimposes photographs of the same bouquet taken over 27 days, a poignant testament to the passage of time. Its title, Vemödalen, is an invented word from The Dictionary of Obscure Sorrows that describes 'the fear that everything has already been done'.
It's an experience shared by many creatives, but one that Iversen has certainly overcome with his groundbreaking work in floral design and beyond.
INFORMATION
tableau-cph.com (opens in new tab)
TF has been editor of Wallpaper* since December 2020. He is responsible for our monthly print magazine, planning, commissioning, editing and writing long-lead content across all our content pillars. He also plays a leading role in multi-channel editorial franchises, such as our annual Design Awards, Guest Editor takeovers and Next Generation series. He aims to create world-class, visually-driven content while championing diversity, international representation and social impact. TF joined Wallpaper* as an intern in January 2013, and served as its commissioning editor from 2017-20, winning a 30 under 30 New Talent Award from the Professional Publishers' Association. Born and raised in Hong Kong, he holds an undergraduate degree in history from Princeton University.
With contributions from