Alternative flower delivery services for Mother's Day 2023
With Mother's Day 2023 fast approaching, we share unconventional flowers and fabulous floral delivery services – from London to Tokyo and LA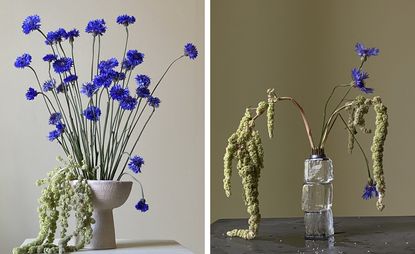 (Image credit: Images courtesy of Centa Lisbon.)
Wallpaper* Newsletter
Receive our daily digest of inspiration, escapism and design stories from around the world direct to your inbox
Thank you for signing up to Wallpaper. You will receive a verification email shortly.
There was a problem. Please refresh the page and try again.
Flowers may fade, but these outlandish bouquets will hold a permanent place in your memory. Celebrate Mother's Day with these alternative flower delivery services from all over the world.
Los Angeles
Brrch
Brrch's creations look like the sumptuous bouquets of the 17th-century Dutch masters might if they were rendered in highlighters rather than oil paints. Currently LA-based (with a New York operation that is on pause), Brrch creates arrangements that are so exuberant in their execution that they almost verge on the vulgar. These are unforgettable, and ultimately delightful, visual treats.
Isa Isa
Isa Isa's wonderfully weird blends of flowers, pods, fruits, and, branches to create bouquets that are as bright and colourful as their native city. Bouquet purchases can be made through Isa's Isa's website and paired with playful hand-blown glass vessels by local artist Alex Zanzinger.
New York
Flower Bodega
Native New Yorker Aurea Sanabria Molaei opened Flower Bodega in 2015 as a homage to the colorful floral history of her hometown.
As a teenager, Molaei would regularly buy flowers from her local Bronx bodegas and experiment with different arrangements crafted from the grocery store's vibrant array. Years later, she honed her skills with formal training at The New York Botanical Garden before opening her shop in Brooklyn's Bushwick neighborhood.
Wife
Wife is the brainchild of Sophie Parker, who, with a background in painting, applies her brush to leaves and flowers to create botanicals that are truly works of art. Through the website of New York-based jewelry brand Mociun, Parker is now offering one-of-a-kind, hand-painted anthurium stems, ideal for those who want something more interesting than the typical bouquet.
Meta Flora
Like Wife, Meta Flora places emphasis on the form of individual flowers to create arrangements that are offbeat but still beautifully cohesive. The florist for Dimes restaurant – a pre-Covid-19 watering hole for Manhattan's creative set – Meta Flora has secured its place as one of the city's edgiest botanical suppliers.
FDK Florals
Brooklyn-based FDK Florals is the exuberant creation of Fernando Kabigting. Previously a handbag designer at Calvin Klein, Kabigting created FDK Florals as a one-stop-shop for inventive yet elegant floral designs. Arrangements can be ordered individually or through a weekly subscription service on FDK's website.
Miami
Calma
Calma is a Miami-based floral studio that creates buoyant bouquets infused with a tropical flavor. All of Calma's arrangements are created from what is fresh at the market that morning, making each of them a joyful surprise for whoever is lucky enough to receive them.
Toronto
Flùr
Toronto's Flùr is much more than a flower shop. With a space designed by MSDS Studio, Flùr hosts exhibitions; commissions and retails ceramics by local Canadian designers and international brands; and sells tools, stationery, potted plants, and floral arrangements.
Our favorite arrangement is Flùr's Ceramic Bud Vase Trio, which offers unusual fresh or dried flowers in a set of geometric vases by DA Ceramics made exclusively for the store.
Mexico City
Flores La Fe
Flores La Fe produces bouquets that embody the vibrancy of Mexico City. Founded by designer Carla Valdivia and her collaborator Roberto Sanchez, the studio creates riotous combinations of technicolor flowers that can be ordered via direct email.
Copenhagen
Tableau
Copenhagen's Tableau is a Wallpaper* favorite, having been included in our Design Awards and World View series. Lockdown forced founder and floral designer Julius Værnes Iversen to press pause on the extravagant installations the studio is best known for and start a home delivery service for smaller-scale arrangements through Instagram. The studio's own geometric, steel vases make the perfect complement to its exotic blooms and are available through the webstore.
Lisbon
Centá
Centá is a strong contender, if not an all out winner, for the title of world's coolest flower shop. The Lisbon-based outlet specialises in cooky combinations like artichokes and lilies or grapes and peonies. They also make beguilingly surreal objects, like a seashell cocktail glass and thorn-studded toiletpaper ( which is definitely not recommended for use).
Antwerp
Baltimore Bloemen
Mark Colle makes some pretty fashionable flowers. The Antwerp-based florist has collaborated with Dries Van Noten, Ann Demeulemeester and, most notably, Raf Simons, with whom he worked on the floral walls of the Dior 2012 couture show.

Colle's singular eye for florals can be appreciated year-round at his shop Baltimore Bloemen. Located steps away from the Rubens House, the store is itself a work of art, with a tightly packed array of rare flowers and plants on display and available for custom arrangement.
Berlin
Berlin's beloved Marsano flower shop is know for its ultra-lush and colourful arrangements that burst out of the vase like floral fireworks.

This Mother's Day you can make your gift even more meaningful by purchasing Marsano's Flowers For Ukraine arrangement. The sunny yellow bouquet can be paired with bright blue glass vase, with proceeds from the sale going directly to the Help for Ukraine Berlin charity.
London
Fjura
London-based florist Fjura creates ikebana-esque compositions with richly petaled flowers – roses, peonies, wisteria – that combine English romanticism and a stripped-down structure. Having collaborated with Gucci, Hermès and Chanel, Fjura has won the admiration of fashion's biggest tastemakers, but that doesn't mean its bouquets are only for a select crowd. Custom-made arrangements can be ordered through Fjura's website for a starting price of £100.
Palais
For Palais founder Emma Weaver, every bouquet is its own playful experiment. 'We love questioning the conventional idea of a flower's natural form,' she says, 'turning them inside out and, often quite literally, upside down.'

The brightly coloured arrangements are innovative in composition and often include unexpected materials, such as chains, lights and fabrics. The Shoreditch-based studio has collaborated with Hermès, Burberry and Wallpaper*, and offers individual bouquets for purchase on its website.
Sage
South London's Sage was founded by friends Iona Mathieson and Romy St Clair as an innovative alternative to the typical flower shop. The pair look to a wide array of sources, including architecture, furniture design and graphic posters, to inspire the colors, forms and textures of their singular arrangements.

This Valentine's Day, the flower shop will be selling bouquets at Rita's, the hip London eatery for American comfort food and margaritas.
Rebel Rebel
East London florist Rebel Rebel creates bouquets that mix bold and boisterous blooms- orange roses, scarlet anemones, French tulips- with more delicate details- moonlight mimosa, pink waxflower, teasels- to make for unique gifts that are guaranteed to please. The company sources its flowers daily from New Covent Garden and local flower farms to make a frequently changing roster of arrangements.
FLWR
Flwr is a new addition to London floristry, launched during the pandemic. The studio's Fresh Take series offers monthly arrangements inspired by a range of 'muses'. Recently featured was a bouquet inspired by River Café chef George Williams, who delivered brown paper bag meals throughout the pandemic. This month's bouquet takes inspiration from Isabelle Lynch, head of wine for wine education start-up Wine List, and upcoming is an arrangement for Jack Baxter, co-founder of youth charity The New Normal.

Each of the bouquets will be designed to reflect the muse's personality, with 50 per cent of profits going to a charity of their choice.
Paris
Castor Fleuriste
Louis-Géraud Castor worked as an art dealer for 15 years before opening his flower shop in Paris' Marais neighborhood. He cites 'abstraction' and 'brutalism' as artistic styles of particular importance to him, and their influence is clear in his floral compositions, which tend to pair painterly blooms with weighty stone vases for a striking juxtaposition.
Désirée Fleurs
Désirée Fleurs is a cafe and flower shop created located in Paris' 11th arrondissement. The brainchild of two best friends, Désirée is a loving homage to the flowers of France. All of the flowers are locally sourced and only 15 bouquets are made a day to ensure every creation is crated with the utmost care.

Arrangements can be ordered online, but we recommend visiting the Désirée Fleurs and sitting down for lunch in the cafe where you can satisfy your taste for beautiful scenery and delicious food in one go.
Milan
Fioraio Bianchi Caffè
Fine food and fine flowers are on the menu at the Fioraio Bianchi Caffè. Located in the Brera design district for over 40 years, Fioraio Bianchi Caffè has established itself as a reliable spot to pick up an elegant bouquet and, while you're there, maybe an aperitivo too.
Jardins des Fleurs
Jardins des Fleurs is the Tokyo concept store of acclaimed flower artist Makoto Azuma and photographer Shiinoki Shunsuke. The shop is imagined as a 'flower butchery', where white-coated employees remove 'living' flowers from a fridge in the center of the store, before cutting and arranging them on steel tabletops.

Azuma's boundary-pushing vision has resulted in some of the most innovative creations in modern floral design. Past projects include freezing flowers in blocks of ice for a Dries Van Noten show and shooting a 50-year-old bonsai tree into space. While the individual arrangements available at the Jardins des Fleurs shop may not be as experimental, they're guaranteed to be no less memorable.
Seoul
McQueens
McQueens operates within the more traditional milieu of flower arranging, eschewing the cacophonous colors and experimental forms of many other contemporary florists in favor of bouquets that celebrate the natural beauty of the flowers themselves. Alongside a floristry school, and arrangements for weddings and events, a range of sure-fired crowdpleasers – a bouquet of red roses, a bunch of white anemones – are available from McQueens Seoul when you contact the business directly. McQueens also has New York and London locations.
Taipei
Opm Florist
Taipei's Opm Fllorist was established seven months ago with custom-made bouquets that 'present flowers as art.' The bouquets can be ordered from Opm's Instagram.
Singapore
Humid House
The horticulture and visual culture of Singapore combine in the floristry of Humid House. Since 2014, the studio has used locally sourced flowers and foliage to create arrangements that are 'reflective of the climate, geography and collective culture' of its native Singapore. As such, the joyful bouquets are brimming with verdant plants and tropical blooms that speak of the city-state's endless summer.
Melbourne
Hattie Molloy
Melbourne-based botanical artist Hattie Molloy has become an Instagram phenomenon with her arrangements that are ikebana in style and Crayola in color palette. Although Molloy only offers her floral services for editorials and events, admirers of her work can purchase framed prints, T-shirts and mugs adorned with her exuberant bouquets at her online shop.
Receive our daily digest of inspiration, escapism and design stories from around the world direct to your inbox
Mary Cleary is the Beauty & Grooming Editor of Wallpaper*. Having been with the brand since 2017, she became an editor in February 2020 with the launch of the brand's new beauty & grooming channel. Her work seeks to offer a new perspective on beauty, focusing on the pioneering personalities, product designs, and transformative trends within the industry.