Recipes for uplifting rose-based remedies at home
The London-based florist Palais shares simple at-home recipes for floral candles, lip balms, and potpourri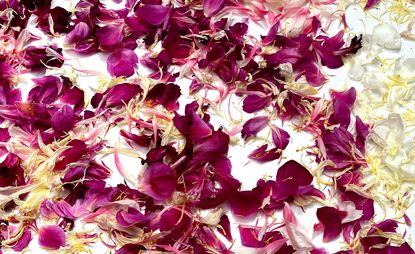 (Image credit: press)
The past few months have seen a flurry of online tutorials, each promising a productive and soothing way to spend time indoors. For our own take on the home-bound how-to, we asked florist Emma Weaver to share recipes for a rose-based candle, lip balm, and potpourri.

Rose oil's antioxidant, antibacterial, and antidepressant properties make it a perfect floral companion for days spent in lockdown, but ultimately any flowers of your choice can be used for the below creations.
Rose and Peppermint Lip Balm
Ingredients:
1 Tablespoon Shea Butter
3.5 Tablespoons Almond Oil
30 drops Rose Otto/Rose Absolute Oil
0.5 Tablespoon of Castor Oil
1 Tablespoon Bees Wax or 0.5 Candelilla Wax for a vegan version
1 Teaspoon of Alkanet Root Powder
15 Drops Peppermint Oil
6 Heatproof Jug Tins or jars for balms
How to:
1. Mix the almond oil together with the rose oil and alkanet root.
2. In a saucepan add an inch or so of water, bring this to a simmer.
3. Mix together the shea butter, wax, and castor oil heat proof jug.
4. Pop the jug into the heated water and melt together the wax and oils.
5. Once melted remove from the heat and stir in the rose oil and alkanet root.
6. Finally, add the peppermint oil and pour it into tins.
7. Leave to set overnight.
Rose and geranium candle
Ingredients:
Glass Container Wick
Wick Holder Beeswax or Soya Wax for a vegan version
20 DropsGeranium Oil
50 Drops Rose Oil
Saucepan
Heatproof Jug
Digital Thermometer
Metal Bowl
How to:
1. Heat an inch or so of water in a saucepan, bring to a simmer.
2. Measure out 1.5 x the volume of your a glass jar in wax and add this to the heatproof jug.
3. Cut your wick to length and secure into the centre of your jar either using some melted wax or a double-sided wick sticker.
4. Place the wick holder on top of the jar and clip the wick in place.
5. Heat the wax over the hot water until completely melted.
6. Whilst the wax is melting, place your glass jar into the metal bowl and pour hot water around it. The water level should be just below the height of your candle holder.
7. Test the temperature of your wax, it should be below 60 degrees.
8. Add the oils to the molten wax and stir thoroughly.
9. Pour the wax and oil mixture into the glass jar and allow to cool overnight.
Potpourri
Ingredients:
Fresh petals
Essential oils of your choice
Orris root power
Large Jar
How to:
1. Remove petals from spent flowers, try to avoid anything too old and bruised.
2. Lay petals out on a flat surface in the sun or another warm location.
3. When dry, look through petals and remove any brown or very blemished petals.
4. Put all of the dried petals into a jar and add about 40 drops of essential oils.
5. Add a sprinkling of orris root as a fragrance fixative.
6. Pop the lid on and give it all a good mix.
7. Leave the jar in a warm dark place for two weeks.
8. Distribute around the home! Try popping it into little muslin bags and hiding them in a sock drawer or handbag for a surprise rosy scent.
INFORMATION
Receive our daily digest of inspiration, escapism and design stories from around the world direct to your inbox
Writer and Wallpaper* Contributing Editor
Mary Cleary is a writer based in London and New York. Previously beauty & grooming editor at Wallpaper*, she is now a contributing editor, alongside writing for various publications on all aspects of culture.