Tatiana Bilbao's mobile library adapts to multiple environments
The Mexican creative swaps architecture for interior design in a new exhibition of multifunctional objects at Etage Projects in Copenhagen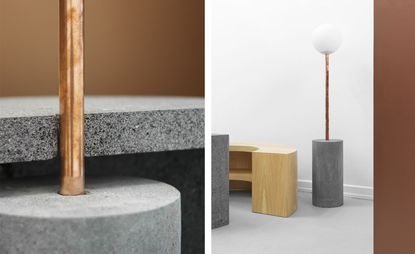 (Image credit: TBC)
Synchronously launching with her solo exhibition at Denmark's Louisiana Museum of Modern Art, eminent Mexican architect Tatiana Bilbao has entered into the world of interior design with a new show at Copenhagen's Etage Projects. The art and design gallery plays host to 'Growing With You,' a collection of functional sculptural objects created to adapt within the environment in which they are placed.
Having long admired contemporary Danish design, Bilbao's exhibition with Etage speaks to both studios' shared values and beliefs, and was bridged via Rudy Weissenberg, co-founder of design practice AGO Projects. In keeping with the studio's philosophy towards humanizing the constructed environment, Bilbao wanted the collection, conceived of as a mobile library, to be more physically and subconsciously flexible and portable as a reflection of the modern mobility of humans.
Originally designed for a versatile student space for a university in Monterrey, Mexico, the library pieces were intricately refined for Etage in a way that allows them to transform and adapt in many different types of spaces – inspired by the democratised accessibility of knowledge nowadays. 'I hope that this becomes a piece of furniture which everyone feels is really themselves; that they can put their own identity into by arranging it differently and using it for different purposes,' says Bilbao.
The multifunctional objects are made up of shelving units, benches, a table and a lamp, all made to transform between intimate spaces and larger collective meeting points. Using materials such as bronze and lava rock, Bilbao reflects her Mexican heritage and the studio's personal identity. 'The lava stone is a part of the landscape in Mexico City and is very imposing and beautiful. Some of my favourite buildings are built on top of the lava landscape, so the material usage is a deliberate and important connection between the design and my roots.'

Another nod towards this expresses itself in the exhibition's colour palette, an expression that is very much traditional in Mexico and offers a richer and contrasting overall experience. Marking yet another milestone in Bilbao's career, 'Growing With You' signals much promise for the studio's future forays in interior design.
INFORMATION
'Growing With You' by Tatiana Bilbao is on view until 29 November. etageprojects.com (opens in new tab); tatianabilbao.com (opens in new tab)
ADDRESS
Borgergade 15E
DK 1300 Copenhagen
VIEW GOOGLE MAPS (opens in new tab)