New tricks: London's Design Museum tackles design for an ageing population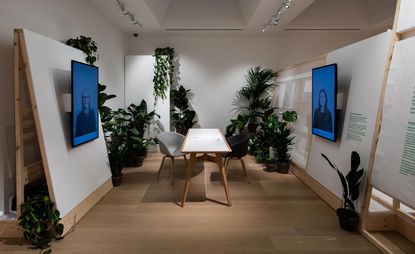 (Image credit: press)
The world is ageing ungracefully. Our population is the oldest it's ever been, with over 500,000 in the UK aged 90 or older. Half of people over the age of 75 live alone.

A new exhibition at London's Design Museum demonstrates design's potential to help us lead healthier, more rewarding lives as we age. Commissions from leading designers (among them Yves Béhar, Konstantin Grcic and PriestmanGoode), offer solutions within the framework of ageing, identity, home, community, working and mobility. This format draws from the 1980s exhibition 'New Design for Old' at the Boilerhouse Project at the V&A, curated by Lady Helen Hamlyn.
In part thanks to this pioneering survey, today's landscape of age-related design is colourful and varied. It's precisely for this reason, Hamlyn believes, that it's time for another exhibition. Writing in the foreword of the 'New Old' catalogue, she says: 'It is important to understand how much has changed in demographic and technological terms in recent decades, and how much will change over the next 30 years.' She invites us to approach the exhibition with an open mind.

This isn't difficult to do, thanks to a thoughtful exhibition identity, typography and layout, created by local design firms LucienneRoberts+ and Plaid London. Roberts ensures all graphic aspects of the exhibition engage with it's content. 'We were briefed to develop a system that was highly accessible, challenged prejudices associated with the show's subject matter and showed the truly positive aspects of later life,' she explains.
The brief shines through the finished result. Delineating wood-framed screens network their way though the space. They're covered with a large, clear typeface, developed specifically for the exhibition. One such wall is plastered with the question, 'When does old age begin?', where visitors are invited to pick a postcard, tick a box and hang their answer on the wall. This low-tech, inclusive interactivity targets people of any age, without patronising or alienating.

This inviting, friendly tone is carried over into the show's optimistic commissions. Refreshingly, they treat the dreams and social lives of older people with just as much importance as their health and mobility. Konstantin Grcic's outdoor 'Head in the Sky' project, for example, provides a mesh structure for 'outdoor working and thinking', that doubles as a safe space to think and enjoy nature for people of an older age. Accessed by a long wheelchair ramp, Grcic explains how the structure 'formally makes a clear reference to an outdated image of old people,' while the open roof 'symbolises departure and a new beginning'.
In his typically visionary style, Grcic's project veers towards the conceptual. Others, like Yves Béhar and Fuseproject's 'ElliQ' design commission, are eagerly practical, and make use of cutting edge technological vernacular. Not dissimilar to an Amazon Echo (recently shortlisted for a Wallpaper* Design Award) or the Google Assistant, 'ElliQ' is an emotionally intelligent robotic companion, that uses speech and light to subtly convey emotion. Thanks to its sensitive, sculptural design, it's not as terrifying as it sounds. It looks more akin to a beautiful table-top object than an AI mastermind. Of its many functions, it acts as a look out for intruders and coaches older people into fulfilling daily goals, as well as performing home AI standards like playing music and accessing the internet hands-free.

Designs like 'ElliQ' and 'Head in the Clouds' serve to emphasise the fact that designing for the elderly doesn't have to be about plaid curtains and comfy chairs (although there's nothing wrong with the latter). Aided by Lucienne Roberts' punchy graphics, the exhibition takes the taboo out of talking about old age, and feels youthful, without being exclusive. It also hasn't come a moment too soon. With over half our children predicted to live to 103, we're living in the century of the centenarian. We must envisage a future that puts the 'grand' back into 'old age', as we all hurtle towards it.
INFORMATION
'New Old' is on view until 19 February. For more information, visit the Design Museum website (opens in new tab)
ADDRESS
Design Museum
224–238 Kensington High Street
London W8 6AG
VIEW GOOGLE MAPS (opens in new tab)
Elly Parsons is the Digital Editor of Wallpaper*, where she oversees Wallpaper.com and its social platforms. She has been with the brand since 2015 in various roles, spending time as digital writer – specialising in art, technology and contemporary culture – and as deputy digital editor. She was shortlisted for a PPA Award in 2017, has written extensively for many publications, and has contributed to three books. She is a guest lecturer in digital journalism at Goldsmiths University, London, where she also holds a masters degree in creative writing. Now, her main areas of expertise include content strategy, audience engagement, and social media.