Neocon Chicago embraces sensory experiences and Bauhaus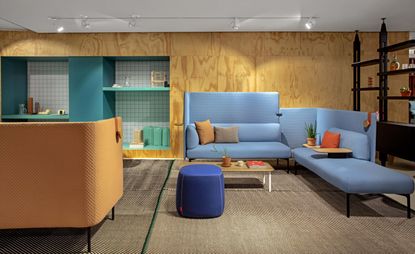 (Image credit: Neocon)
A message was delivered during the inauguration of the 51st edition of commercial design fair Neocon last week. At the event in Chicago, keynote speakers Robin Standefer and Stephen Alesch of New York-based firm Roman + Williams urged designers to lead with the senses and honour history. Themes of tactility, natural elements, and blurred lines between work and the home continued throughout activations and launches, including those from Skyline Design, Designtex, Haworth and Stylex.

Skyline Design presented a collaboration with Paris-based designers Ronan and Erwan Bouroullec, the Oblique and Chevron glass collection. Inspired by the luminous properties of stained glass and the natural world, these architectural-grade glass tiles provide an abstracted colour landscape. To achieve the ethereal, ombre patterns, colours from eight nature photographs taken by the Bouroullecs were digitally distilled and realigned to transmit optimal light, forming a sense of movement and atmospheric tone.
DesignTex launched The Bauhaus Project which celebrates women designers and tactile Bauhaus developments. Under license and collaborating with the estates of Bauhaus weavers Gunta Stoltz and Anni Albers, 16 minimally or never-produced designs were recreated. Innovative digital technologies and adaptive fibres are integrated into their production, bringing past designs into the modern work environment.

Patricia Urquiola's designs for Haworth, specifically the Cabana Lounge, combats the chaos of the workplace with sound sensitive barriers that encourage in productivity and sensory protection. In doing so, the lounge is simultaneously private and communal. The rounded edges of the modular seating system produce an overall impression of softness and comfort, blurring the line between the work and home environments.
Stylex presented a set of smart work systems called Free Address, developed by Jay Koback and Ehren Gaag of Gensler. The seating and table sets support cooperative work in free-form creative environments, yet are disguised as sophisticated sofas and side tables for the home.

At Neocon, it was clear brands embraced sensory comfort, domesticity and balance – inside and outside of the workplace. Commercial environments were gearing towards our human experiences and how the space has an impact on our health, productivity, creativity and collaboration.
INFORMATION
For more information, visit the Neocon website (opens in new tab)