At Chicago Sukkah Design Festival 2023 six pavilions bring together local communities
At the Chicago Sukkah Design Festival 2023, temporary pavilions celebrate local communities and migratory cultural traditions in the North Lawndale neighbourhood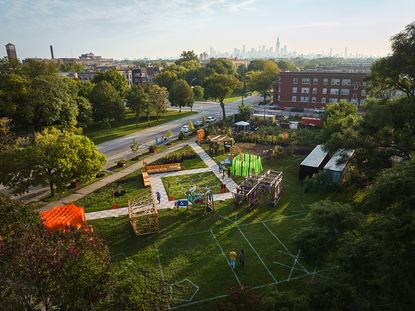 (Image credit: Brian Griffin)
The Chicago Sukkah Design Festival opened on 1 October 2023 for its second consecutive year, with six sukkahs – temporary outdoor structures to commemorate the week-long Jewish festival of Sukkot, the holiday that celebrates harvest gathering. The architectural pavilions can be found at various spots within James Stone Freedom Square, located at 3615 W Douglas Boulevard in the North Lawndale neighbourhood on Chicago's West Side. The site is owned by Stone Temple Baptist Church, a former Jewish synagogue located across the street.
Chicago Sukkah Design Festival 2023: a celebration of migratory cultural traditions
The sukkahs represent themes of design literacy, social justice, and the future of North Lawndale. The location of the festival in North Lawndale reflects not only its former status as a Jewish community, but also its present predominantly Black population – the product of the Great Migration of African Americans from the Jim Crow South during the early-20th century. During the festival, the sukkahs will be activated with public programmes designed to reflect Jewish, African, African-American, and many other migratory cultural traditions.
'We were always interested in doing this project in North Lawndale, because [it] was the centre of the Jewish community for a long time in the city. And we were interested in using sukkahs as a vehicle through which to bring together different communities past, present, and future. So, [we were] thinking about these architectural structures as something that can bridge across years,' said Joseph Altshuler, founder of The Chicago Sukkah Design Festival, and an assistant professor at the University of Illinois in Urbana-Champaign.
Six Chicago design teams were selected to work collaboratively with local community groups to design sukkahs that reflect themes of social justice and anti-racism. As co-directors of Could Be Design, a Chicago-based design practice, Altshuler and Zach Morrison provided curatorial leadership and architectural design support to the contributing sukkah design teams.
'In addition to the sukkahs themselves, thinking about the design of the landscape, and thinking about the permanent site and infrastructure improvements to this site as a public space that the church intends to use, not only for future additions of this Festival, but for other formats of community programming, was a top priority of our efforts as Could Be Design and as artistic directors and organizers of the festival,' Altshuler said.
Chicago Sukkah Design Festival 2023: the contributors
Studio Becker Xu with One Lawndale Children's Discovery Center
Odile Compagnon + Erik Newman with YEM and North Lawndale Greening Committee
Akima Brackeen + Office of Things with I Am Able
Antwane Lee with Building Brighter Futures Center for the Arts
Architecture for Public Benefit + Trent Fredrickson with Mishkan Chicago + Lawndale Christian Community Church
Could Be Design with the Chicago Tool Library
The Chicago Sukkah Design Festival is organised and produced by Could Be Design and Lawndale Pop-Up Spot (LPUS), a community museum in a shipping container, co-founded by Chelsea Ridley and Jonathan Kelley. The festival, which continues through 15 October, is also affiliated with the 2023 Chicago Architecture Biennial.
Receive our daily digest of inspiration, escapism and design stories from around the world direct to your inbox
Audrey Henderson is an independent journalist, writer and researcher based in the greater Chicago area with advanced degrees in sociology and law from Northwestern University. She specializes in sustainability in the built environment, culture and arts, policy, and related topics. As a reporter for Energy News Network since 2019, Audrey has focused her coverage on environmental justice and equity. Along with her contributions for Wallpaper*, Audrey's writing has also been featured in Chicago Architect magazine, Next City, the Chicago Reader, GreenBiz, Transitions Abroad, Belt Magazine and other consumer and trade publications.