'Be Careful, I Always Am': Emmett Till memory honoured through Germane Barnes installation
An installation by Germane Barnes honours the memory of Emmett Till in Chicago, and marks the start of renovations to transform Till's house into a museum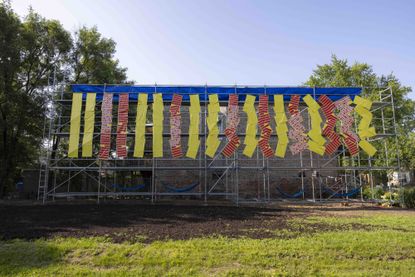 (Image credit: Nina Johnson)
To commemorate what would have been Emmett Till's 82nd birthday, Chicago nonprofit organisation Blacks in Green commissioned Germane Barnes, founder and principal of Studio Barnes, assistant professor and director of The Community Housing and Identity Lab (CHIL) at the University of Miami School of Architecture, and part of our Wallpaper* USA 300 list, to create an installation for the site of Till's childhood home. The installation was unveiled on 23 July at a ceremonial groundbreaking for exterior renovations to the house, which will ultimately serve as a cultural house museum. Restoration efforts are scheduled to be completed by 2025.
Emmett Till installation: 'Be Careful, I Always Am'
For Barnes, the name for the installation, 'Be Careful, I Always Am', reflects both his mother's protectiveness and the tragedy of Emmett Till, who was brutally lynched by white racists in Mississippi in 1955.
'If you're from Chicago like I am, then your parents tell you as a kid how important the story of Emmett Till is. And especially if you're a young Black male who, like me, [is] from the West Side of Chicago. Whenever I would leave the house, my mother always [said] to me, be careful. And I always jokingly and sort of arrogantly [said] back, I always am. You know, you just assume you're invincible. But she's always trying to remind me that that's not always the case. Sometimes you don't make it home,' Barnes said.
The three-storey scaffold installation incorporates vivid yellow and red segments, along with archival texts drawn from research conducted by Jonathan Solomon and Elizabeth Blasius of Chicago firm Preservation Futures.
'It's done in the Superman colour palette because Superman was [Emmett's] favourite comic series. And then we also know that photograph of him with this iconic tie with the hat. And so, we took just the shape of the tie and then sort of made these very large banners that have [text] on them. And then the banner begins to morph as it goes across the scaffold, which shows how we might think we're perfectly safe and under certain circumstances we lose that stability and we're no longer safe. And then at the very bottom, the hammocks are there so that people can also be a part of the installation. Because I'm always one that likes for people to see themselves in the work, as opposed to things they can't touch,' Barnes said.
The abstract nature of the installation reflects the collaboration between Barnes, Solomon and Blasius.
'Germane did not want to use photographic images. He wanted, and we agreed, to do something that interpreted images that people maybe had seen before... The tie is iconic of [Emmett], and it's also kind of iconic of the time period,' Solomon said.
The installation is located adjacent to the Till House at 6427 South St Lawrence Avenue in West Woodlawn on Chicago's South Side, and will remain there until 23 November – Emmett's mother, Mamie Till's birthday.
Receive our daily digest of inspiration, escapism and design stories from around the world direct to your inbox
Audrey Henderson is an independent journalist, writer and researcher based in the greater Chicago area with advanced degrees in sociology and law from Northwestern University. She specializes in sustainability in the built environment, culture and arts, policy, and related topics. As a reporter for Energy News Network since 2019, Audrey has focused her coverage on environmental justice and equity. Along with her contributions for Wallpaper*, Audrey's writing has also been featured in Chicago Architect magazine, Next City, the Chicago Reader, GreenBiz, Transitions Abroad, Belt Magazine and other consumer and trade publications.