Italian modernist Osvaldo Borsani's innovative home opens up in Milan for Salone del Mobile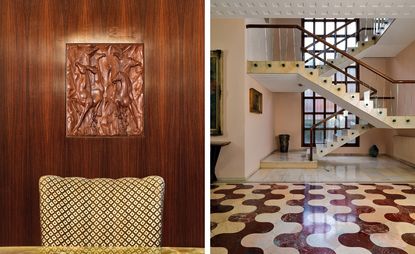 (Image credit: Matteo Piazza)
Osvaldo Borsani was born at the crossroads of craft and modern manufacturing. The son of a cabinetmaker, he trained as an architect in Milan in the 1930s, when the city was a centre of technological advancement and flourishing artistry, with the economic momentum to push both at speed. A creative pioneer, technical innovator and entrepreneur, he would come to revolutionise the world of contract furniture.

With his twin brother Fulgenzio, Borsani developed a new productive formula based on two tenets: 'an original idea' and 'fulfilling a need'. Their vision took shape in 1953, when they founded Tecno, and started manufacturing Italian design on an industrial scale. The use of innovative technology gave Tecno furniture a distinct elegance that came to characterise the brand.

Tecno's focus under the direction of the Borsani brothers was mainly furniture, and Osvaldo designed products until the early 1980s. As art director he involved other creatives such as Vico Magistretti and Eugenio Gerli in the 1960s, Mario Bellini in the 1970s and Gae Aulenti and Ricardo Bofill in the 1990s. Along with Gerli, Marco Fantoni, his daughter Valeria and his brother Fulgenzio, Osvaldo Borsani founded Centro Progetti Tecno in 1970, an office devoted to innovative products and interiors. Collaborating with the likes of Angelo Cortesi and Kugo Toru, they were invited to imagine new concepts integrating custom-made furniture design for the offices and classrooms of clients including Alitalia and Yale University.
Borsani also understood that communication was key to making his products stand out. He engaged star graphic designers such as Giulio Confalonieri and Bob Noorda, as well as authors including Orio Vergani and Joseph Rykwert, to produce brochures and catalogues that revolutionised the way design was marketed.

The seeds of Borsani's philosophy had been sown when he designed the family villa in Varedo in 1940, shortly after graduating from the Politecnico di Milano. Completed in 1943, the brick-and-stucco house comprised rigorously articulated volumes in a clearly rationalist structure. Every detail was meticulously planned, from the elongated windows right through to contributions by artists such as Lucio Fontana and Agenore Fabbri, Borsani's friends since high school. The villa became the epitome of sophisticated modern living, much admired and widely emulated. Borsani died in 1985, and the villa stayed in the family until it was turned into the Osvaldo Borsani Archive in 1991.

For this year's Salone, the designer's daughter, Valeria Borsani, and grandson, Tommaso Fantoni, have decided to reopen its doors to the general public. 'The villa is the first example of how Borsani successfully managed to combine rationalist architecture with an acute attention to detail and interior design,' says Fantoni. 'The fitted furniture, the organisation of the space, the floors with varying levels and the openings onto the exterior are an interpretation of bourgeois living, a play of different points of view on interior design solutions. Working with luminaries such as Roberto Crippa, he combined cabinetmaking with great taste in materials and evocative details.'

Ambra Medda – co-founder of Design Miami, trustee of the Design Museum in London and a pivotal figure in the recent explosion of interest in collectible modern and contemporary design – has worked closely with the designer's family as a consultant for the Salone opening, selecting both professional sketches and correspondence, as well as everyday objects, to put on public display. Calling the villa 'a timeless place', Medda explains that her additions 'are simply intended to highlight Borsani's dedication to both the technical and aesthetic aspects of design'.
Medda's display anticipates another key event in the celebration of Borsani's role in Italian design: an exhibition at the Triennale di Milano, designed and curated by Tommaso Fantoni with Norman Foster. The bond between the English architect and Borsani was based on a shared faith in technological innovation, as well as on his professional relationship with Fantoni, who worked at Foster + Partners for over a decade. Foster collaborated with Tecno on some of his key projects, such as London Stansted Airport and the Great Court of the British Museum. 'I met Osvaldo Borsani in the early 1980s and was impressed by the range and beauty of his innovations,' says Foster, 'from individual domestic pieces that could modify their shapes to his systematic rethinking of the workplace.'

The Triennale exhibition will show over 300 objects and reconstruct some of Borsani's milestone projects – such as Casa Minima (1933) and interiors for the HQ of energy conglomerate ENI (1956) – as well as some of Tecno's innovative advertising. A catalogue, edited by Giampiero Bosoni, professor at Politecnico di Milano, is also in the works, promising a chronological survey of Borsani's work produced between 1925 and 1985.

'My return to Italy in 2011 coincided with a new wave of interest in my grandfather's work,' says Fantoni. 'A celebration of his intellectual legacy as a designer, entrepreneur and pioneer with a systemic vision of design, from production to communication, seemed the right thing to do.'

As originally featured in the May 2018 issue of Wallpaper* (W*230)
INFORMATION
Villa Borsani opens to the public from 16 - 20 April during Salone del Mobile. 'Osvaldo Borsani' is on view at La Triennale di Milano from 15 May – 31 August. Osvaldo Borsani: Archivo 1925-1985, published by Skira (opens in new tab) this April. For more information, visit Osvaldo Borsani's website (opens in new tab) and the Triennale di Milano website (opens in new tab)
ADDRESS
La Triennale di Milano
Viale Emilio Alemagna, 6
20121
Milano
VIEW GOOGLE MAPS (opens in new tab)