Designers transform Artcurial in Paris for AD Interieurs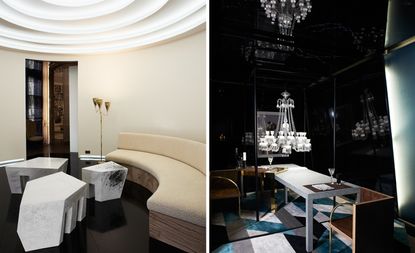 (Image credit: press)
Give 13 interior designers - the likes of Rafael de Cárdenas, Joseph Dirand, Vincent Darré, Britt Moran and Dimore Studio's Emiliano Salci - the theme 'Journeys of the imagination' and their interpretations will result in quite an interior design trip.

Welcome to the third annual AD Interieurs, an installation event overseen by AD magazine, which opened in Paris to the public on Saturday and runs until 21 September.

Within the Beaux Arts auction house Artcurial, just off the Champs-Elysées, two floors have been transformed into daring showpieces - the types of rooms that beckon inhabitants of a cinematic scale.

Indeed, designer Rafael de Cárdenas says he envisions none other Catherine Deneuve and David Bowie settling into his 9.3m by 3.5m space.

'It's romantic but also melancholic,' explains de Cardenas, whose Architecture At Large studio is headquartered in New York but also has a London satellite.

Black marble walls instantly establish dramatic darkness. But wait, they're actually a rigid composite trompe l'oeil. 'I think I want it to be a little subversive and index the temporary-ness,' he says, noting that he deliberately floated the interior cladding so that people would pick up on the faux marble.

Whereas several designers opted for a single-use space, de Cárdenas - who recently collaborated with Kartell for our 2012 Handmade exhibition in Milan - created two angular modules that come together as an otherworldly bachelor pad. A bed has been elevated ziggurat-style with a bench extension for extra seating. Then there's a table, above which an LED-lit Baccarat chandelier hovers, suspended from a massive cube-shaped metal frame. It's TRON via Paris.

De Cárdenas, who launched his first furniture collection in 2011, brings a non-conformist spirit to the show house template. By adding a pulsing, suspenseful soundtrack composed by Allies for Everyone, he also underscores the impact of designing a space with sound. 'I probably spent the longest amount of time on the music,' he jokes of the motif, which disparately draws from Bernard Herrmann, Bauhaus and Tangerine Dream.

Elsewhere, Dirand conceived an impressive bathroom - more like a bath salon - with the support of Louis Vuitton. Beyond a gold-flecked upholstered daybed and a beautifully honed marble tub, its vastness conveyed luxury more than any single flourish; walls were minimally adorned and purity of form took precedence

Darré, in contrast, combined luxe eccentricity with savoir-faire; his boudoir required 50 applications of gold leaf and lacquer to achieve the glossy, painterly finish. And then, instead of settling for an antiqued mirror, he put silver leaf behind the glass; voilà, a metallic, mercury-tinged reflection.

Dimore Studio's Moran and Salci played off the idea of lost travels in Italy by assembling a richly-layered study furnished with Gio Ponti's wicker chairs and a new Hermès upholstery that they turned into folding screens. Handcrafted triangular terracotta tiles in green, grey and pink suggest a nod to arte provera. 'We didn't want it to be too stuffy,' says Moran. Imagination, in other words, made real.
Receive our daily digest of inspiration, escapism and design stories from around the world direct to your inbox