Bethan Laura Wood designs glass tables for Wonderglass inspired by travels
Bethan Laura Wood created the 'Chain' glass collection during lockdown, using Wonderglass's cast glass to build tables shown at Venice Glass Week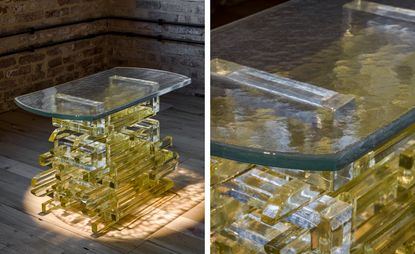 (Image credit: press)
It took Bethan Laura Wood a lightening quick two weeks from initial idea to final product in the development of her latest project, 'Chain', a duo of cast glass tables made in collaboration with Venetian glass manufacturer Wonderglass.
The British designer, known for her riotous colour palettes, rigorous research and artisan-centred design practice, joined compatriots John Pawson, Tom Dixon, Industrial Facility and Ross Lovegrove in the exhibition 'London Venice: The Spirit of Resurgence', which debuted at Venice Glass Week on 4 September 2020.
Glass designs by Bethan Laura Wood: the 'Chain' collection
'There wasn't enough time to make new moulds or new forms,' Wood explains of the project, which was organised in a whirlwind in early July 2020. Instead, unable to travel to the Wonderglass factory in Venice due to the pandemic (opens in new tab), they let her loose in the material archive in their London showroom, where she happened upon a series of moulds formerly used to make 1960s-era table lamps. 'We decided to use these bricks, which come in three different sizes, as our building blocks. 95 per cent of the table is made from these existing elements.'
Wood then sliced and stacked the resulting glass blocks in an interlocking chain to create the base of each table. The design pays homage to Japanese and Korean wooden joinery (opens in new tab) — which makes use of jigsaw-like connections rather than nails and glue — employed in traditional temple architecture that Wood has been documenting in recent years on trips throughout Asia. 'We then added a polished detail on the edges further reference Japanese shrines,' she says.

'During the lockdown, I was going through a lot of the photographs that I took during my travels and starting to digest and read a little bit about these construction techniques,' she explains of how the idea for the design was seeded, 'and I was really interested in the architectural quality of the cast glass Wonderglass works with. I thought it would be an interesting conversation between material and construction.'
The exhibition was conceived as a creative bridge between London designers and Murano glassmakers, many of whom have been hit particularly hard by the pandemic. 'The Covid-19 emergency has not been merciful,' says Wonderglass founder Maurizio Mussati of the project, which he hopes will encourage more UK-based designers to commission and collaborate with Venetian artisans.

'Many of our local partners, and the blown glass Masters, in particular, were affected. However, the spirit of Venice is resilient and is slowly but certainly coming back: there is a renewed sense of traditions and a vibrant resolution to affirm it.'
INFORMATION
bethanlaurawood.com (opens in new tab)
wonderglass.com (opens in new tab)
Laura May Todd is a Canadian-born, Milan-based journalist covering design, architecture and style. In addition to the Italian dispatches she writes for Wallpaper*, she regularly contributes to a range of international publications, including T: The New York Times Style Magazine, Architectural Digest, Elle Decor, Azure and Sight Unseen. Prior to her work as a journalist, she was assistant editor at London-based publishing house Phaidon Press.