Kohler and Daniel Arsham brought experiential art to Milan Design Week
Looking back on Daniel Arsham and Kohler's Divided Layers installation, and the brand's latest bathroom collection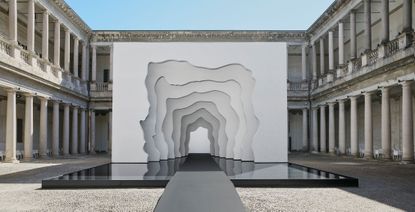 (Image credit: press)
In partnership with Kohler
Kohler, the leading manufacturer of kitchen and bathroom products and design innovations, returned to Milan last week with the world premiere of an immersive art experience created in partnership with American artist and designer Daniel Arsham. The project won The Fuorisalone Award 2022 for Milan Design Week 2022.
Staged at Kohler's Milan Design Week 2022 exhibition at Palazzo del Senato, the site-specific installation, entitled Divided Layers, built upon the release of Rock.01 – a 3D-printed sink that Arsham designed in collaboration with the brand in 2021.
Constructed from a series of stacked panels that combined to form a walkable tunnel, the installation was designed by Arsham to encourage visitors to move through the artwork, each panel referencing a single plane of the 3D-printed clay layers that form the sink.
Milan visitors strolled through the installation to discover a pond that behaved as a mirrored surface to double and reflect the cavernous volume's opening. Arsham's intention, for visitors to contemplate the acceptance of space and its malleability and to consider the relationship between volumes, was fully achieved – the cadence of the installation's walls successfully mimicked the rhythm of the palazzo's columns, contributing to the wider atmosphere that represented movement and flow.
'The flow of water is experienced in both negative and positive space, regardless of a form's 'function',' said Arsham of the exhibit. 'In Divided Layers, visitors experienced being within the sink, rather than [being] a user of a functional piece.'
During Milan Design Week, Kohler also took the opportunity to showcase its latest designs and innovations at Salone del Mobile itself. Highlights include the 'Numi 2.0' intelligent toilet, featuring personal cleansing functionality, lighting and audio that creates a spa-like environment, auto open/close and flush, as well as an embedded voice assistant. Also on show were Kohler's 'Veil', 'Eir' and 'Innate' intelligent toilets that combine optimum personal hygiene with striking, sleek designs.
Inspired by Japanese forest bathing, Kohler's show-stopping 'Stillness' bath offers an entrancing bathing experience through the combination of water, aromatherapy, lights and mist.
The 'Statement' shower collection is inspired by iconic furniture and design, and defined by soft, approachable forms. Universal compatibility ensures that the collection works wherever in the world it is installed.
'Anthem' valves and controls – making for a showering experience tailored to specifications – are available as digital and mechanical options and meticulously engineered to fit global plumbing standards.
Kohler's globally available 'Occasion' bathroom tap collection is a comprehensive collection of lavatory and bath taps, along with matching accessories and striking finishes to make a gracious statement in the bathroom. The 'Brazn' bath collection combines the simplicity of minimalism with elegant, functional solutions, and is available in white and striking black.
In honour of its return to Milan, Kohler made a donation to Water Mission's Wash (water, sanitation, and hygiene) projects in Indonesia, helping to bring safe water and sanitation to up to 10,000 people through 15 projects in 2022.
INFORMATION
Explore Kohler's virtual booth at Salone del Mobile 2022