Philippe Starck reinterprets Dior's Louis XVI Medallion chair in Milan
Dior has commissioned Philippe Starck to put a contemporary twist on a classic piece of seating for Milan Design Week 2022, complete with an immersive installation at Palazzo Citterio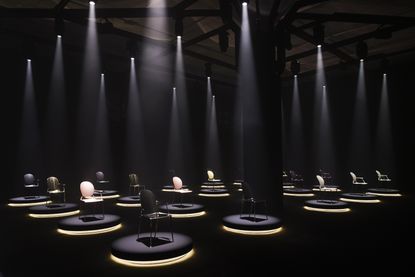 (Image credit: © Adrien Dirand)
Philippe Starck is the latest designer to put his stamp on Dior's Louis XVI Medallion chair, creating 24 interpretations for the French brand's presentation at Milan Design Week 2022.
The Louis XVI Medallion chair dates back to the late 18th century, and has been associated with Dior since 1947, when decorator Victor Grandpierre selected it for Monsieur Dior's shows at 30 Avenue Montaigne. A version of the chair, upholstered in blue-and-white toile de Jouy, is part of the Dior Maison collection today.
While Dior commissioned 17 international designers and artists to reinterpret the Medallion chair for its Milan exhibition last year, this year's presentation focuses on Starck alone – a reflection of the designer's singular stature and renown.
'Whereas some people have been searching for years for the perfect little black dress, I dreamed of the perfect little chair,' recalls Starck. He was drawn to the Louis XVI chair for its 'ergonomics, ecology, symbolism and culture – it is a real exercise in style, extremely complex and precise'.
Starck has taken the Medallion chair down to its basics: his version is characteristically streamlined and graceful, with a dash of glamour and whimsy. As he explains, 'I have always tried to reach the centre of my subject, to find its soul, its spirit and finally, the elegance of the minimum. My interest was to get to the heart of the matter, to find the backbone of this Medallion chair.'
In lieu of the traditional wooden frame and fabric upholstery, Starck's Medallion chairs – all titled 'Miss Dior' – are injection-moulded in aluminium, and then either left natural, or finished in pale rose copper, black chrome or gold.
Starck says of this material palette: 'The choice of aluminium was obvious: it is a noble material, a result of men's intelligence: recyclable and very light.' Meanwhile, he was drawn to the pale rose copper for its softness, black chrome as an embrace of technology, and gold for its sacred connotations.
Some chairs are smooth and gleaming, others have been given a satinated finish. A few have twin armrests, others have none, the more idiosyncratic ones have just one.
'Miss Dior's sleek appearance belies meticulous research and development. To produce the chairs, Dior and Starck called on an injection-moulding specialist in Brescia, Lombardy, who developed a unique process and sourced aluminium of the highest purity. Liquid aluminium is poured into a concrete tank and then injected into a precise mould. The pieces are then polished to remove any imperfections, before being dipped into an electrolytic bath or vacuum sprayed to achieve the desired finish.
Between now and 12 June, 24 'Miss Dior' chairs are presented in an immersive experience in the lower level of the Palazzo Citterio – an imposing 18th-century building in the heart of Milan. Within the cavernous, windowless space, each 'Miss Dior' chair sits on a glowing cylindrical plinth beneath its own spotlight, which serves to emphasise the varying materials and finishes.
As viewers enter the installation, they are invited to observe the chairs from the periphery as the lighting alternates, unveiling Starck's designs one by one; once all the chairs are shown, viewers are free to wander around the room to take in the finer details.
The sense of theatre is accentuated by a custom piano composition by Soundwalk Collective (Stephan Crasneanscki and Simone Merli), based on a work by the turn-of-the-century French composer Erik Satie.
'[Soundwalk Collective] has composed something extremely moving,' comments Starck. 'We worked for almost six months to exalt the very idea of Miss Dior. I hope visitors will find the installation as breathtaking as I find it.'
This is the designer's first collaboration with Dior. He reflects, 'When Olivier Bialobos [chief communication and image officer of One Dior and director of Dior Maison] proposed to collaborate, it was like an open door of a temple. I felt like I was completing a circle.'
Dior has additionally given over the façade and windows of its flagship store on Via Montenapoleone to Starck, arranging more than 100 'Miss Dior' chairs in a concentric pattern, dramatically lit from behind. And for those who can't get enough of 'Miss Dior', the chairs are available in a selection of boutiques from late 2022 too.
INFORMATION
'Dior by Starck', until 12 June, at Palazzo Citterio, Via Brera 12, Milan. dior.com (opens in new tab), starck.com
TF has been editor of Wallpaper* since December 2020. He is responsible for our monthly print magazine, planning, commissioning, editing and writing long-lead content across all our content pillars. He also plays a leading role in multi-channel editorial franchises, such as our annual Design Awards, Guest Editor takeovers and Next Generation series. He aims to create world-class, visually-driven content while championing diversity, international representation and social impact. TF joined Wallpaper* as an intern in January 2013, and served as its commissioning editor from 2017-20, winning a 30 under 30 New Talent Award from the Professional Publishers' Association. Born and raised in Hong Kong, he holds an undergraduate degree in history from Princeton University.