'You don't want space; you want to fill it': Milan exhibition
Making its debut during Milan Design Week 2022 at Marsèll Paradise, a new exhibition by Matylda Krzykowski, explores how we approach the space we live in (until 15 July 2022)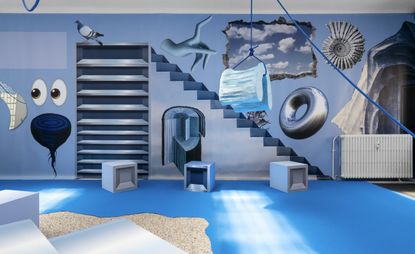 (Image credit: Lorenzo Capelli)
A large sign in blue tones, resembling a giant cartoon bubble straight out of a comic book, welcomed visitors to via Privata Rezia 2, where a thin neon sign foreshadows Marsèll Paradise, the multidisciplinary Milanese space of the Venetian footwear brand Marsèll. During Milan Design Week 2022, the brand unveiled Matylda Krzykowski's latest site-specific project (on display at Marsèll Paradise until 15 July 2022).
Matylda Krzykowski at Marsèll Paradise
Born in Poland but raised in Germany, the artist teaches, plans, designs, and writes about physical and digital space.
Her most recent project, an investigation into the perception of space in contemporary culture, is also the first to take up the entire surface of Marsèll Paradise: 'You don't want space; you want to fill it', is an exhibition, an installation, and a social space all at the same time.
Careful planning appears to challenge, or at least call into question, the precise method of display of the Milanese design days. According to the exhibition guide, works by contemporary, transdisciplinary artists, designers, performers, and musicians who shift between visual and performative, natural and artificial, human and animal, touch and sound are included. Phillip Schueller, Collo Awata & Delfiné, Lisa Ertel & Jannis Zell, and Mirka Laura Severa, with assistance from Miriam Wierzchoslawska, are involved.
As soon as you enter, a sort of confetti-filled piñata-shaped like a Dalí artwork awaits you on the right, hanging from a blue rope – the colour blue dominating the entire environment. A painted pigeon peeps over a trompe l'oeil bookcase, long hands with raised fingers run through all the rooms, piles of pizza-blue boxes bordered by the exhibition title appear in the corners, and a fluorescent and transparent curtain reproduces a lobster and a changing room at the same time.
Some of the furniture is directly from Krzykowski's home. A girl sits on a blue bench on the side of a room called 'Alcove', surrounded by organic-shaped spikes in grey, beige, and black, looking at the exhibition maps. Two friends take a selfie in front of a pair of cartoon eyes. A video by Mirka Laura Severa is topped with a cartoon bubble that reads: 'There is an audience's voyeuristic desire to enter people's homes and living rooms.' A mezzanine hosts a large blue-upholstered bed resting on a green floor, surrounded by stacks of books and magazines – a copy of Liliana Barchiesi's photography book Donne è bello is left open, next to the imprint of a body on the bedspread, indicating the last visitor.
Downstairs, in the space usually set aside for the exhibitions, the scenography changes dramatically; a yellow light dominates everything, and the only link to the upper floor is a blue comic that reads: 'Do you want to live inside a tree, or behind a window on the other side of the street?' Lisa Ertel and Jannis Zell, designers and artists, appear to have collected nonhuman artefacts, or biofacts, along their recurrent walks in urban and rural landscapes, and they brought them back to their studio to create a growing Wunderkammer, blending the collected souvenirs and raw materials with the studio's interior, questioning our habitat. 'Defensive Shelf' is a spike-armed metal shelf that welcomes wood and flowers in a corner. 'Beaver and its Shadow' is a reproduction of an orange fruit placed on a trunk section.
'Can I touch it?' a young man whispers to his girlfriend, as she sits cautiously on a large dark sofa that appears to be carved from stone. It turns out to be soft and comfortable: 'I'm not sure,' she replies. 'Nothing here is as it appears.'
INFORMATION
'You don't want space; you want to fill it' is on view until 15 July 2022
Marsèll Paradise
forma.marsell.it/paradise
ADDRESSVIEW GOOGLE MAPS (opens in new tab)
Via Privata Rezia 2
20135 Milano MI
Italy