Joint forces: wooden furniture hitting the mark with design details
Our edit of traditional wooden furniture design boasting delightful joinery from Max Lamb, Christophe Delcourt, Martino Gamper and more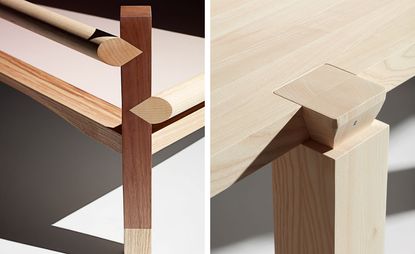 (Image credit: Richard Foster)
The devil is in the detail, and traditional wooden joinery, be it butterfly or dovetail, can elevate wooden furniture design with an element of surprise. Here, we share our edit of contemporary wooden furniture featuring exciting joint design.

When creating his eponymous table for Hem, Max Lamb devised leg joints that set the legs flush into the tabletop, sturdily supporting its 200kg weight and visible as four simple squares on its surface.
Israeli designer Hagit Pincovici went for a more embellished approach, developing an aluminium foam which connects the wooden seat of her 'Sands' stool to its sandstone supports, while London-based Italian designer Martino Gamper opted for something more classic when designing his 'Round & Square' collection, which uses contrasting woods to make a feature of the good, old-fashioned V joint.

Bringing a bit of French fancy into the mix, Christophe Delcourt's 'Geo' side tables are a lesson in lovely craftsmanship, with the top and bottom shaped to slip on top of one another, giving a geometric side-on view.
Titled Bowater, Jan Hendzel 's first full collection of furniture comprises 9 pieces, from large-scale storage furniture to trays and shelves. Hendzel's designs explore a variety of British timbers, highlighting the wood's rich diversity throughout the collection. The design is defined by a distinctive ripple motif, used both as a decorative element and as a functional aspect of the furniture's modularity. Hendzel's playful approach to the designs is evident in the way he played with different colours and textures, and the joinery throughout the collection demonstrates his craftsmanship sensibility.
Another piece hitting the spot with an imaginative use of joints is Mac Collins' Iklwa chair. Since its launch as a graduate project, the chair has since been acquired by Benchmark and included into the British company's furniture collections, crafted in ash and oak. In the design of his piece, Collins eschewed traditional wooden joinery by creating a visually arresting and ingenious motif where the back and the armrest connect.

The chair, the designer explains, is the result of his investigation into 'the forced migration of African people during the colonial era', and its design references a throne with nods to Afrocentrism and Afrofuturism. Collins employed a composition of powerful, spear-like forms, as well as an encompassing backrest, to create a piece that is visually intense and empowering.
INFORMATION
hem.com (opens in new tab)
dimoregallery.com (opens in new tab)
christophedelcourt.com (opens in new tab)
martinogamper.com (opens in new tab)
janhendzel.com (opens in new tab)
benchmarkfurniture.com (opens in new tab)