Artcurial offers cultural case studies on French and Italian design
A duo of sales taking place today at auction house Artcurial present fresh perspectives on French and Italian icons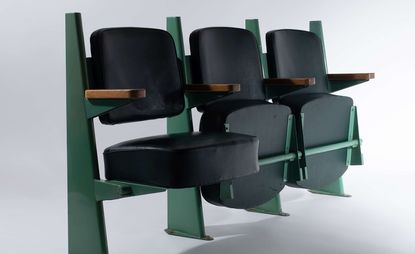 (Image credit: TBC)
When Artcurial was born in 2002, the world wasn't lacking auction houses, yet there existed 'an opportunity to rock the boat and push the boundaries,' says Fabien Naudan, Artcurial's co-founder and vice president. Part of the Dassault Group with its origins in the aircraft industry, Artcurial compares to its heavyweight competitors like 'a customised private jet that can land anywhere to an aircraft that carries 300 passengers across the Atlantic.' It may not be the place to put out the world's most expensive painting, but it's certainly a go-to address if you want your piece to be associated with a fascinating story and a unique experience.

Artcurial's DNA is a constant search for new, cross-over concepts and dialogues — while never exploiting a successful idea until it's squeezed dry. As a result, an Artcurial sale becomes a cultural case study, like last year's C.R.E.A.M, an overview of the three decades of urban culture in the U.S. As a side effect, the world of design opens up to new audiences; one good example is the 2006 'Black' sale that showcased black items in an all-black interior and where a customer who claimed to 'hate design' has purchased some armchairs by design icon Joe Colombo.

The principle of offering new perspectives on familiar things applies to both one-off and annual sales like those focused on French, Scandinavian and Italian design. The sale on 19 November, putting out a selection of French and Italian items, is no exception.

Studio BBPR – the architects behind Milan's emblematic Velasca Tower – are among Artcurial's Italian headliners. Auctioned tomorrow will be two ceiling lights from BBPR's only project in India. A true forerunner of the postmodernist approach, the fixture is based on their 1962 piece produced by Italian company Arteluce and assembled from various-sized versions of a lamp designed by the company's founder Gino Sarfatti.
Another unique piece is a chandelier that was designed by Jean Royère for the Iran House at the Cité internationale universitaire in Paris. One of the boldest structural designs of the 1960s, the Iran House was spearheaded by the Shah of Iran and intended as student accommodation for his country's future elite. André Bloc and Claude Parent were in charge of the architectural project, while Jean Royère — who had previously received private commissions from the Shah and his spouse — has outfitted the director's apartment on the top floor, where this chandelier occupied the central position.

Charlotte Perriand's sideboard 'En forme' reminds of the designer's connection with Japan. Invited to advice on developing the country's industrial design, Perriand discovered the Japanese philosophy of life that has resonated with her own creative stance and profoundly influenced her subsequent work.
There is also an interesting take on the furniture with enhanced functionality, like Jean Prouvé's triplet of tip-up seats or a bed based on his original design for a university residence and incorporating a bedside table and a bookshelf. The armchairs by Augusto Romano have armrests that morph into mini-shelves to tuck away a 1940s ashtray, a book, or a 2019 iPhone. A display case by Carlo Scarpa offers a glimpse of the architect's game-changing contribution to the design of museum exhibitions.

Works by Ingo Maurer stand out in the impressive selection of lighting pieces. An installation in which luminous objects made from sheets of copper and gold-leafed paper populate a large copper-clad table pays homage to the late master's lifelong exploration of reflections and shadows.
INFORMATION
'Design Italien' and 'Design' auctions will be held on 19 November. artcurial.com