In memoriam: Ingo Maurer (1932-2019)
The leading light of the design scene, German-born and raised Ingo Maurer has died aged 87. Here, Deyan Sudjic remembers the legacy of this illuminating force in the industry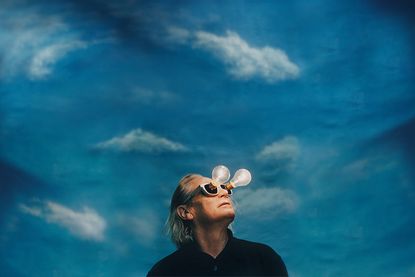 (Image credit: Robert Fischer)
Wallpaper* Newsletter
Receive our daily digest of inspiration, escapism and design stories from around the world direct to your inbox
Thank you for signing up to Wallpaper. You will receive a verification email shortly.
There was a problem. Please refresh the page and try again.
To say Ingo Maurer was a lighting designer would be like calling Enzo Ferrari just a car designer. For more than 50 years, Ingo spent his career designing and making lights, but it hardly begins to cover exactly how special he was.

Ingo began turning mundane utility into magical illuminations in 1966 in Venice. Here, he had his first surreal flash of inspiration – he set about putting a functioning light bulb inside an outsized bulb-shaped glass sleeve sitting on a chrome-plated folded sheet metal socket. By that stage, he had worked in advertising in the US, and started a business manufacturing furniture designed by his first wife Dorothee Becker. 'Bulb' was the start of a continuous flow of endlessly inventive creative work that was witty and questioning, but above all beautiful.
Ingo was born and grew up in southern Germany, between the two world wars. He trained as a typographer in Munich before moving to the USA. As a designer, he took his inspiration from what he saw around him. His hanging lighting system, 'Ya Ya Ho' had its roots in a tropical New Year's dawn in Haiti. Ingo noticed a bare bulb rigged up, forming a makeshift unauthorised street lamp – a light bulb welded to a cable swinging from an overhead power line. He took the memory home with him, and used it as the starting point to come up with a new approach to lighting.

Inside his workshop, Ingo tinkered with a prototype to perfect it. Rather than a conventional lamp, he designed a kit of parts including a transformer, a pair of cables, and a range of different lights and reflectors that could be attached in an ad hoc fashion. There was no one fixed final form, 'Ya Ya Ho' could be tailored to a specific space, adapted and customised. It represented an entirely new aesthetic approach that was organic with an almost ethnographic flavour. The user became the designer.
Manufacturing conventional industrial objects was not enough for Ingo. He began to work on public and private commissions, from Munich Airport to a sushi bar designed by Shiro Kuramata in Tokyo. The 'Porca Miseria!' chandelier was made with a carefully assembled explosion of porcelain crockery fragments and flying cutlery – he used it to raise money for a poor community.

Working with young designers and manufacturing their work was at the core of Ingo's initiatives – he was continually fascinated by what others had to offer and was generous with his time and energy. For Ingo, the point of the exercise was not to make more or less ingenious lighting machines, or pursuing to make perfect objects, what fascinated him was light itself.

Ingo used everything from paper and textiles to mirrors, feathers, ceramics and found objects to diffuse and celebrate light. He channeled it, shaped it, painted with it and joked with it. For the audience, he allowed you to interact with it, and adapt it. Ingo loved the traditional incandescent bulb, but he continually explored other kinds of light source, from halogen to light emitting diodes. He even worked with Moritz Waldemeyer to make a startlingly life-like digital candle flickering into life on a circuit board. There was nobody else like Ingo.
Receive our daily digest of inspiration, escapism and design stories from around the world direct to your inbox