Simon de Pury's new design auction presents a variety of contemporary works while redefining the auction model
Create! – 21st Century Architecture and Design is an online auction by Simon de Pury, launching on 26 July 2023 and featuring works by the likes of Rick Owens, Ron Arad and Tom Dixon as well as emerging talent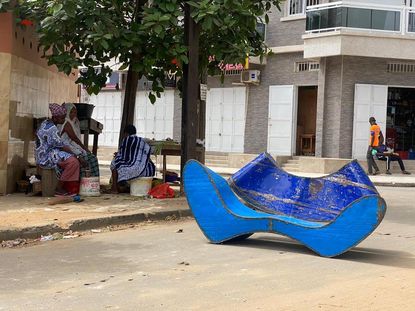 (Image credit: courtesy De Pury)
Simon de Pury's career has been predicated by passion and innovation, and thus Create! – 21st Century Architecture and Design, an online auction by de Pury, (launching on 26 July 2023) is both an inevitability and a dynamic intervention.
Explaining the genesis of the project, de Pury notes, 'I have always loved architecture. When I used to own Phillips, design was one of the three pillars of the firm besides contemporary art and photography. I wanted this auction to incorporate super-established artists like Ron Arad that I have admired forever and young emerging ones that have been building an audience through social media.'
Known in the industry as the man with the golden gavel, De Pury was an early proponent of the potential of moving his operations to the digital space: 'The pandemic forced the art market to embrace technology. My goal is to translate some of the excitement of a live auction to an online auction.'
Create! – 21st Century Architecture and Design by De Pury
Anticipatory buzz has been galvanized by the curation of the project itself, with a total of 68 lots from mid-career and emerging artists, such as Pia Maria Raeder and Ifeanyi Oganwu, alongside established voices in the 21st century design canon, such as Ross Lovegrove and Ingrid Donat.
Geographic location also played a part, with de Pury observing: 'I wanted this sale to show the great variety of what is being done today. It has designers from all parts of the globe working in very different styles.'
Perhaps most significantly, De Pury has dared to disrupt the traditional auction house model with 100 per cent of the hammer price going to the artist and their representative gallery, and a buyer's premium of 18 per cent, rather than the industry standard of 25 per cent, with a 3 per cent of the premium put aside to support the Architectural and Design Department at MoMA, the world's first curatorial department of its kind.
Explaining the rationale behind the sales approach, De Pury notes: 'Back in the 1990s, Sotheby's and Christie's started conducting private transactions. I never understood why the main primary market galleries didn't do auctions as well. They know their buyers at least as well as the main auction companies. With primary market auctions artists and the galleries representing them have direct access to sell some of their primary market works at auction.'
From Ross Lovegrove to Ifeanyi Oganwu
With almost a quarter of the 21st century to look back upon, the auction also offers a snapshot into the design theses and loci of concerns that have captured the imaginations of contemporary practitioners. Refinement of concept and exploration of materials and methodologies is touched upon by Ross Lovegrove, whose 'Trilobal' table, crafted in mirror-polished aluminium, and part of his 'Liquid Bioform' collection conceived in 2005, is one of two lots he has in the auction. Speaking of the table, Lovegrove says, 'I was looking for a highly contemporary method of making that would allow me to make immaculate, high-precision forms derived from computational animation. Historically, I wanted to achieve forms that remain in motion, retaining a life force and energy as if the metal was arrested in its liquid form in space and time.'
Lovegrove first showed the collection with de Pury in New York in 2007, and in his work has continued to harness the potentiality of AI. He adds 'I'm a sculptor of technology and so I move with the times. I wish to retain a position of progressing the fusion of nature, technology and art in design.'
The 'Split Cell Concept No 4', a sculptural seat in limewood and steel by Ifeanyi Oganwu, sees the interdisciplinary designer and architect's work on the de Pury platform for the first time. As part of a series of objects created to occupy a space between sculpture and furniture, it also serves as a meditation on the design process. Oganwu adds, 'Design is a time-based practice… and I don't feel that I have to share all the time but rather take a contemplative, research-based approach.'
Conceived and made during the pandemic in 2020, a time when, the designer says, 'the world around me didn't make sense', the piece's steel plate and limewood are of equal weight and in their juxtaposition become an external comment on harmony and chaos, or as Oganwu explains, 'a liberating experiment with form and construct'.
Reflecting on the evolution of the design collector, de Pury asserts: 'While most contemporary art collectors don't acquire works to fill their walls, the majority of contemporary design collectors buy works for which they have a specific spot in mind in their houses. The market for design has not yet attained the same maturity. It will doubtlessly do so in due course.' However, de Pury as a platform has developed a modus operandi that in its accessibility and immediacy will doubtless be a catalyst for change whilst still celebrating the rigour, functionality and wonder found in good design.
CREATE ! - 21st Century Architecture & Design
Primary Market Auction on 26 July 2023 at 5PM BST
Receive our daily digest of inspiration, escapism and design stories from around the world direct to your inbox