Designers and artists bring 3D printing into sharp relief at the Centre Pompidou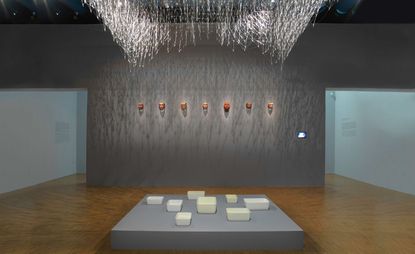 (Image credit: Flavien Perrottey)
Wallpaper* Newsletter
Receive our daily digest of inspiration, escapism and design stories from around the world direct to your inbox
Thank you for signing up to Wallpaper. You will receive a verification email shortly.
There was a problem. Please refresh the page and try again.
The printed world isn't flat. That's the main takeaway of 'Imprimer Le Monde' ('Print the World'), a mind-bending exhibition at the Centre Pompidou, where a striking selection of 3D-printed objects reflects the diverse and ambitious visions of designers, artists and architects. It's the type of show that presents myriad entry points for visitors depending on their existing knowledge of the disruptive technology.

Some may find themselves drawn to the overall unfamiliar aspect of otherwise familiar forms (Laureline Galliot's teapot; Studio Swine's 'Meteorite' platform shoes in aluminium foam); others might be determined to understand the actual concept of additive manufacturing – how machines are programmed to construct something layer by layer based on complex algorithms and computer-assisted design.

Certain examples maintain a connection to artisanal workmanship (the Bouroullec brothers integrate 3D-printed nodes into a geometric chestnut wood screen); while Daniel Widrig's life-size man and woman standing in some sort of suspended liquefied state are meant to represent notions of transhumanism and artificial intelligence, hence their name, The Descendants. The fact that nearly everything presented has been realised within the last five years attests to the incredible speed at which individuals and companies are turning pioneering ideas into tangible prototypes.

Whether the ridged and pleated ceramic vases by Olivier Van Herpt that appear as if in fine linen, Mathias Bengtsson's 'Growth Table' with its twisting legs newly manufactured in titanium, or Heather Dewey-Hagborg's mask-like faces composed from genetic material collected in public places, the works suggest the enormous potential of digital technology to transcend typical notions of craftsmanship and beauty. Michael Hansmeyer and Benjamin Dillenburger's 'Grotto II' presents a 'digital grotesque' that is epic as far as execution; the 260 million facets have materialised from silica sands and a binding agent into a fossilised alien artwork – or else some type of baroque cave infested with ghostly overgrowth.
At the other end of the spectrum is the 3D-printed resin typography block conceived by Richard Ardagh from New North Press conceived in collaboration with A2-Type and Chalk Studios. As a means of preserving traditional art of letterpress – of printing on a flat page – it ingeniously flips the paradigm; and to wit, the balloon-like letters on display read 'Imprimer'.

Overseen by chief curator Marie-Ange Brayer and associate curator Olivier Zeitoun, the show does a fine job of alternating the focus between process and product. A delicate, constellation-like canopy developed by the University of Tokyo Advanced Studies Research Unit (with the participation of Kengo Kuma) can be appreciated in and of itself, for instance; but even more so after watching the screen that shows how it was created.

A timeline near the show's entrance provides the antecedents and inventions that laid the groundwork for the technology as it exists today. One hundred and fifty years before 3D-printed cells and chairs, there was a 'photosculpture' from 1860 by François Willèm, who used a photo plus a pantograph (an instrument that copies a drawing at a different scale) to depict his male subject.

Fast forward 150 wildly innovative years and various iterations maintain some semblance to the human form – see Jon Rafman's cratered sea foam bust, or Neri Oxman's transparent, otherworldly masks impregnated with veiny fibres – only manipulated as though a biology experiment. Meanwhile, abstract acoustics from an installation by Ircam exploring the reproduction of 3D sound permeate the space; they underscore, quite literally, the strange and surprising artistic output emerging in this new age of machines.

Adjacent to the exhibition is a retrospective on Ross Lovegrove, which lays out his vast body of work, from the mass consumption 'Ty Nant' water bottle to the conceptual, self-sufficient Swarovski Generator House. Both shows mark the debut of 'Mutations/Créations', an annual event hosted by the Centre Pompidou as a platform for envisioning the future of art and interdisciplinary design.
From left, 'Voxel' chair, by Bartlett researchers; 'Shapes of Sweden', by Lilian Van Daal; one of the earliest pieces in the show, 'Chaise Fab #71', by François Brument and Ammar Eloueini; 'Transitional Fields', by Studio Aleksa; and 'Endless Chair', by Dirk Vander Kooij.
INFORMATION
'Imprimer Le Monde' is on view until 19 June. For more information, visit the Centre Pompidou website
ADDRESS
Centre Pompidou
Place Georges-Pompidou
75004 Paris
Receive our daily digest of inspiration, escapism and design stories from around the world direct to your inbox