New York Design Week 2023: the highlights
New York Design Week 2023 hit town this week with a rich programme of fairs and gallery exhibitions. Here are our highlights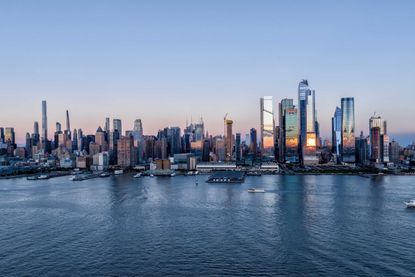 (Image credit: Gian Lorenzo Ferretti )
New York Design Week 2023, also known as NYCxDesign, engulfed the Big Apple this week (closing yesterday, 25 May). This year's iteration was stronger than ever, not least because two major tentpoles of the design festival, the International Contemporary Furniture Fair and Wanted Design, were brought together under the unified direction of Wanted Design co-founders Claire Pijoulat and Odile Hainaut.
New York Design Week 2023: ICFF, WantedDesign and more
Starting this year, Pijoulat and Hainaut served as ICFF + WantedDesign brand directors, overseeing programming for both entities, which were located under one roof at the Javits Centre, as has been for the past two years. Inspired to create a design showcase that felt smooth and unified while celebrating the strengths of each fair, the reimagined ICFF + Wanted Design aspired to bridge the gap between commerce and culture since the former has long been an established trade fair, while the latter has served as a platform for emerging talent and creativity.
Inspired to bring back an element of discovery to the Javits, Pijoulat and Hainaut's vision for the fairs included a new showpiece installation, 'At the Crossroads of American Design', which presented a snapshot of established and emerging design from around the United States. Designed by Rockwell Group and located at the nexus of the two fairs, the immersive installation paid tribute to two pillars of Americana – the great outdoors and the American home.
With plenty of independent exhibitions and several recent showroom openings, including Nanimarquina and Lladro, the year's design showcase was more vibrant and varied than the years past.
HIGHLIGHTS AROUND NEW YORK
Uptown
Galerie May at the Invisible Collection Townhouse
Melding the best of both worlds, the Invisible Collection filled its Upper East Side townhouse with pieces from the French design studio, Galerie May. Coinciding with NYCxDesign and French Design Week, Galerie May's presence within the Manhattan townhouse captured an extravagance more commonly seen across the pond. The 39-strong collection, by founders Maylis and Charles Tassin, showcased a wide range of aesthetics. Highlights include the decadent Dorr Mirror, a bronze anthropomorphic sculpture that nods to motherhood and Tess armless chair, which evokes sensuality and comfort through gestural, carved shapes and silhouettes inspired by sci-fi B movies.
From 19m May, The Invisible Collection Townhouse, 24 E 64th St, New York
'Crafted by Nature' by Radnor
Founder Susan Clark presented all new Radno̲r Made work from artists and designers Clark, Bunn Studio and Adam Rogers as well as exclusive Radno̲r Represented pieces from Abigail Booth, Toshio Tokunaga and Fong Brothers Company. Presented in Radnor's immersive apartment setting, which features stunning views of Manhattan, highlights include an exclusive reissue of the Fong Brothers Company's Parsons Circular Sofa, a legendary 1970s design long since retired, and Clark's own Core Tables, which take inspiration from the process of core drilling and honors the intrinsic complexity of stone, a block of rare yellow sienna marble sourced from Italy.
Radnor Showroom, 180 East 88th Street, 44th Floor
Midtown
Lasvit at ICFF
The Czech glass and design company Lasvit lit up the halls of the Javits Center with a pair of new collaborative collections. David Rockwell has created 'Constellation', a design inspired by the iconic celestial skyscape that adorns the ceiling of Grand Central Station, while Yabu Pushelberg has created 'Miles', an elegant light form inspired by jazz, and the parallels drawn between glass blowing and making music.
21-23 May, ICFF, Javits Centre, 655 West 34th Street
'Unding: The Restoration of Existence' by Wonmin Park at Carpenters Workshop Gallery
The South Korean artist/designer Wonmin Park marks his solo American debut at Carpenters Workshop Gallery with 'Unding: The Restoration of Existence'. Comprised of two bodies of work, Stone + Steel (made from volcanic rock and industrial steel) and the Remediated series, which features colourful resin fused with glass, the exhibition provides deep insight into the works and Park's artistic vision, which is heavily influenced by teachings of German-Korean philosopher Byung-Chul Ha. 11 pieces ranging from a table and chairs to a bench and a floor lamp are presented.
Until 27 July 2023, Carpenters Workshop Gallery, 693 5th Avenue
'Bao' by Alda Ly Architecture for HBF
HBF presented its newest collection, Bao, the first-ever furniture collection designed by Alda Ly Architecture. A celebration of women in design and Asian culture, the perfectly formed collection is comprised of stools and ottomans that combine upholstery and bent wood accents and are designed for maximum comfort. A play on the Chinese word 'bao' – a homonym for bun, bag, precious, and baby, the collection is sculptural in silhouette yet simple in its construction and was conceived to bridge the gap between formal and informal, sedate and lively.
HBF, 155 5th Ave, 6th floor
Nanimarquina
The Barcelona-based rug brand nanimarquina inaugurated its new New York flagship with a presentation of new designs from Ronan Bouroullec, Begüm Cânâ Özgür, and Matthew Hilton. The three new collections experiment with the rug medium in different ways; Bourellec's geometric design riffs on ancient kilim techniques, Hilton's Oblique toys with the idea of overlaying rugs on top of each other while Özgür juxtaposes vibrant colours to harmonious effect.
Nanimarquina NYC Showroom, 907 Broadway, 2nd Floor
Moroso
Fresh off its unveiling in Milan, Ron Arad's Matrizia sofa, an innovative soft sculpture made by re-shaping a mattress into a seat, makes its way across the pond. The limited edition sofa is amongst some of the other 2023 novelties presented in Moroso's Madison Avenue showroom.
Moroso, 105 Madison Avenue
Soho/Tribeca
'Upon Further Reflection' by Female Design Council
Bringing together a dynamic roster of 20 female designers of Asian American and Pacific Islander backgrounds, 'Upon Further Reflection' rightly shone a light on the creative outputs of this community. Themed around the ideas of self-reflection and mirroring – a particularly poignant point of debate and experience amongst AAPI people, curators Lora Appleton of the Female Design Council and Andrea Hill of the design label Tortuga Forma, united practitioners experimenting with surface exploration, materiality and aspects of self-discovery. Organised in partnership with the AAPI Design Alliance, the exhibition was presented at the flagship boutique of 3.1 Phillip Lim.
20-25 May, 3.1 Phillip Lim, 48 Great Jones St, New York, NY 10012
RBW
The homegrown lighting company RBW worked with the industrial designer Jonathan Damon to create Highline, an adaptable linear system that fuses together flexibility with the eye-catching nature of a decorative fixture. Suspended on a slim, linear beam, three accent fixtures can be selected based on one's need; a cone pendant looks sleek, the dual-axis swivel light creates a movable spotlight while the felt shade imbues warmth. The brand also unveiled Topo, an upcoming flush mount collection which uses a composite material made out of cement and wood particles, that has not been used in lighting or furniture design before.
50 Greene Street, 2nd Floor
'The Onna Collection' by Swell Studio
Named after a shortened version of 'colonna', the Italian word for column, Swell Studio's second collection is largely inspired by a recent trip to Italy that founder/designer Mike White took. Working with Breccia pernice stone, steel and white oak, White has created a seven-piece collection that includes a credenza, a floor lamp, a wall sconce, a mirror, a drum side table, and chandelier, that each upholds the studio's love for boundless hybridization and scaling raw elements and shapes with a keen attention to detail. A repeating motif of intersecting cylindrical shapes and geometries can be spotted from the pulls to the legs of the credenza.
Love House, 214 Sullivan Street, #2D
'Divine Inspiration' by Lee Broom
It has quickly become a New York tradition to visit the well-appointed Tribeca penthouse of British lighting designer Lee Broom. As per the past two years, Broom once again invited visitors into his home away from home, both for private tours and to view his latest creations. This year - Broom's 15th in the industry - the spotlight was on his Divine Inspiration collection, Broom's first new designs in four years, which was presented in a residential setting for the first time.
Visits to The Penthouse can be booked daily from 18–25 May between 10am – 6pm. Email penthouse@leebroom.com to book a private appointment.
'Archival' rug collection by Tom Delavan for Beni Rugs
The interior designer/veteran design editor Tom Delavan has collaborated with Beni Rugs on a suitably stylish collection of floor coverings inspired by vintage Tulu rugs, known for its high pile, saturated colours and bold patterns. The collection, Delevan's first, also introduces Beni's first ever shag rug, which has been made under the auspices of the Siroua Project, a collective working to protect the Siroua sheep, whose long, silken fleece is used to make these rugs, but is running the risk of endangerment because of their lack of meat and small size.
Beni Rugs, 13 West 9th Street. By appointment via nyc@benirugs.com
'Isle' by Zoe Mowat for Lambert & Fils and 'No Flags' by Zaven for Verso
The Montreal-based lighting studio Lambert & Fils has teamed up with fellow Canadian Zoe Mowat on a new collection of lighting that toes the line between illusion and perception. Made from delicate glass tubing anchored on stone pedestals that are suspended in the air, Isle plays with the idea of mass and lightness in minimal, but memorable way. The location also features 'No Flags', a new collection of furniture and objects by Venice-based Zaven
The show will be on view until July 2nd. Lambert & Fils/VERSO showroom, 51 Hudson St
'Snake Eyes' by Egg Collective
In celebration of its 11th anniversary, Egg Collective's Snake Eyes collection plays with the serpent as a symbol of fate, chance, and power. The all-female trio has analysed the ideas of transformation and rebirth as they continue exploring form and the use of natural materials in their first major release of work since 2019. In addition to new furniture pieces such as coffee tables, cabinets, side tables and a stool, the presentation also includes the studio's first ever rug collection.
Egg Collective Showroom, 151 Hudson Street
The Knockoff Show at Colony Design
Created as a direct response to a culmination of frustration by the independent design community towards having designs being directly reproduced without sharing credits or profits, Colony's latest exhibition showcases new designs inspired by works from the past. In a move that underscores the ethics behind drawing inspiration, the presentation includes a collaborative piece by Studio Paolo Ferrari and Hiroko Takeda, and a new credenza by Grain.
Open through June, Colony, 24 Canal St, 2nd Floor
'Soft Opening: Under the Influence' by Lindsey Adelman
As a sequel to her presentation in Milan, Lindsey Adelman transformed her New York studio space into an immersive gallery setting where a configuration of new lighting, works on paper and ceramics were staged against an original film that explores the unique qualities of light found only in the desert. The light works are the first result of LaLAB – a new platform within Adelman's studio, dedicated to experimentation, unfettered freedom and transgressing boundaries. Ranging from 14 suspended light installations to hand-blown glass oil lamps and alter-like arrangements of curiosities, the highly personal presentation delves even further into Adelman's artistic practice.
324 Lafayette Street, 7th floor
Lower East Side
Make-Do by Marta and Catalog Sale
The Los Angeles-based design gallery Marta has teamed up with the independent auction house Catalog Sale to stage 'Make-Do', an experimental survey of chairs, each made in three days. The participants in the show were each tasked to fabricate a piece following a rudimentary timeline: identifying and gathering material on day one, designing and planning on day two, crafting and assembling on day three. The results, which include creations by Nifemi Ogunro, Chen Chen and Kai Williams, Sarah Burns and Kristen Wentrcek and Andrew Zebulon, have been put in dialogue with pieces from Catalog Sale founder Avi Kovacevich's own collection.
From 19-27 May, 5 Chatham Square
Sight Unseen Collection
The newest additions to Sight Unseen's in-house collection was revealed in an exhibition comprising furniture, lighting, and objects from a stable of emerging and mid-career designers from around the world, all of which can be ordered directly through Sight Unseen. Eschewing a white box backdrop, the exhibition featured new work by 23 designers and studios, displayed alongside the work of France-based painter Heather Chontos. Highlights include the launch of the first furniture collection by Brooklyn ceramicist Danny Kaplan, the New York debut of LA designer Ben Willett, as well as work from hometown favourites Nifemi Ogunro and the design studio Jumbo (pictured).
Voltz Clarke, 195 Chrystie Street
Areaware
The veteran design brand Areaware, a longtime platform for designers at all stages, returned to the main stage with the launch of their first ever furniture collection. Taking over the multidisciplinary space Colbo, a record shop, cafe and boutique all rolled into one, Areaware presented the Pluma Stools by Steve Bukowski, Sophie Collé's Splat Side Tables in new colours, new lamps by Talbot & Yoon as well as planters by Chen & Kai and Sam Bigio.
Colbo, 51 Orchard Street
'Les Coraux' by Sophie Lou Jacobsen for La Romaine Editions
In an ode to instant gratification, the glassware designer Sophie Lou Jacobsen has released a 16-piece vase collection for the French homeware brand La Romaine Editions that visitors can buy and take home in person. Jacobsen, who is French-American, has wielded her love for bright colours and irregular shapes to craft forms that evoke sea coral, each is hand blown at a heritage furnace in Biot, France out of bubble glass. The space featured a site-specific installation created by Sunfish NYC, showcasing an unreleased painted room divider, console table, and sculpture all made from terracotta.
Beverly's NYC, 27 Orchard Street
Financial District
We are Ona
The French culinary collective We are Ona unveiled its first appearance in New York with a four-day pop-up lunch and dinner service housed within a soon-to-be cultural hub, WSA, in the Financial District. The dining experience was designed by Henry Nuriev of Crosby Studios, who was inspired by the stainless steel workstations and equipment commonly found in restaurant kitchens. With panoramic views from the building's 28th floor of the Brooklyn skyline and East River, the dynamic setting was a perfect foil to the equally delectable menu, conceived by the Michelin-starred chef Mory Sacko.
161 Water Street
Brooklyn
Viso Project
Viso Project opened the doors to its first permanent space in Brooklyn's Dumbo neighborhood this week. Known for drawing inspiration from the art and design worlds, the lifestyle label's array of exquisitely made blankets, pillows and accessories are equally matched by the eclectic atmosphere of its new home. Featuring an installation designed by the Madrid-based firm Casa Antillon, visitors to the multidisciplinary showroom-gallery-retail space will be treated to never-before-seen Viso products and new collaborative pieces spanning furniture and objects.
Viso Project, 46 Pearl Street, Brooklyn
'Furnishing Utopia 5.0: Public Access'
Ladies and Gentlemen Studio's ongoing investigation of Shaker design principles takes new form with 'Public Access', a collective design exhibition of works that explore how design can inspire communal acts of sharing in the public realm. Curator Jean Lee has united an international group of 37 designers to create work focused on sharing community resources or connecting with nature. Each work responds to its unique location and is an invitation for public engagement. Presented in two parts, the show can be seen indoors at Head Hi (until 4 June 2023), an organization dedicated to design and architecture publications with an emphasis on cultural programming, as well as outdoors at Brooklyn Greenway Initiative's Naval Cemetery Landscape in Brooklyn Navy Yard (until 25 May 2023), a 200-year-old historical site that serves as a sacred grove and a memorial meadow for public use.
Head Hi, 146 Flushing ave, Brooklyn, NY On view from 5/18 -6/4
Brooklyn Greenway Initiative's Naval Cemetery Landscape, 63 Williamsburg St W, Brooklyn, NY 11249
Oko by Ana Kraš and Bower
The Brooklyn-based design studio Bower's expertise with mirrors reaches a new height with a five-strong collection of mirrors designed by Ana Kraš that riff on the artist/designer's figurative drawings. Referencing Kraš' expressive use of line, color, and texture, the tag team transformed these elements into compositions of shapes that are harmoniously arranged around the mirror's edge to forming a deconstructed frame. The hand-drawn lines materialized into dimensional metal components that clip onto the outer edges of the glass to playfully mimic the contrast of crayon on paper.
Open on 24 May, Williamsburg Art & Historical Center, 135 Broadway, 2nd floor, Brooklyn
Salam Hello at Assembly Line
Assembly Line, the retail storefront helmed by the interior design studio General Assembly, is a worthy design destination in Brooklyn on its own, but as a complement to the artisan-led rug company Salam Hello, its innate celebration of craftsmanship truly sings. The two companies have collaborated on Izra, a collection of hand-knotted rugs a mother and daughter-run all-female collective. Loosely translated as 'weave of the day', Izra includes seven unique styles ranging in color, cost, and size, and marks the first-ever collaboration between Salam Hello and an external partner beyond their artisans.
Open until 2 July, Assembly Line, 373 Atlantic Ave, Brooklyn NY 11217
Pei-Ru Keh is the US Editor at Wallpaper*. Born and raised in Singapore, she has been a New Yorker since 2013. Pei-Ru has held various titles at Wallpaper* since she joined in 2007. She currently reports on design, art, architecture, fashion, beauty and lifestyle happenings in the United States, both in print and digitally. Pei-Ru has taken a key role in championing diversity and representation within Wallpaper's content pillars and actively seeks out stories that reflect a wide range of perspectives. She lives in Brooklyn with her husband and two children, and is currently learning how to drive.