'Crossroads' at ICFF 2023: 'There is room for everyone in American design'
'At the Crossroads of American Design: Celebrating the Established and Emerging' is a new exhibition at ICFF 2023 curated by David Rockwell and Wallpaper's Pei-Ru Keh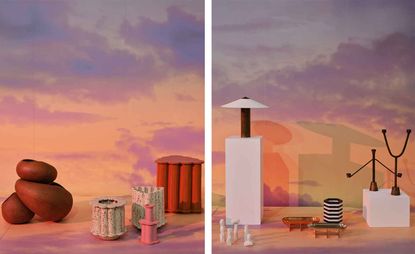 (Image credit: Alice Gao)
At the crossroads between domesticity and the great unknown, between up-and-coming young designers and more established firms, between the furniture fairs ICFF and Wanted Design sits 'Crossroads', an exhibition designed by David Rockwell of Rockwell Group in collaboration with Wallpaper* US Editor Pei-Ru Keh.
'Crossroads' at ICFF: 'space and oxygen' at the Javits Center
Formally titled 'At the Crossroads of American Design: Celebrating the Established and Emerging', the exhibition features work from a number of American studios, including well-established names like lighting designer David Weeks, recent graduates such as Alexis Tingey, and the Marfa Lumber Club: a group of teenage girls who produce wooden stools from their Texas base.
The decision to contrast and juxtapose emerging with established designers (separated here as 'partners' and 'contributors') felt like the right fit for a show that's meant to provide, as Rockwell says, both 'space and oxygen' and 'some sense of sequence' to the sprawling experience that is Javits Center in late May. That contrast is also, to Rockwell and Keh's minds, the only way to capture the particularities of American design.
'We're in a country of deep division,' Rockwell says, 'but there's an American sense of optimism.' That optimism, and particularly the extremely American emphasis on constant dynamism (as well as a focus on individuality) is part of what suffuses the exhibition, which takes up the very centre of the Javits ICFF floor with a surprisingly airy, spacious, and navigable space.
'I like the idea that there is room for everyone in American design,' Keh says. She compares the young designer Liam Lee, whose practice she defines as more 'art-based', to Bari Ziperstein, who does both commercial and more art-based work, and says that 'seeing those synergies together' is part of what made working on this project so fulfilling and rewarding. 'This is about the dichotomy of America,' she says. 'The domestic interior, and the great outdoors.'
That domestic interior becomes here a cosy corner, wallpapered in a design by Superflower, and featuring a striking lamp/mirror by Coil + Drift set beside a sinuous narrow mirror by Bower Studios. Meanwhile, from the established side of the curatorial programme, a David Weeks lighting fixture hangs above a Fort Standard table. Anchoring the exhibition, a long plinth (whose desert-sky backdrop evokes the great American outdoors) supports a number of objects placed side by side. This produces what Keh calls 'a narrative arc' of American design, one that focuses on physical texture (as in Liam Lee's phantasmagorical and deeply appealing needle-felted chair); visual texture (Bzippy's chubby little tables); material emphasis (a small and lovely sculpture from the infinitely creative designers behind Ladies & Gentlemen); and the deeply felt presence of the hand (Bradley L Bowers' pinched vessels and Sophie Lou Jacobson's glass vases).
That iterative relationship, between production processes, up-and-comers and established old-timers, the hand and the machine, and a variety of scales, is part of what the curators see as the next step not only in American design, but in the evolution of ICFF and Wanted Design. Asked if this show is the beginning of the two formerly separate exhibitions finally uniting, Rockwell says this is, in fact, 'the actual merge'.
'Crossroads' is on view at ICFF until 23 May 2023
Javits Centre, 429 11th Ave, New York