Best new lighting designs to brighten up your space
From ruby red pendants to sculptural table lights, we bring you the brightest moments from the latest in lighting design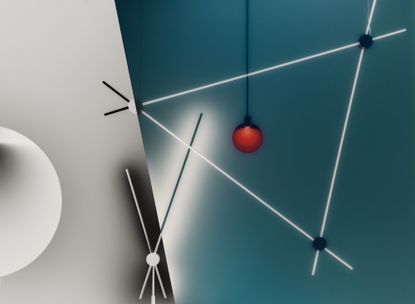 (Image credit: Luke Evans)
For the October 2023 issue of Wallpaper*, we selected the highlights from Euroluce at Milan's Salone del Mobile 2023. Our edit includes new products from big shots such as Lasvit, Cassina and Flos, as well as independent studios such as Pelle and Ross Gardam, and was photographed using both digital and film techniques by our long-term collaborator Luke Evans.
'The process of composing and lighting the lamps in the studio was so exciting,' explains Wallpaper* head of interiors Olly Mason. 'By shooting them on film we were able to add this layer of process to the series, inverting the images of the lamps so that their lightness became shadow, and producing this optical contrast and surface texture.' Mason then spent a day in the darkroom with Luke playing with light and darkness, exploring the printed qualities, softness and textures created through film and printing, to stunning effect.
Discover the brightest new lighting design
---
'Polaris' floor lamp, by David Rockwell, for Lasvit
This stellar floor lamp is part of Constellation, a collection by American architect and designer David Rockwell. The New York-based founder of the cross-disciplinary firm the Rockwell Group was inspired by one of his favourite local landmarks, the celestial mural at Grand Central Terminal, which features over 2,500 stars set against a turquoise backdrop. Hand-crafted in metal and glass, the 'Polaris' lamp is available in bespoke configurations. 'What defined this collaboration for me was the sheer passion of Lasvit's team of experts and the joy of creation we shared at each step in the process,' says Rockwell. 'Each lighting fixture serves a dual function: to dazzle the eye as a focal point and to unify any setting in which it is placed.'
'Polaris' floor lamp, price on request, by David Rockwell, for Lasvit
lasvit.com
'Pool 02' lamp, by Laurids Gallée
This limited-edition polymer resin light is made in the Netherlands by Laurids Gallée, an Austrian designer and Design Academy Eindhoven graduate now based in Rotterdam. Since launching his eponymous studio in 2017, Gallée has explored new ways to incorporate traditional and folkloric elements, and experimented with various materials. A recent focus on resin has seen him create a side table with a grid pattern, a monolithic ceiling light, a translucid bench and, in 2023, this ice blue 'Pool 02' lamp, which turns a warm yellow when switched on. Its fluid shape and soft ridges create an eye-catching effect that recalls the ever-changing way light is reflected on water.
'Pool 02' lamp, price on request, by Laurids Gallée
lauridsgallee.com
'Dreispitz' lamp, by Herzog & de Meuron, for Artemide
This graphically pleasing pendant by Herzog & de Meuron (who have an exhibition at London's RA until 15 October 2023) is available in understated black and silver, but also in a striking bright green version. Originally designed for the Swiss architects' Helsinki Dreispitz ('tricorn') project, an archive and apartment building in Basel, it can support three different light sources that slide into its triangular base to form an almost clover-shaped profile. With a choice of four different lengths, and diffused or controlled lighting, it is designed to fit into any environment. It is also good for the environment, thanks to its high efficiency, intelligent industrial optimisation and the use of partially recycled, recyclable and easily dismantled materials.
'Dreispitz' lamp, price on request, by Herzog & de Meuron, for Artemide
artemide.com
'W225 Ion' lamp, by Dirk Winkel, for Wästberg
This deceptively simple design from Wästberg, a Swedish brand with a focus on creating wellbeing through good light, is the result of years of research. Behind its understated lines, thought up by Berlin designer Dirk Winkel, lies a beautifully configurable system. It centres around a highly sophisticated miniature friction joint with cordless power connection, which is similar to those used in modern laptops and allows 360-degree rotation. A choice of arms in two different lengths, combined with various mounting options and two different optical systems, allows for a range of uses, from wide-angle workspace illumination to focused bedside reading. The state-of-the-art full-spectrum COB LED provides stunning light, further refined by a high-quality lens or reflector with prismatic diffuser.
'W225 Ion' lamp, price on request, by Dirk Winkel, for Wästberg
wastberg.com
'Vestige' table lamp, by Ross Gardam and Peter Kovacsy, for Ross Gardam
This optical device by Melbourne label Ross Gardam was conceived to create a sense of wonderment. Featuring a solid parabolic cone with a concave face that emerges from a rectangular base, the brutalist-inspired sculptural form is made from cast crystal glass by renowned artist Peter Kovacsy, whose work in large-scale cast glass reflects the remote area of southern Western Australia where he is based. Celebrating the allure, texture, and volume of glass (bubbles in the glass create a speckled pattern when illuminated), each cast glassform is coupled with a raw aluminium base and machined conical dimmer, handmade, polished and waxed. 'Vestige' is available in a limited edition of five.
'Vestige' table lamp, A$39,545 ($25,683), by Ross Gardam and Peter Kovacsy, for Ross Gardam
rossgardam.com.au
'44T' table lamp, by Bocci
No two '44T' lamps are identical: each aluminium canopy is variously blown, poured, carved and polished, and is an individual, irregular expression of Bocci's research. In fact, the dendrite-like shapes were a happy discovery, initially made by pouring discarded molten iron in a bin of broken sand moulds. What's more, the unique design features spherical light bulbs that glow without the need of electrical cables, as low-voltage electricity flows directly through the cast metal structure. There is of course a main cable to plug it in, but this element is as sculptural as the rest of the design, since its semi-rigid black fabric cord means it can be twisted into a pleasing shape to complement the organic lamp. The series also include an integral dimming system housed within a sleek brass cylinder.
'44T' table lamp, $975, by Bocci
bocci.com
'Channel' lamp, by Pelle
Best known for its iconic 'Bubble' chandelier, Pelle was founded by Jean and Oliver Pelle in 2011. Its designs often look to nature for inspiration (and include architectural ornaments made from soap), but in the case of the 'Channel' lamp, the Brooklyn-based studio's starting point was a practical concern: how to properly illuminate a large table surface, and brighten the overall room at the same time? The resulting ceiling fixture comprises a sleek horizontal body in waxed brush aluminium that holds four lighting components, with two beams facing upward, and another two facing downward. Completing the design are a pair of thin steel cables that double up as power conduits.
'Channel' lamp, from $10,800, by Pelle
pelledesigns.com
'Vis à Vis' table lamp, by Michele Groppi, for Davide Groppi
A translucent UFO landing softly on your tabletop, Michele Groppi's 'Vis à Vis' lamp is designed to perfectly integrate into any environment and décor. Entirely made of glass, it is totally transparent, from the thin cylindrical stem to the circular canopy, and appears to float lightly above the room. Being rechargeable (with a simple USB C charger), it can be moved around and illuminates everything without an electric cable in sight. It is part of a long line of truly stunning designs magicked up by the award-winning Davide Groppi team in Piacenza, Emilia Romagna, which range from perfectly poised, fishing rod-inspired floor lamps to a giant, meditative moon ceiling pendant.
'Vis à Vis' table lamp, price on request, by Michele Groppi, for Davide Groppi
davidegroppi.com
'Bilboquet' table lamps, by Philippe Malouin, for Flos
Philippe Malouin's first design for Flos, this new table lamp has a unique concept based on Malouin's experiments with magnetic elements. Taking its name and shape from the bilboquet, a French game dating from the 16th century, it comprises two coloured cylinders connected through a sleek magnetic sphere that allows the lamp to be oriented as required while also serving as a poetic decorative element. 'The design is about changing your lighting needs throughout the day,' says Malouin. 'It can be used as a desk lamp, but if you just want to have drinks in your living room, you can bounce the light off of the wall to create a soft glow. I have always admired "Parentesi" by Castiglioni and the lamp's way to change the light to achieve different moods – and this is very much what this light does.'
'Bilboquet' table lamps, price on request, by Philippe Malouin, for Flos
flos.com
'Dipping' pendant, by Jordi Canudas, for Marset
Spanish designers never shy from using bold colours in their creations, and Jordi Canudas is no exception. As an experiment, the Barcelona-based designer once dipped a switched-on light-bulb in paint several times. He liked the result so much that the 'Dipping' pendant light was born. Available in three different sizes, it features a brilliant white hand-blown glass globe, hand-dipped in paint several times to create concentric rings of colour, in amber, blue, green, pink, off-white and black versions. The different layers of paint help to moderate the light's intensity, while a polycarbonate cover at the top completes the spherical shape. '
Dipping' pendant, price on request, by Jordi Canudas, for Marset
marset.com
'Bijou' pendants, by Antoni Arola, for Santa & Cole, and 'Eitie' table lamp and pendant, by Tobia Scarpa, for Cassina
Named after the French word for jewel, this gem of a pendant light (pictured in red, centre) provides exceptional lighting and mesmerising reflections. Like all of Barcelona-based designer Antoni Arola's creations, it is a bold and dramatic design that fits in perfectly with Spanish brand Santa & Cole's carefully curated, minimalist lighting collection. The latest in a collection of geometric brass lights first launched in 2019, the 'Bijou' pendant features two vertical spotlights positioned on either side of a metal plate to create a sense of depth designed to enhance the entire space. Its glossy shade is available in white or red finishes, and two sizes.
'Bijou' large pendant, €1,180; small, €820, both by Antoni Arola, for Santa & Cole, santacole.com
The Venetian designer and architect Tobia Scarpa initially created 'Eitie' (also pictured) as a wall installation for the walls of the Benetton Foundation Research Centre, which he has been involved with since its creation in 1987 (working with his wife Afra, he has designed and renovated many buildings for the Italian company since their first collaboration in 1964). Comprising a pendant light, table lamp and floor lamp, the 'Eitie' collection riffs on the idea of luminous strokes that can be reconfigured thanks to unique black metal circular connectors. Each seemingly simple design is composed of two or three linear lights that can be moved around and rotated 360 degrees to create different visual effects.
'Eitie' table lamp and pendant, both price on request, by Tobia Scarpa, for Cassina cassina.com
A version of this article appears in the October 2023 issue of Wallpaper*, available in print, on the Wallpaper* app on Apple iOS, and to subscribers of Apple News +. Subscribe to Wallpaper* today
Receive our daily digest of inspiration, escapism and design stories from around the world direct to your inbox
Léa Teuscher is a Sub-Editor at Wallpaper*. A former travel writer and production editor, she joined the magazine over a decade ago, and has been sprucing up copy and attempting to write clever headlines ever since. Having spent her childhood hopping between continents and cultures, she's a fan of all things travel, art and architecture. She has written three Wallpaper* City Guides on Geneva, Strasbourg and Basel.
With contributions from