David Rockwell draws upon Mexican memories for his new designs for The Rug Company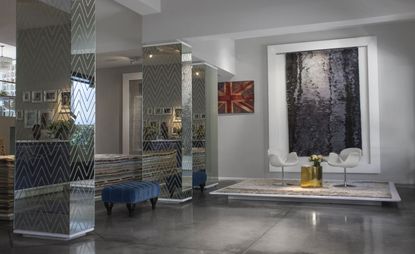 (Image credit: TBC)
'As a firm, we have not tended to do a ton of products,' says David Rockwell, whose 250-person strong design and architecture studio, Rockwell Group, has worked on everything from hotels, to set designs, hospitals, offices and nightclubs.

But when The Rug Company – now a longtime collaborator – first approached them about producing a collection together, 'it was an unexpected gift', recalls Rockwell. That first collection, released in 2010, featured four abstract pattern designs that each explored, with technical rigour, 'the way light transitions onto materials', he says.

For his latest releases with the company, the designer was inspired to draw from scenes in his personal life, among them a several month-long spell he spent with his family in Guadalajara, Mexico, aged twelve – a colourful sojourn, miles away from his Jersey Shore upbringing, that has continued to be formative.
'Mexico was so responsible for me getting into design and appreciating the physical world the way I do – visiting the country just opened up whole new worlds for me,' says Rockwell, who felt it fitting to launch his two new designs at The Rug Company's Mexico City flagship. 'I think of Mexico as making my mind and eye come alive with colour and intensity. There, I became more interested in public space and the public theatre of the everyday.'
One of the two new designs, 'Tidal', revisits an earlier pattern, 'Moonlight Tidal', transposed with cooler grays to evoke a shimmering pool of water, an ephemeral effect that he would often try to capture on his photographic excursions around the vibrant city. The other new release, called 'Misty', features a deep indigo blue that fades to an ombre white at its edges. 'Almost like sfumato,' the designer muses, referencing the smudge technique used by Da Vinci to blend colours.

The two releases will be joined by a third, 'Lola', later this spring. It's named after Rockwell's daughter, and features a pattern based on designs they had developed together, with the ceramist Pascale Girardin, for Nobu Downtown. From Mexico to Manhattan, the trio of rugs are a swatch of personal histories manifest in warp and weft. 'We get to create beautiful things,' says the designer. 'The world needs more beautiful things right now.'
INFORMATION
For more information, visit The Rug Company's website (opens in new tab)