Design legacy: remembering Italian innovator Achille Castiglioni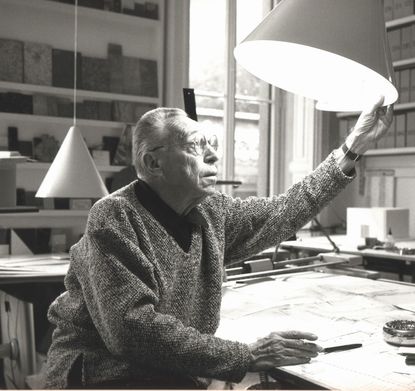 (Image credit: Photography: H Findletar)
Achille Castiglioni was one of a generation of Italian designers who turned the language of design on its head after the Second World War. From the moment he set up his studio in Milan in 1944, with his brother Pier Giacomo, he set about taking ordinary things and translating them into delightful solutions for everyday life. He turned a tractor seat into a lovely little stool, and made a hole through the 65kg marble base of his now famous 'Arco' light, so it could be carried by two men with a rolling pin or a broom handle. For Castiglioni, unbridled imagination delivered absolute functionality.

'He was humble and endlessly inquisitve, a complete sponge for ideas,' says his youngest daughter Giovanna Castiglioni, a self-confessed father's favourite, who was 30 when her father died in 2002. Last week she was occupying a booth displaying some of his designs at the Downtown Design Dubai fair, as vice president of the Fondazione Castiglioni. Her mission: to keep his name alive and his designs in production. 'Achille is one of what we call the maestri [masters] in Italy, but there are some who are forgetting the importance of this design heritage, so we're working hard, travelling the world to remind people.'

Later Giovanna took to the stage in the fair's auditorium. Her talk on her father's work was like no other. Surrounded by Achille's designs, Giovanna, who trained as a geologist, explained them in layman's terms but with a daughter's knowledge and enthusiasm. 'If these objects are still in production, then it means my father is still alive,' she says, picking up the translucent plastic spoon he designed for Alessi in 1962, which gets to every corner of a mayonnaise jar and is still widely on sale. Other pieces are widely copied. 'There are many fake Arco lamps out there,' says Giovanna. 'Achille said that to be copied was to be admired, but I don't think Flos sees it quite like that.'

Back in Milan, Giovanna looks after the Studio Museum Achille Castiglioni in Piazza Castello, which is open to the public with advanced booking. 'It's the only museum where you can see an 83-year-old woman smoking,' she says, referring to her mother Irma, who visits every day. 'And we make people sit on the chairs and tell us their stories about Achille's designs.'

The museum is kept alive, too, with continual interventions by younger designers, who are invited to respond to and rearrange the space as they like. In February it will host its first art show, curated by Edoardo Bonaspetti, the editor of Mousse magazine, and Luca Lo Pinto of Vienna's Kunsthalle. 'We're opening up the studio to artists. We want them to smell the atmosphere,' says Giovanna. 'My father always said, "If you're not curious, then give up."' She's definitely in it for the long haul.
ADDRESS
Studio Museum Achille Castiglioni
Piazza Castello, 27
20121 Milan
Italy
VIEW GOOGLE MAPS (opens in new tab)