Dubai's Downtown Design fair highlights the region's emerging role as a catalyst for the creative scene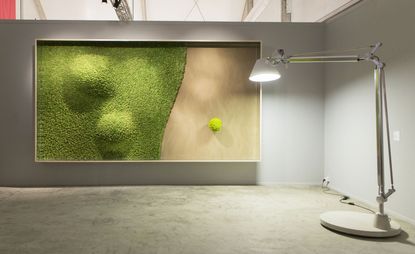 (Image credit: Xavier Ansart)
In its second year, Downtown Design takes place in a purpose-built smart white structure at the foot of Dubai's Burj Khalifa. Following the curation of Wallpaper's Middle East Revealed exhibition in September for the London Design Festival, it seemed appropriate to visit the show to see quite what the Middle East, or MENA region (Middle East North Africa) as I now understand, could further reveal.

Similar to the inaugural year of 100% Design, as it was first called here in London in the mid-nineties (later being part of the conglomerate of events taking place under the umbrella of the LDF), the small but effective Downtown Design is succinct and its curation clever. A mix of big names - Kohler, Herman Miller, Hästens, Axor, Bang & Olufsen - are all present as commercial enterprises bringing a sleek international body to the fair, it was up to the local talent to pepper the mix.

Under the patronage of her highness sheika Latifa Bint Mohammed Bin Rashid Al Maktoum, vice chairman of the board of directors for Dubai Culture and Arts Authorities, Downtown Dubai is organised by the team behind the Art Dubai Group. It's headed up by British ex pat Ben Floyd, and testament to Dubai's emerging role as a catalyst for the design scene in the UAE and the region, supporting the transformation of Dubai as a design hub that will create opportunities and jobs and encourage new talent and entrepreneurs to explore the sector. A wise idea leading up to the 2020 expo for which Dubai is clearly in urgent preparation.

Supported by Emaar properties, who built the Burj Khalifa and are currently on site with an extraordinary Opera House by architecture firm Atkins (responsible for the earlier Dubai visual icon the Burj al Arab hotel with its sailboat shape) just close by, activities at the fair included 'must attend' talks by invited international speakers. Ab Rogers was amongst them, present to nurture his RCA innovations with his team of techies from the school - a smart move for an intentionally smart city - as well as Mario Bellini; Aric Chen, curator of architecture and design for Hong Kong's new M+ museum; Giovanna Castiglioni from the Fondazione Achille Castiglioni; and Kartell owner and president Claudio Luti. It was an international meet and a useful cross pollination of ideas.

Highlights included the magnificent curation of design from MENA regions by Lamia Bousnina Ben Ayed, owner of the Tunis gallery Musk and Amber where she usually mixes brands she represents in her home country: Knoll, Moooi, Gaia & Gino et al, with Middle Eastern finds. Here it was just the locals. It is clear the culture and arts authorities in Dubai are committed to encouraging a free creative flow into and out of Dubai. Downtown it may not have seemed. Design it certainly was.
Receive our daily digest of inspiration, escapism and design stories from around the world direct to your inbox