Global Grad Show 2020 takes innovation to the next level
From a fall prevention device for elderly Parkinson's disease patients to a navigation system made of silk protein, this year's works address our globe's complex issues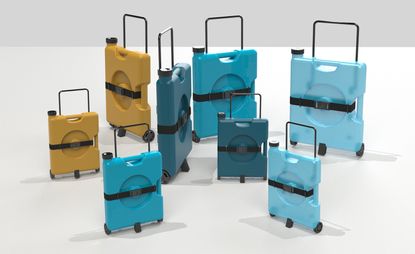 (Image credit: Harleen Kaur)
The Global Grad Show is always a true demonstration of the power of design. This year's entries reveal how our world can be more resilient and responsible through the use of education, technology, architecture and more. Submissions poured in from 270 universities from 60 nations and five continents this year, and the results are on view for Dubai Design Week in a virtual showcase.

Plenty of tech tools are highlighted in this year's roster: from a device that simulates human touch to one that monitors women's reproductive health. Meanwhile, Chiara Rossi from Lund University has realised a small weeding robot that allows organic farmers to increase soil health via an app.

The students in this year's show hail from universities that span Huddersfield, UK to Auckland, New Zealand. Tadeu Baldani Caravieri director of Global Grad Shows says the project supports students in three ways. 'We showcase their innovations, we create knowledge exchange opportunities, and an entrepreneurship programme.' To break down the 100 designs, Global Grad Show is divided into five themes of Living with Illness and Disability; Coping in a Complex World; Saving and Protecting Vulnerable Lives; Cleaning a Waste Filled Planet, and Sustaining the Urban Experience.
While realising solutions, many projects rethink conventional design styles, like Sense Glucosse Earrings by Tyra Kozlow, which aims to change the way in which patients interact with diabetes. The non-invasive blood glucose monitor can be used like an earring, without the need for a blood sample, and therefore reducing waste. Instead, the portable piece uses radio-waves to generate the data. Sense Glucose Earring eschews the look of medical testing kits, appearing like rechargeable earphones.

Other notable wearables come by way of Cammino by Chiara Rossi, a system that prevents the risk of falls for the elderly that are suffering from Parkinson's disease with a bluetooth system inside the shoe. 'Freezing from gait is one of the most frustrating and dehabiliting symptoms of Parkinson's…my product will limited the number of freezing episodes using technology,' says Rossi of her design in a video on the Global Grad Show website.

'Water is a basic human need,' says Harleen Kaur from Pearl Academy in New Delhi when discussing the inspiration behind her water container that can be transported like a suitcase on wheels. Jal Saath's compact and flat shape allows it to travel through small, rural areas that may be struggling with access to clean water, a fix for heavier, less portable carriers. 'A lot of the people who are responsible for getting water for their families include children, so it gets difficult to transport large quantities on a daily basis.'
Encouraging the wellbeing of our mental health is Pause Pillow by Wonmo Yoo and HyunYeol Shin, a product that interrupts WiFi signal when you lie on it, so that accessibility to the internet and social media is inhibited for a better sleep. Elsewhere, Alhaan Ahmed's Aibo lamp an apt solution for this year's elongated isolation periods as it communicates signals for those living alone who cannot interact with their neighbours but may require assistance.

Trailblazing and inspiring, the sixth edition of Global Grad Show allows us to appreciate the growth and talent of young imagination even more in a year when we are faced with more challenges than ever.
INFORMATION
globalgradshow.com (opens in new tab)