Desert storm: Dubai hosts two international design and art fairs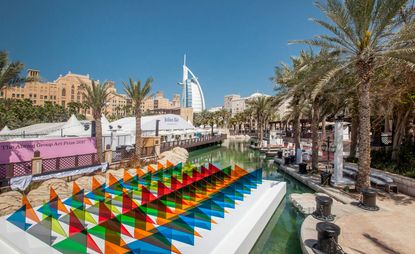 (Image credit: TBC)
The very international Art Dubai returned for its 11th edition this month, under the new direction of Myrna Ayad at the Madinat Jumeirah. This year's fair saw a growing plethora of galleries and countries represented – over 500 creatives expressing themselves through varied media including dance, sculpture, food and music. And this is exactly why the only truly international art fair of the Middle East is thriving. There is a flexibility seldom seen at similar initiatives, as architect Philip Michael Wolfson pointed out on arrival (it was his first visit to the Middle East despite his long association with the late Zaha Hadid, who clearly remains the doyenne of the region).

He's right. Like Miami, Basel and Hong Kong's equivalents, there is a design show – now in its sixth addition – that runs alongside the art fair. But in Dubai it is possible to show art pieces at Design Days Dubai, which took place in a structure within the massive d3 district (Dubai Design District) for the first time. This makes commercial sense where design is business, gallerists have pledged hard cash for square metres purchased for the fair duration and where gallerists are professionals who know how they want to curate. Setting a scene should present no difficulties and find no boundaries.
With regards to the content at 2017's Design Days Dubai, the development of initiatives by the British Council and Dubai Culture – the government body in charge of design as business – meant invitations to the British Crafts Council, as well to ten designers from the UK in celebration of the UK and UAE year of cultural collaboration for an exhibition entitled 'Britain Takes Shape'. This is not a post-Brexit comment; rather, it's an exploration of how British-based creatives have pioneered design through process, whether thought or in production. Pieces on show by Fredrikson Stallard, Brodie Neill, Bethan Gray and Philip Michael Wolfson, among others, echoed similar work by local MENASA (Middle East, North Africa, South Asia) producers, showing a touch of hand and spirit that mass production does not always offer. This is a show for collectibles after all. (Downtown Design in November is more about mass manufacture.)

A lively talks itinerary initiated by Rawan Kashkoush, the mind behind the Abwab programme (Arabic for 'gateway' and a project that continues to pick up momentum) took conversations between Emirati- and British-based designers to a whole new level of cultural cross reference, with some held at the magnificent, Moriyama & Teshima-designed Etihad museum.

It is clear that the efforts of both government and cultural institutions locally – as well as the business of Art Dubai, which umbrellas both these events as well as the November Dubai Design Week – are going great guns. Wallpaper's own support of contemporary Middle Eastern design through 'Middle East Revealed' over the years has also had resonance with its emotional support of talent from the region. There were many thanks from designers such as Khalid Shafar, Aljoud Lootah and Fadi Sarieddine for continued exposure. Lets just hope it leads to business.
INFORMATION
Art Dubai ran from 15–18 March. Design Days Dubai ran from 14–17 March. For more information, visit the Art Dubai website (opens in new tab), or the Design Days Dubai website (opens in new tab)