Dubai Design Week 2023 spotlights sustainability, culture and tech
Dubai Design Week 2023 gathered nearly 500 designers, architects and creatives, offering a confluence of Middle Eastern and international design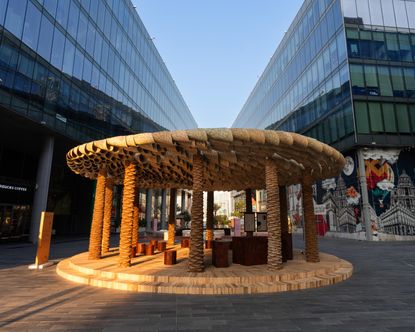 (Image credit: Courtesy Dubai Design Week)
A walk through the Dubai Design District (d3) during Dubai Design Week 2023 (7-12 November) – the ninth edition of the event, which has become the biggest of its kind in the Middle East for architecture and design – revealed over 30 large-scale design installations, specially commissioned for the event and reflecting sustainable practices as well as past and present Middle Eastern heritage.
Ahead of the upcoming COP28 climate conference, which will kick off in Dubai at the end of November 2023, the installations on view championed environmentally friendly architecture and design and design-led solutions to combat the adverse effects of climate change.
Highlights from Dubai Design Week 2023
Positioned between the edgy grid façades of d3 was an unlikely sight: a large wooden installation, Of Palm, made entirely from the indigenous palm tree by Emirati architect Abdalla Almulla. Guests could walk underneath the work's alluring ceiling, made from a series of elegantly folded woven-palm mats.
The work, commissioned as part of Abwab, an annual feature of Dubai Design Week that features design pieces from across the Middle East, North Africa and South Asia, is significant in its use of raw materials in new, multifunctional and thus sustainable ways.
Visitors were able to station themselves underneath the work's magical canopy-like ceiling to get reprieve from the sun or to taste or perhaps purchase honey from Yemen, sold on one corner of the piece. Of Palm serves as an example of how a natural, indigenous material can be used in a contemporary structure.
Another poignant and in some ways, endearing installation was Designest, by Dubai-based Syrian concept designer and architect Ahmad Alkattan. Inspired by traditional pigeon towers that can be found throughout the Arabian Peninsula and North African countries such as Egypt – used to protect pigeons during harsh weather and to collect their faeces to use as fertiliser – Alkattan created his own take, with entrances for both birds and human visitors. Its form reflected that of the historical oval structures, but with separate sections for humans and pigeons. Bird faeces were collected in the top part of the installation and used as fertiliser for plants in Dubai Design District.
Designest won first place in the Dubai Design District's Urban Commissions competition, which invited designers to create unique and innovative outdoor 'furniture'. The towers combine styrofoam, steel, concrete and recycled glass-reinforced plastic, while the pigeon holes are made using 3D printing, with a plant-based material and wood powder.
Urban Hives by Beirut-based designer Nathalie Harb in collaboration with BMW presented a vision for a parking space with a garden located above that acts like a protective shield against the sun's effects on a vehicle. The garden includes a solar panel and a rainwater collection and irrigation system that independently sustains the lush array of plants.
The idea, notes Harb, is to transform a private space, like a parking spot, into the public realm through a mix of technology and nature.
Other design installations incorporating sustainable materials and championing environmentally friendly structures included Pulp Fractions, a large-scale work in a burnt red colour by Dubai-based interior design firm TEE VEE EFF, made from paper pulp that has been dried, pressed and moulded, and waste cardboard. Inside some of the rectangular shapes used to create the structure were green plants, reflecting the convergence of man-made architecture with the natural world.
The works by Alkattan, Harb, TEE VEE EFF and Almulla are just a few of the designs that were commissioned for Dubai Design Week and positioned around d3.
Fundraising initiatives and refugee support
A humanitarian focus was also felt at this year's event. While the week is one that celebrates the joy of creative discovery in the realm of architecture and design, it was overshadowed this year by the ongoing humanitarian crisis in Gaza as the war between Israel and Hamas rages. To that end, one of the event's highlights was a fundraising initiative in support of Gaza relief efforts. For the first time ever there was an entrance fee of 25dhs to enter Downtown Design, now in its 10th edition and staged concurrently to Dubai Design Week, all of which will be donated to the Emirates Red Crescent work in Gaza, with funds matched by the Art Dubai Group that organises the event.
Displayed prominently within d3 was also The Refugee Housing Unit (RHU), the result of a collaborative project led by Better Shelter and UNHCR and supported by the Ikea Foundation to provide an easy-to-assemble and durable temporary shelter for emergency situations.
The housing units showcased innovative design for the world's marginalised communities. Visitors could walk inside the structures and see firsthand what makes them a robust and functional response to urgent situations the world over.
Focus on sustainable architecture and design
Elsewhere in d3 are notable exhibitions staged alongside Dubai Design Week. One is 'Sustainability—Past, Present and Future' (until 12 December) showcasing the past, present and future of sustainable architecture in the Gulf with RIBA Gulf Chapter. Staged in building 6, the exhibition aims to align with COP28, the UAE's Year of Sustainability and Dubai 2040 Urban Master Plan. It features the plans of more than 35 architectural studios (either RIBA members or d3-based brands) around sustainable architecture in the region. These include existing historical structures such as the Al Ain Museum, the Chedi Al Bait and a Bastakia Wind Tower from 1975, as well as upcoming projects such as the Hospital of the Future and the Abu Dhabi Zayed Museum.
'This is the year of sustainability and with COP28 coming up at the end of this month, we wanted to show structures with a history as well as visions of the future,' said Andy Shaw, chair of the Gulf Chapter of RIBA, stressing how all components in the exhibition were sustainable. 'The benches and easels are made from reclaimed wood and the boards are made from local palm strands,' he explained.
Partnership with Milano Durini Design Association
A significant announcement made during the event was the signing of a strategic partnership agreement between Dubai Design District (part of TECOM Group PJSC) and Milano Durini Design Association, an association of over 40 Italian companies serving as a key reference point for innovation, style and 'Made in Italy' design. The strategic partnership will promote collaboration, information exchange and networking opportunities across education and business spheres in the design sector between the two districts.
'Partnering with an established and international counterpart like Milano Durini Design Association is a significant milestone for d3,' said Khadija Al Bastaki, senior vice president of Dubai Design District (d3), part of TECOM Group, speaking exclusively to Wallpaper*. 'We're forming a strategic exchange programme for talent, knowledge and students. It will not only deliver opportunities for creatives in d3 and Dubai in a key market like Milan but also forge a gateway for the emirate to collaborate with a world-leading design sector, reinforcing Dubai's profile as a global creative capital.'
Supporting emerging designers
Just like Downtown Design, Dubai Design Week also acts as a platform for emerging designers from the Middle East and South Asia region.
Italian digital platform Isola hosted two exhibitions during the week; one, titled 'Nothing Happens if Nothing Happens', focused on collectible design, sustainability and neo-craftsmanship, presenting a mix of works by regional and international designers.
Several Lebanese designers presented their work in the show. George Geara showed his chair 'Echelle' – a sleek handcrafted chair with a long back akin to a ladder, as its name suggests, and a plush velvet seat. Studio Bazazo by Ahmad Bazazo presented the 'Mistral' coffee table, hand-carved out of solid Italian Travertino Rosso and meticulously put together by master craftsmen in Lebanon.
The piece, a minimalist design and sculptural object, lights up a room with an understated approach to glamour. Part of Bazazo's wider 'Mistral' collection, which is inspired by the wind in the south of France, the idea for the table, says the designer, 'stems from nature eroding stones and creating these organic, sumptuous pieces'.
Bazazo says it was also inspired by Pierre Cardin's home in Cannes, a retro-bubble style palace. 'It reminded me of better days,' explains Bazazo. 'I created the collection after Covid but had visited Cardin's home a few years before. The collection was about better days to come, evoking the idea of the 1960s and 1970s in the south of France, the parties and the glamour. The collection was inspired by [Cardin's] villa, the time, and by this idea of motion and moving forward, which the wind brings forth.'
Receive our daily digest of inspiration, escapism and design stories from around the world direct to your inbox