Yayoi Kusama, ANOHNI and Giulio Cappellini guest-edit Wallpaper*
Wallpaper* October 2023 has three guest editors and three covers, on sale now – which one will you choose?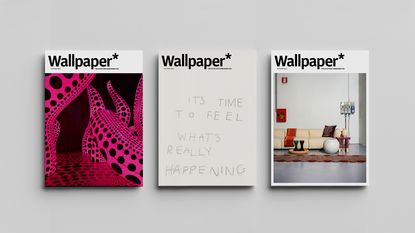 (Image credit: Left, photography: Jack Hems, installation view of 'Yayoi Kusama: You, Me and the Balloons' at Aviva Studios, Manchester, 2023 © Yayoi Kusama. Courtesy Factory International, Ota Fine Arts and Victoria Miro. Centre, ANOHNI. Right, photography Giovanni Cappellini, art direction Giulio Cappellini)
Wallpaper* Newsletter
Receive our daily digest of inspiration, escapism and design stories from around the world direct to your inbox
Thank you for signing up to Wallpaper. You will receive a verification email shortly.
There was a problem. Please refresh the page and try again.
Welcome to our Guest Editors' Issue! This year, we invited three visionary figures who define our times to guest edit a section of the magazine and bring their unique perspective to Wallpaper*: global art pioneer Yayoi Kusama, visual artist and musician ANOHNI, and the original design trailblazer Giulio Cappellini.
Yayoi Kusama
Yayoi Kusama has devoted more than eight decades to the production of art. For her pages, she presents work from 'You, Me and the Balloons', the largest-ever immersive environment by the celebrated Japanese artist, which brought together three decades of her inflatable artworks at Manchester's Aviva Studios.
Identity is a recurring theme for Kusama, the feeling of being reduced to a single molecule within an infinity of universes. For her, the polka dot expresses equality and connection, between humanity, nature and the universe at large. She creates a vision of the world, and asks us to lose ourselves in it, to become a polka dot.
ANOHNI
Following the release of her standout album My Back Was a Bridge for You to Cross, ANOHNI lets us into her universe, and the messages are powerful, including a manifesto for the care of trans children. She was fascinatingly intelligent, engaging and eloquent – and seeks new strategies in the face of troubled global realities, centring the powers of feeling, intuition, femininity, love and motherhood.
She has created 34 pages of original artworks for this issue, titled It's Time To Feel What's Really Happening, and told me that the whole process of creating the artworks was very natural and organic. Through her work, ANOHNI picks at the disparity between what's really happening and what we tell ourselves is happening. 'If we were awake to our feelings, and sensitive to the historical and essential realities embedded in the material world around us, we might be compelled to account collectively in new ways,' she says.
Giulio Cappellini
Giulio Cappellini is a true design maestro, who has been creating iconic pieces with his eponymous brand and championing emerging talent for the past five decades, launching the careers of such luminaries as Marc Newson, Jasper Morrison and Tom Dixon.
For his section, we showcase some of his favourite design discoveries, hear anecdotes from long-term collaborators, and illustrate – through a photoshoot directed by him – his vision for the future of the contemporary office and domestic landscapes.
Marcel Wanders says the first time he spoke to Giulio was in January 1996 on a landline. 'I was visiting my mother and it was the evening of her birthday. My mum took the phone and came back in the room and said, "There is a very nice and elegant Italian gentleman on the phone that says he cannot live without your 'Knotted' chair anymore. He sounds a bit troubled, you'd better speak to him and be kind."'
More from Wallpaper* October 2023
Alongside this, we showcase a lighting round-up from interiors editor Olly Mason and a striking beauty shoot with Dior Make-up director Peter Philips. We mark 20 years of the Rolex Mentors & Protégés project, visit Omer Arbel's rare architectural offering in Vancouver, and delve into Aesop's restorative design ethos. We also visit Edra's HQ to discuss its unique approach to furniture making, and mark 15 years of Gallery Fumi with some of its longstanding collaborators, including Max Lamb and Studio Glithero.
My sincere thanks to each of our guest editors, we are honoured by their participation. Each has embraced this project fully, with magical, life-affirming results that truly touch the soul. It certainly is 'time to feel what is really happening'. There should be more of these types of visionaries in the world – imagine what a place that could be. Enjoy the issue!
Sarah Douglas
Editor-in-Chief
The October 2023 issue of Wallpaper* is available in print from 7 September, on the Wallpaper* app on Apple iOS, and to subscribers of Apple News +. Subscribe to Wallpaper* today
Receive our daily digest of inspiration, escapism and design stories from around the world direct to your inbox
Sarah Douglas is Editor-in-Chief for Wallpaper*, where she is responsible for the content across the print magazine, digital platforms, in-house creative agency Bespoke, brand partnerships, and events. Joining Wallpaper* in 2007 as Art Editor, Sarah became Creative Director in 2012, before being named Editor-in-Chief in 2017. During this time she has commissioned an array of illustrious artists and designers including Jean Nouvel, Yayoi Kusama, Tom Sachs, Nendo, Virgil Abloh and Jenny Holzer; championed talents such as Formafantasma, Sabine Marcelis, Martino Gamper, Bethan Laura Wood, Philippe Malouin, and Craig Green; and overseen partnerships with leading brands including B&B Italia, Prada and Rolex. Sarah is also a member of the judging panel for the London Design Medal, and regularly judges for international design competitions.