Giulio Cappellini: a life in design
Design entrepreneur Giulio Cappellini, guest editor of October 2023 Wallpaper*, tells us about his celebrated adventures in design and his future vision for the spaces we inhabit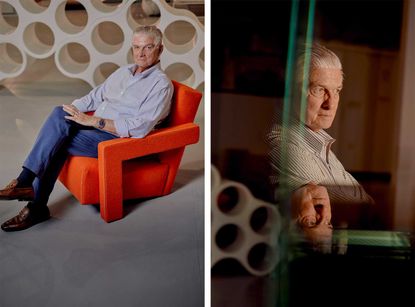 (Image credit: Alecio Ferrari)
Wallpaper* Newsletter
Receive our daily digest of inspiration, escapism and design stories from around the world direct to your inbox
Thank you for signing up to Wallpaper. You will receive a verification email shortly.
There was a problem. Please refresh the page and try again.
Giulio Cappellini has enough ideas for a few lifetimes. At 69, it seems like he has already lived a few lives, as he has been working as the visionary art director of his family company, a humble Brianza-based furniture maker that, under his direction, turned into a global brand representing international creativity and aesthetic eclecticism. But he is also often referred to as a talent scout, a job he jokingly said he'd save for the next life, while the third is currently reserved for being a film director.
Cappellini actually does all of these things already. As art director of Cappellini, he is single-handedly responsible for launching the career of several designers, from Jasper Morrison to Barber Osgerby, while still searching for the next exciting new talents to come. And his role involves curating a collection that spans from minimalist essentials to bold creative expressions, often presented through cinematic installations that reveal his directorial eye (also put to use in his shoot for Wallpaper* October 2023, as Guest Editor, seen on film below and in our feature showcasing Cappellini's future landscapes).
Giulio Cappellini: three decades transforming the design world
Creativity and design were part of Cappellini's upbringing from day one. 'I was born among furniture,' he says in a nod to the family company then led by his parents, which made designs that he defines as 'generic', but which gave him a glimpse of an industry that would become like a second home for him. Young Cappellini was attracted to materials and colours, and spent his time building objects, scenarios and small structures with Lego bricks and Meccano, or creating compositions with scraps of wood.
Later, he became fascinated with magazines: 'I devoured them, and they made me understand architecture,' he says, noting that his passion for Ludwig Mies van der Rohe and the Eameses, which started during this time, still endures today. In the early 1970s, as he followed his family to Salone del Mobile where Cappellini was showing, he'd escape to the Milan fair's design pavilions to take a peek at Cassina and Zanotta. 'To me it was paradise,' he recalls. 'At that time, design had a very strong language, and those pieces had a great impact on me.'
The rest came naturally: while studying architecture at Milan's Politecnico, he met Rodolfo Dordoni, who graduated with him in 1979 and helped him shape Cappelliniinto, a company immersed in global design. Cappellini's own arrival into the company was initially just as a side hustle, to make some money to travel while he studied to become an architect. But then his passion for design took over, and he started seeing his future there. 'I became more and more passionate. I have always liked to take risks, to make choices very instinctively,' he says. He recalls getting drunk one night ('I was young, I drank a lot') and asking his parents if he could join the company. 'I started out of pure instinct. The beginning was not easy; when you're young, you think you can change everything in six months. Then you realise a lifetime wouldn't be enough.'
In the early days of Cappellini and Dordoni's collaboration, the company commissioned works from Italian designers such as Michele De Lucchi, and Daniela Puppa and Franco Raggi, but his ambition stretched beyond Italy's borders. In 1987, he travelled to London, where he chanced upon Jasper Morrison's 'Thinking Man's' Chair' at Aram. 'The chair immediately attracted my attention, and so I went to meet Jasper in his studio,' recalls Cappellini. 'That was the beginning of a friendship and collaboration that lasted 35 years.'
Morrison recalls, 'Early on, it made a huge difference to be working in Italy with Cappellini. Giulio was building the company into something very special, and to be part of it was very valuable. It got me noticed and gave me the confidence and experience to work with other companies.'
A turning point in the company's new direction was when he travelled to Japan for the first time after graduating, seeing the work of Shiro Kuramata in an art gallery in Tokyo. That set off a train of events that transformed Cappellini from a furniture company to one that could communicate design through culture. 'In that moment, I said to myself, one day I want to be able to produce them and, from there, it was a very, very long process to convince Mr Kuramata.'
It worked though and, in 1987, he presented Kuramata's work in Milan during Salone del Mobile. 'Salone used to take place in September, so Rodolfo Dordoni and I spent the summer at the beach, trying to draw an installation in the sand,' he recalls. 'We kept thinking, these pieces are so strong that any set-up would create a contrast, so we decided to make the scenography using just smoke. It was magical, dreamlike. On the evening of the inauguration, the neighbours of the museum where we were showing called the fire brigade thinking that it was on fire!'
A designer of companies
Cappellini's gift for discovering talent is legendary. It's difficult to imagine today's design panorama without the help of his hand in shaping it. 'I found fertile ground because the dream of every young English, French or American designer was to collaborate with an Italian company, so these encounters led to extraordinary collaborations and growth.' As well as Morrison and Kuramata, other creatives who got an early introduction to Italian furniture manufacturing included Tom Dixon, Marc Newson, and Ronan and Erwan Bouroullec, as well as fellow Politecnico graduate Piero Lissoni.
Cappellini himself has designed some pieces for the company, including several in collaboration with Dordoni, but he calls himself a 'designer della domenica' (a Sunday designer or amateur designer), suggesting he doesn't take himself seriously in this role. 'I like designing objects, but above all, I like designing companies,' he says. That same creative orchestration he has been doing at Cappellini, he partly replicates in different ways through different collaborations, as he serves as art director for wide-reaching companies such as ceramic bathroom specialist Flaminia, lighting brands Icone Luce and Arredoluce, multinational design school Istituto Marangoni and Olmar, a company specialising in heating and sanitising appliances. 'The principle that I have been applying to Cappellini, I have also brought to companies like Flaminia, where I invited designers to give different interpretations of ceramic. If I had to define myself, I'd like to say I am a designer of companies.'
In 1997, Cappellini spotted Edward Barber and Jay Osgerby's 'Loop' table for Isokon at 100% Design, as part of a stand curated by Wallpaper*. 'We were at the booth and Giulio Cappellini and Jasper Morrison happened to walk past,' recall the designers. 'Giulio expressed his love for the table, saying "I have to have it in my collection". We were dumbfounded. It was a tremendously exciting moment for us, as he is such a hero of ours. It felt like an incredible coming together: everything in the right place at the right time.' (Read the full interview with Barber Osgerby on Giulio Cappellini.)
The company's illustrious past hasn't stopped Cappellini from looking at the future of design, which he does both as a discoverer of new talent (with a strong focus on Eastern Europe, Asia and the Middle East) and as an innovator of design entrepreneurship for modern times. 'Our future responsibility is to design new landscapes. Innovation is not about inventing a new form at all costs, because all the most beautiful forms have already been made in the 1950s, 1960s and 1970s, but it's about finding new textures, new materials. If I make a product today, I have to try to do something better than I did 20 years ago, otherwise I don't know how to make a new product.'
Design's future landscapes
As a result of his role, Cappellini spends a lot of time pondering about the ongoing transformation of home and office landscapes, and the new ways we are inhabiting our most intimate spaces. His curiosity for the way design evolves with our lives is among the driving forces of his work. The opportunity to be a Wallpaper* Guest Editor allowed him to explore these concepts across the pages, creating a domestic scenario and an office that explore his vision. Mixing genres, eras and prices ('I don't think design is elitist,' he says), he created two images defined by immateriality, with the functions of each room blending into each other, spaces defined by freedom. 'This idea of not having walls is precisely because today we can speak of a new domestic nomadism,' he says. 'In the past, each room had a precise role; today, everything is much more fluid. The kitchen is a multifunctional space where you also host, the living room has become the agora of the home. Homes have really become borderless.'
The same concept was applied to his office concept: a space without desks, without a meeting room, but with designs that are arranged to accommodate today's flexibility. 'The contemporary workspace has become more human,' he observes. 'Offices used to be black and white, now we have introduced colour, we work flexibly, we have a blend of contract and domestic furniture. With these images, I wanted to convey the freedom that I think is necessary in design.'
Creating this series of images for Wallpaper* (in collaboration with his son Giovanni behind the camera) also connected Cappellini to yet another lifelong dream. 'I would love to make books,' he says. 'No words, just images of people, of landscapes, of architectures. Words need translating, a good image can be understood and provoke emotions in anyone, anywhere.'
This article appears in the October 2023 issue of Wallpaper*, available in print, on the Wallpaper* app on Apple iOS, and to subscribers of Apple News +. Subscribe to Wallpaper* today
Receive our daily digest of inspiration, escapism and design stories from around the world direct to your inbox
Rosa Bertoli was born in Udine, Italy, and now lives in London. Since 2014, she has been the Design Editor of Wallpaper*, where she oversees design content for the print and online editions, as well as special editorial projects. Through her role at Wallpaper*, she has written extensively about all areas of design. Rosa has been speaker and moderator for various design talks and conferences including London Craft Week, Maison & Objet, The Italian Cultural Institute (London), Clippings, Zaha Hadid Design, Kartell and Frieze Art Fair. Rosa has been on judging panels for the Chart Architecture Award, the Dutch Design Awards and the DesignGuild Marks. She has written for numerous English and Italian language publications, and worked as a content and communication consultant for fashion and design brands.
With contributions from