Year in review: beauty & grooming editor Mary Cleary picks top 10 fragrance stories of 2021
Wallpaper's Mary Cleary reveals her selection of the top 10 fragrance stories from 2021, from incense that comes with its own soundtrack to reimagined rose perfumes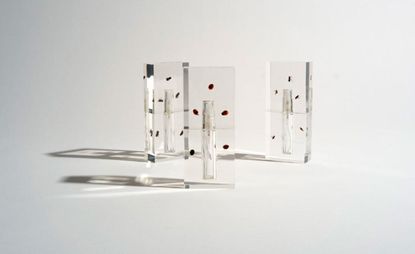 (Image credit: TBC)
Our pick of the top 10 fragrance stories from 2021 has very little to do with typical perfume, instead focusing on the creative potential of fragrance to push new boundaries in art.
Hear from renowned perfumers, conceptual artists, and experimental musicians about their experiments with scent. Learn how the artist Anicka Yi creates a new feminist history through perfume, and how musicians are creating soundtracks to fragrance for a soothing, multi-sensory experience. All this and more is here in our alternative look at the power of perfumery.
Top 10 fragrance stories of the year
01. Incense with its own soundtrack offers new way to relax
In 2021, the olfactive art gallery Folie à Plusieurs and the Noguchi Museum in New York launched a mind-altering incense collection called Co.
The range sees Japan's oldest incense supplier pair with experimental musicians to create a multisensory experience inspired by the Japanese tradition of Koh-do – a refined and elaborate ritual of 'listening to incense' that is somewhat similar to traditional tea ceremonies but with emphasis placed on smell rather than taste. Each pack of incense comes with a download link to an album composed to accompany that particular scent by one of five experimental musicians from across Japan and Europe. It is an inspired take on keeping calm in our current age of anxiety.
02. Renowned perfumers share the books that inspire them
In this article, we asked renowned perfumers to share the books that inspired their fragrances. From Freud's The Interpretation of Dreams to Bonjour Tristesse, perfumers like Frederic Malle and Francis Kurkdjian discuss how they distilled the essence of a novel into a novel scent. It is a fascinating examination of the many ways we can tell stories.
03. The fragrant legacy of Niki de Saint Phalle
In conjunction with the Niki de Saint Phalle retrospective at MoMA PS1, we looked back at the artist's experiments in the beauty industry.
Saint Phalle exploded artistic conventions with her joyous and audacious work – plaster sculptures she filled with paint and then shot with a .22 rifle, a life-size bull she once exploded with dynamite in honour of Salvador Dalí, and, most notably, the Tarot Garden, an expansive sculpture park in Tuscany populated by awe-inspiring, mammoth female figures.
In the 1980s, Saint Phalle created her own perfume to help fund her art. Called Niki de Saint Phalle, the perfume is a peculiar chypre floral fragrance that blended notes of carnation and patchouli, with artemisia, mint, leather and sandalwood. Ever the pioneer, de Saint Phalle was one of the first artists to expand her creative practice into the world of perfumery.
04. The best perfumes for women take a cue from history
In this article, we look at how brands and artists are using fragrances to pay homage to famous women from history and, in some cases, using scent as an alternative way to examine women's place within society.
It is a curious and compelling alternative version of history. Highlights include Biography by conceptual artist Anicka Yi, a line of three fragrances that 'invokes characters buried in history for refusing the limitations [of their gender] and posits a future where all femmes are connected in a fluid network'. Alongside this is Aesop's homage to the life of French modernist architect and designer Charlotte Perriand, and Dior's tribute to the French Resistance hero (and sister of Christian), Catherine Dior.
05. Reimagining roses: experimental takes on a classic scent
Traditionally, rose perfumes have been characterised as the olfactory equivalent to pop music – guaranteed crowd pleasers, easily accessible. Recently, however, a host of niche perfumers and big-name brands have been experimenting with rose fragrances, taking the ubiquity of the scent as a challenge to create perfumes that subvert exceptions and offer a new perspective on an old classic.
06. Zoë Paul creates fragranced art for Diptyque exhibition
Ahead of Diptyque's 60th anniversary exhibition, 'Le Grand Tour', we stepped into the studio of Athens-based artist Zoë Paul. There, we discovered the enchanting fragranced artwork she designed for the brand, and learned how an accidental journey into an ancient cave spurred its creation.
07. Frank Gehry designs Louis Vuitton perfume bottle to make you say 'Oh!'
Two two titans of their respective crafts, architect Frank Gehry and Louis Vuitton perfumer Jacques Cavallier-Belletrud, distil their creative juices for the new Les Extraits perfume collection. In this exclusive story, we examine how the collaboration pushed both the perfumer and the architect to new heights.
08. Patchouli perfumes are the hedonistic scent of the season
Long before patchouli was adopted as the signature scent of hippies everywhere, the flowering herb, with its warm, woody, musky smell, was a symbol of opulence and prestige – rumour has it that King Tut was buried with gallons of patchouli oil. Centuries later, Madonna put her own spin on the scent by infusing it into pressings of her 1989 album Like A Prayer.
Here, we discover perfumers who are bringing patchouli back to its decadent roots.
09. Arpa is a new multidisciplinary brand inspired by synesthesia
In May 2020 we previewed Arpa, a new multiplatform brand from perfumer Barnabé Fillion that combines scent, music, architecture, and imagery into an all-encompassing, immersive experience. In November 2021, Arpa officially launched at Dover Street Parfums Market, and the final collection is as captivating as was originally promised.
Arpa sees Fillion reuniting with many of his previous collaborators, calling on their diverse talents to create companion pieces to the brand's fragrances; these include a series of sculptures and records to go with the scents, from the likes of Anicka Yi and French DJ Pilooski. Graphics are designed by Memphis Group heavyweight Nathalie du Pasquier and an office space designed by Aesop's in-house architect Jean-Philippe Bonnefoi. Meanwhile, limited-edition bottles have been handblown by the artist Jochen Holz.
10. Photographer Lea Colombo creates experimental perfume
Celebrated fashion photographer Lea Colombo launched two new fragrances, 111hz and 222hz, alongside the opening of her first self-curated exhibition, Colours of My Body. In this article, we speak to Colombo about the creation of the two scents which, as she describes it, 'explore our relationship with self, the balancing of masculine and feminine that is achieved in the process of individuation'.
Mary Cleary is the Beauty & Grooming Editor of Wallpaper*. Having been with the brand since 2017, she became an editor in February 2020 with the launch of the brand's new beauty & grooming channel. Her work seeks to offer a new perspective on beauty, focusing on the pioneering personalities, product designs, and transformative trends within the industry.