Arpa is a new multidisciplinary brand inspired by synesthesia
Perfumer Barnabé Fillion launches a genre-defying project that reaches far beyond the world of fragrance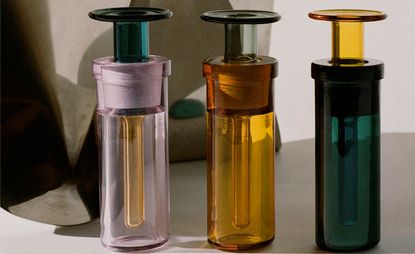 (Image credit: Julien Thomas)
In May 2020 we previewed Arpa, a new multi-platform brand from perfumer Barnabé Fillion that combines scent, music, architecture, and imagery into an all-encompassing, immersive experience.
Now, in November 2021, Arpa has officially launched at Dover Street Parfums Market, and the final collection is as captivating as was originally promised.
Fillion is best known for his work as the house perfumer at Aesop – where he has created all of the brand's fragrances and its first candles – as well as his collaborations with Lemaire and institutions such as the Guggenheim. Particularly notable are the 'Biography' perfumes he created in collaboration with artist Anicka Yi (featured among our best perfumes for women), which attempted to reconstruct the personalities of historical women, such as Fusako Shigenobu, or the imagined body odour of future AI entities.
Arpa sees Fillion reuniting with many of his previous collaborators, calling on their diverse talents to create companion pieces to the brand's fragrances; these include a series of sculptures and records to go with the scents, from the likes of Yi, and French DJ Pilooski. Graphics are designed by Memphis Group heavyweight Nathalie du Pasquier and an office space designed by Aesop's in-house architect Jean-Philippe Bonnefoi. Meanwhile, limited-edition bottles have been handblown by the artist Jochen Holz.
Arpa fragrances
The fragrances are at the heart of this collaboration. Like most of Fillion's work, these perfumes take their inspiration from his personal travels and historical narratives. The first three scents (with three more to come soon) include Arco Spettro, inspired by the acid bath craters in Dallol, Ethiopia; Fosforo, a petitgrain and iris scent inspired by the waters surrounding the island of Kyushu, Japan; and Recedere, an earthy blend of liquorice, neroli, and plaster that is meant to recreate a plaster studio in the Belgian Blue Forest.
Synesthesia and 'physiological nostalgia'
The launch of Arpa was delayed by the pandemic, but the consequences of that event and what followed have imbued the project with a new significance.
Over the course of the past two years, there has been a surge in projects that meld fragrance with other sensory experiences for both artistic and therapeutic purposes. As a 2021 study into the future of beauty put it, the use of sensory relaxation or 'physiological nostalgia' is set to become a new norm, as people look for a screen-free way to transform their domestic space into a meditative zone. Projects that combine audio escapism and aromatherapy, such as the Haeckels x Kelly Lee Owens candle, photographer Lea Colombo's perfume line, Co incense, and Sruli Recht's incense burner, are examples of this trend, yet Arpa was early to catch onto the wider sensory possibilities of fragrance.
For Fillion, though, this project will always be about synesthesia (experiencing one sense through another) and what we can learn from melding our senses. 'At Arpa, I work with the purest natural materials,' he says. 'I listen to them to elicit transmissions from extra-sentient wavelengths; to eschew a future of artificiality in favour of joyful poetry.
'Everything that I'm doing in perfumery is visual and related to my own synesthesia, to convey not just a memory but a texture. I'm always running after a blurry image that becomes more focused with time.'
INFORMATION
Mary Cleary is the Beauty & Grooming Editor of Wallpaper*. Having been with the brand since 2017, she became an editor in February 2020 with the launch of the brand's new beauty & grooming channel. Her work seeks to offer a new perspective on beauty, focusing on the pioneering personalities, product designs, and transformative trends within the industry.