Nathalie Du Pasquier's ode to the humble brick
A site-specific installation at ceramic brand Mutina's Italian HQ has stacks of appeal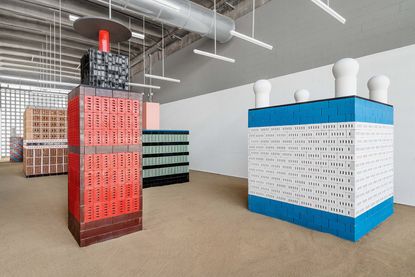 (Image credit: Delfino Sisto Legnani)
Design lost its sense of urgency for Nathalie Du Pasquier back in 1987. From then on, painting became her favoured means of expression. She still has excursions into the realm of design, but the painter has definitely got the upper hand on the designer – perhaps because Du Pasquier has always been an artist at her core.

In the 1990s, when her work was particularly prominent in China (by virtue of an enterprising Hong Kong-based dealer), Du Pasquier developed a vigorous visual language in which her characteristic marks and strokes formed backgrounds, objects, spaces and shapes – they in turn became paintings and sculptures. Today, her work is held at galleries throughout Europe while New York's Anton Kern Gallery announced representation of the Milan-based artist this week. In just the last three years, exhibitions have been dedicated to her in museums across Vienna, Philadelphia, London and Ljubljana.

Her career followed a trajectory decided by providence, rather than system. The naturalness of her journey is reflected in her latest exhibition 'BRIC', recently opened at ceramics brand Mutina's headquarters in Modena, Italy. The brick is an essential structural element in human history and a recurring motif for the Memphis Group founding member. Here, it is a starting point for an installation that is at once dreamy and unpretentious.
Seven large sculptures inhabit the exhibition centre MUT, where the humble brick is the centrepiece of Du Pasquier's installation. MUT, which is housed in an industrial building designed by the late Angelo Mangiarotti in the 1970s, is a light-filled cube of glass and cement. With the skill and dexterity of a croupier, the artist uses shape and texture, solids and voids, height and scale, to glorify the resolute normality of the brick and celebrate it as a cornerstone of architecture.

'BRIC' is a site-specific installation and the works themselves blur the boundaries between architecture and sculpture. Are they small towers or large pedestals? Could they be totems – or maybe even houses? They are panoramic viewing points that show us an artist's outlook onto the world, and remind us of the need to liberate a thought that is coherent, human, analogical and positive.

Du Pasquier has made the most of Mutina's productive techniques, which can be seen and felt in the finishes, the construction and the compositions that make up the installation. The collaboration has been such a success that it has even generated a new brick product called 'Brac' for Mutina's catalogue. 'Brac' is available in five different finishes and can be used across a variety of structures and walls. The installation is curated by MUT director Sarah Cosulich and is open until the end of June next year.
INFORMATION
'BRIC', until 19 June 2020, MUT. mutina.it
ADDRESS
MUT
Mutina Headquarters
Via Ghiarola Nuova 16
41042 Fiorano Modenese