Incense with its own soundtrack offers new way to relax
This new incense collection called Co sees Japan's oldest supplier paired with experimental musicians for an innovative take on the Koh-do tradition of 'listening to incense'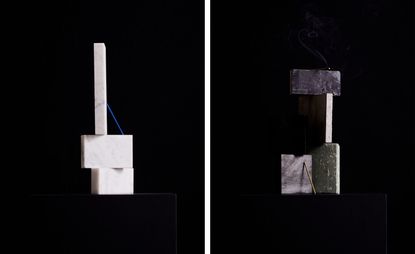 (Image credit: shop-folie.com)
Experimental music and fragrance traditions combine in Co, a new collection of incense from olfactive art gallery Folie à Plusieurs and the New York-based Noguchi Museum.

Co is inspired by the Japanese tradition of Koh-do, a refined and elaborate ritual of 'listening to incense' that is somewhat similar to traditional tea ceremonies but with emphasis placed on smell rather than taste.
The collection includes five different incense packs created by Japan's oldest incense supplier, Kungyokudo. Within each pack is a download link to an album that has been composed to accompany that particular incense. The albums have been made by experimental musicians based in Japan and Europe, who vary greatly in style but are united in their idiosyncratic, genre-blending approach.

The jasmine-scented 'Fernweh' incense, for example, comes with a soundtrack by Hatis Noit, a Japanese vocalist currently based in London, whose eclectic music is inspired by influences including Gagaku (music from the courts of ancient Japan), Gregorian chants, contemporary pop, and opera.
'Led by a Blue Bird Through a Mountain' is an aquatic sandalwood scent with a corresponding soundtrack by Japanese vibraphone musician Masayoshi Fujita. The vibraphone is a more mellow-sounding version of the xylophone, and Fujita has developed his own unique sound on the instrument, often by attaching metal, strips of foil, or other objects to its metal bars.

'Under Clouds, Ascending' is a mixture of sandalwood and vanilla with a soundtrack composed by Daniel Thorne, a Liverpool-based composer, saxophonist, and founder of Immix, the ensemble of artists from around the UK whose works 'slips between the cracks of style and genre'.
There's also 'Outlines of a Distant Memory', a burnt sugar and wood fragrance that comes with music by London-based synth producer Rival Consoles. And finally, one of our favourites, 'To Your Borders and Back', a blend of cedar and lavender with music by multimedia artist, composer and vocalist Rosa Anschütz.
The project is the most recent in a growing number of initiatives that blend fragrance and sound to create a soothing, immersive environment. Musician Kelly Lee Owens's candle design for Haeckels, and the Metronome audio-olfactory installation at London Design Biennale are two other like-minded projects and, as one new study argues, we'll be seeing a lot more of such tools in the coming years, as our tech-saturated lifestyles encourage people to find solace in sensory forms of relaxation.
While the concept behind Co might become more common, the collection itself will remain a unique example of artists from various disciplines coming together to create a new interpretation of a classic form.
INFORMATION
shop-folie.com (opens in new tab); noguchi.org (opens in new tab)
Mary Cleary is the Beauty & Grooming Editor of Wallpaper*. Having been with the brand since 2017, she became an editor in February 2020 with the launch of the brand's new beauty & grooming channel. Her work seeks to offer a new perspective on beauty, focusing on the pioneering personalities, product designs, and transformative trends within the industry.