Fresh, dry & polite: Aesop to launch a new fragrance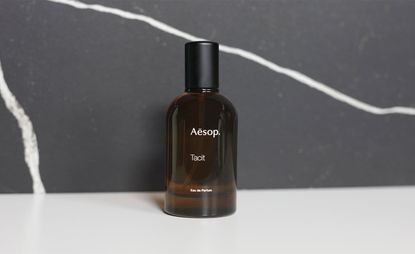 (Image credit: Hanna Pasanen)
Launching worldwide in September, Tacit will only be Aesop's second perfume (if you don't count the long-discontinued Marrakech and Mystra), but this being Aesop there won't be lots of razzmatazz. Everyone's favourite Australian skincare brand likes to do things quietly, and Tacit – which means 'what's left unsaid' – captures the essence of Aesop pretty well.

Created by New York-based International Flavors & Fragrances perfumer Céline Barel, Tacit is an intriguing take on a classic eau de cologne, though with grapefruit-like Japanese yuzu replacing the usual lemony opening, and basil leaves taking the place of rosemary and lavender at its herbaceous heart.

The result is a fresh, unsweetened unisex scent, with a touch of the bracing vermouth dryness of Haitian vetiver, extracted from the root of a tropical grass. But this is no ordinary vetiver: instead, Barel has used IFF-LMR's trademarked Vetiver Heart – a cleverly smoothed-out version of traditional vetiver oil, using hydro distillation followed by fractional distillation to extract its usual earthy smell, leaving its slightly bitter dryness intact.

Tacit comes as a 50ml eau de parfum (the fragrance industry's slightly vague term for a solution containing around 10–20 per cent pure perfume) in Aesop's standard brown glass bottles. Despite the concentration it doesn't outstay its welcome; in fact, we'd personally like it to last a bit longer. The packaging is rather more extravagant: a slim card box decorated by Australian artist Jonathan McCabe, which nestles inside a chunkier brown box, lidded with a card, which in turn slides inside a brown card sleeve.

Tacit is unlikely to turn heads on the street, but that's not what Aesop's about: it's sexy but well-mannered and discreet, which pretty much sums up the brand. Try it for yourself in-store from September onwards.
Australian generative artist and designer Jonathan McCabe created a short video inspired by Aesop's new fragrance, converting information inputs into algorithms that direct movement of colour and pattern. Courtesy of Aesop
Receive our daily digest of inspiration, escapism and design stories from around the world direct to your inbox