Byredo make-up wins Best Grooming Product: Wallpaper* Design Awards 2022
Our Best Grooming Product 2022, Byredo make-up is built around the expressive potential of colour; read more and explore the shortlist, spanning heavenly hand care and a genderless fragrance like air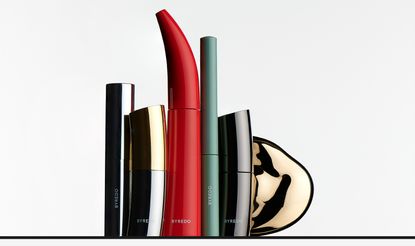 (Image credit: George Harvey)
WINNER
Make-up, by Byredo
When Ben Gorham, the founder of Swedish fragrance and accessories brand Byredo, launched the first Byredo make-up line, he wanted to create a collection that defied easy categorisation.
To do that, he enlisted the help of Isamaya Ffrench, the British make-up artist who has become one of the subversive forces in the industry for her work with top luxury brands such as Burberry, Yves Saint Laurent and Tom Ford, alongside projects that explore the mutable nature of the human face through prosthetics and digital technology.
The result is a make-up line that is built around the expressive potential of colour, and includes mascara (stored in a striking curved red container), eyeliners, lipsticks and eyeshadows. Most notable are the brand's 'colour sticks', which come in an array of shades that can be applied to any area of the face and layered for stronger or lighter impact. Consequently, the face instead becomes a canvas for an expressionistic application of colours, rather than a painting-by-numbers grid to be filled in.
byredo.com (opens in new tab)
SHORTLIST
Les Mains Hermès hand care collection, by Hermès
When we presented an exclusive preview of the launch of Hermès Beauty in 2020, the line consisted of 24 lipstick shades packed in refillable, colour-block tubes designed by Pierre Hardy. The launch was a sensation and the brand's subsequent beauty offerings have not disappointed, from the blush collection earlier this year to this latest range of hand care products and nail enamels.
Titled Les Mains Hermès, the collection includes 24 nail polish shades, a base coat, a top coat, reparative hand cream, nourishing cuticle oil, and hands down the chicest nail files ever made. Once again, the packaging has been designed by Hardy and features a two-toned top and gold ex-libris seal. The nail polish shades are derived from the brand's iconic enamel bracelets, and include sophisticated shades such as Rouge H red, and more eccentric colours like the sun-yellow Jaune Impérial, and Vert Égyptien, a green inspired by mirages in the Nile Valley.
hermes.com (opens in new tab)
Microneedling kit, by Teresa Tarmey
We've already declared Teresa Tarmey the 'sleekest facialist in London' thanks to her Notting Hill clinic (among our pick of the best London spas) that has served as an exhibition space for never-before-seen Guy Bourdin images, and her new position as one of Dior's skincare ambassadors.
Yet, if anything proves Tarmey's distinctive aesthetic and innovative approach to skincare, it has to be her recently revamped line of at-home products. The microneedling kit is particularly noteworthy. It consists of a peptide treatment and a dermaroller, which allows users to refresh the look of their skin at home by lightly puncturing the skin surface to stimulate the formation of new skin cells. Best of all, it's bold, graphic packaging makes it look unlike anything in skincare right now.
teresatarmey.com (opens in new tab)
Air Eau de Parfum, by Air Company
Creating a perfume that smells like air might sound like a fruitless endeavour, but The Air Company has made a habit of turning outside-the-box concepts into promising projects, and its latest launch is no exception.
Air Eau de Parfum is a genderless fragrance that is made from carbon dioxide captured at its source point. To make it, the brand produces hydrogen that is fed into its patented Carbon Conversion Reactor alongside the CO2. The resulting reaction transforms the hydrogen and CO2 into impurity-free ethanol, methanol and water, which forms the body of the fragrance.
The concoction is then finished off with light fragrant notes, including orange peel, jasmine, violet, and tobacco.
aircompany.com (opens in new tab)
'Grand Hers' combs, by Aurore Piedigrossi
'Grand Hers' is a new collection of sculptural horn combs that pays homage to the history of the Hers Valley in the south of France. Starting in the 14th century, the Hers region became a hotspot for comb production, with millions eventually produced each year for distribution around France and the rest of the world. The arrival of plastic in the 20th century heralded the end of comb production in the region, and now the craft has almost entirely disappeared.
In an effort to keep that heritage alive, designer Aurore Piedigrossi has created a series of horn combs that are moulded into unexpected, sinuous shapes. The result is an everyday object that doubles as a sculptural work of art.
grandhers.com (opens in new tab)
INFORMATION
The Wallpaper* Design Awards 2022 feature in the February 2022 issue of Wallpaper*. Subscribe today! (opens in new tab)
Mary Cleary is the Beauty & Grooming Editor of Wallpaper*. Having been with the brand since 2017, she became an editor in February 2020 with the launch of the brand's new beauty & grooming channel. Her work seeks to offer a new perspective on beauty, focusing on the pioneering personalities, product designs, and transformative trends within the industry.