How to choose the right sunscreen for your skin
Consult our definitive sunscreen guide to answer your most burning sunscreen questions and find the product that's best suited to your skin type.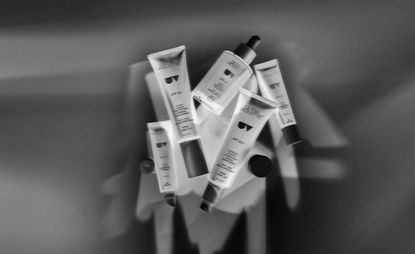 (Image credit: press)
Sunscreen is widely championed as the single most important product to have in your beauty regime, by dermatologists, aestheticians, and skincare aficionados alike. While slathering on some sun cream might seem easy enough, even a cursory look into the topic opens up a disorienting rabbit hole of information.

Last year, the FDA reported that six commonly used sunscreen ingredients are absorbed into the bloodstream and can linger there for extended periods of time, prompting additional safety studies.

Some of these ingredients are also harmful to the environment, so much so that Hawaii has banned the use of certain sunscreens in an effort to protect its coral reefs. That's not all – questions abound about the effectiveness of the various SPF levels, physical versus chemical sunscreens, and how to get protection from both UVA and UVB rays.

So how do you choose the right sunscreen for your skin? Below, we break down some basic facts you should keep in mind and the most effective products for your particular concerns.
Sunscreen: the basics
There are two types of sunscreen, physical/mineral and chemical/synthetic. At their most basic, physical or mineral sunscreens contain zinc oxide and titanium dioxide (the only ingredients 'generally recognised as safe and effective' by the FDA at present) and are best suited to those with skin sensitivities or inflamed skin. In contrast, chemical or synthetic sunscreens contain various synthetic ingredients, including oxybenzone, octinoxate, octisalate, and avobenzone. They are generally more lightweight and better suited to melasma or pigmentation sufferers.


Only 'broad-spectrum' sunscreen protects from both UVA and UVB rays. As renowned dermatologist Dr Howard Murad explains, 'UVA rays are known as the "ageing" rays and UVB as the "burning" rays. While UVB is responsible for causing sunburn and mutations to your DNA [ie, skin cancer], UVA rays are the most damaging to skin's appearance.'


Yes, you should wear sunscreen every day. According to Dr Murad, 'No matter where you are, UV rays are present all year round, even on cold, cloudy days. UVA rays account for 95 per cent of UV that reaches Earth. They are the same strength all year round and can penetrate your skin through windows even on cloudy days, so if you're sitting by a window indoors, you should still apply your SPF. UV rays contribute to premature ageing, collagen degradation and skin cancer. When you go outside, it takes just ten minutes for UV to kickstart the breakdown of collagen in your skin.'
Sunscreen: the brands
Ultra Violette
The Daydream Screen from Australian brand Ultra Violette is an exciting new tinted sunscreen that simultaneously evens skin tone and protects it from harmful rays.

For those who rather not have a tint, we suggest the Lean Screen SPF 50+ Mattifying Zinc Skinscreen. It's a high-SPF, physical/mineral cream that doesn't leave a chalky residue, and is especially well suited to acne-prone skin, since its mattifying texture combats oiliness, and zinc is a natural blemish combatant.
libertylondon.com (opens in new tab)
Humanrace
Pharrell's cult skincare line Humanrace has just launched a new suncare component. The Ozone Face Protection Daily Moisturiser and Ozone Body Protection Cream are both SPF 30 and formulated with the brand's signature Snow Mushroom Extract, a multi-tasking daily moisturiser that also provides Blue Light Protection. The line is suitable for all skin tones, but is especially aimed at addressing the misconceptions of sunscreen use for people of colour.
Says Dr. Elena Jones, Pharrell's Dermatologist of over 20 years and consultant on Humanrace, about the line: 'the biggest misconception is that deeper skin tones don't need sunscreen, but no matter what colour your skin is, all skin tones need a daily sunscreen, rain or shine. I have patients everyday asking what they should be doing to care for their skin, the easiest thing to do is start wearing sunscreen daily.'
humanrace.com (opens in new tab)
Koa
Hawaii & New York based skincare label Koa have just launched a mineral sunscreen with a moisturising vitamin B3 & shea butter formulation. The Hawaiian men behind the brand— Ty McLaren, Hiro Shinn, and Kapono Chung — grew up surfing and their latest launch is designed to outlast extensive outdoor activity and long days spent in the water.
livingkoa.com (opens in new tab)
Oway
Protect your scalp from sun damage with the Sunlight Serum from organic beauty brand Oway. Formulated with marigold, organic baobab, pomegranate, passion fruit and brown algae, the serum protects hair from damage caused by sun exposure, saltwater, sand and chlorine.

It is a great beach bag companion that can also be used on the body to sooth skin after sun exposure. Pair with the brand's After-Sun hair mask for extra hydration post-sun exposure.
oway.com (opens in new tab)
CeraVe
A pharmacy brand that packs a punch, CeraVe's Moisturising Lotion SPF50 hydrates skin and protects from daily UV exposure. Formulated with ceramides, hyaluronic acid and niacinamide, the lightweight cream is designed to protect the skin's surface from both airbone pollutants and sun damage.
lookfantastic.com (opens in new tab)
Combeau
Combeau is a dietary supplement that makes getting better skin an easy pill to swallow. The supplements are formulated with seven natural ingredients- hyaluronic acid, red algae, acerola, sea buckthorn, melon SOD B, saffron and zinc bisglycinate- that target the internal mechanisms which result in skin imbalances. While it should by no means be used as a sunscreen, it does help protect against the cosmetic damage caused by sun exposure with, according to Combeau's research team, a single month's use resulting in a 16 percent increase in skin's resistance to UV rays.
selfridges.com (opens in new tab)
Woods Copenhaggen
Woods Copenhaggen is a new skincare brand that offers straightforward products formulated with Scandinavian ingredients. Their new sunscreen for face and body comes in SPF 30 and SPF 50 and is designed to leave skin with a not-too-dewy, not-too-matte finish.
woodscopenhagen.com (opens in new tab)
Grown Alchemist
Grown Alchemist's Hydrating Sunscreen is a vegan and reef safe SPF30 that is formulated with rosehip oil and parsley seed extract to reverse signs of ageing while protecting against sun damage. The mineral-based cream is also formulated with hyaluronic acid to hydrate skin without leaving behind any thick residue.
feelunique.com (opens in new tab)
Soleil Toujours
Soleil Toujours is probably the chicest looking sunscreen there is. Even better, its elegant bottles contain highly effective mineral-based sunscreen that has been formulated with the brand's 'EcoSunComplex' antioxidant blend for an added skincare boost.
The brand's Mineral Ally Daily Defence is an everyday suncream that can be used on both the face and body. While, the Clean Conscious Set + Protect Micro Mist is sheer spray-on sunscreen that is prefect for regular makeup wearers to use as a setting spray after application.
net-a-porter.com (opens in new tab)
SkinCeuticals
SkinCeuticals Advanced Brightening SPF50 is a great choice for those with problem skin who want intense sun protection. The non-greasy formula includes tranexamic acid and niacinamide to reduce the appearance of pores and even skin tone.
lookfantastic.com (opens in new tab)
Bamford
Bamford's sunscreen is an ideal choice for those who are serious about their sustainable skincare. The brand uses active botanicals sourced from the English countryside to produce highly-effective, all-natural skincare.
Their sunscreen uses a complex of antioxidant golden seaweed and calming Swiss pine extracts to protect against UVA and UVB rays. While its ultra-matte finish makes it ideal for those with larger pores and those who regularly wear foundation.
libertylondon.com (opens in new tab)
Omorovicza
Budapest-based brand Omorovicza has garnered a cult following for its highly effective products that blend modern science with the ancient healing traditions of Hungary's thermal baths.
Their lightweight SPF 30 offers sun protection with skincare benefits. It's formulated with Vitamin C to brighten and correct skin-tone, Titanium Dioxide to blur skin imperfections, and the brand's 'Patented Healing Concentrate' to leave skin luminous and wrinkle-free.
cultbeauty.com (opens in new tab)
Oumere
Oumere's founder was inspired to branch into skincare after years spent in the lab as a biologist, focusing on the reproductive biology of black widow spiders. That unique background has made Oumere particularly effective at rejuvenating skin and turning back the signs of ageing.
The brand's latest launch is Sun Luxe, a lightweight sunscreen formulated with broccoli seed oil and green tea extract for brighter, smoother skin.
Sun Luxe is ideal for those looking for a lightweight everyday cream, and is not recommended for long days spent lounging out in the sun (its SPF is not high enough) or swimming (it is not waterproof).
Wild Nutrition
Natural Glow from Wild Nutrition is a skin protection supplement rather than a cream. The ingestible tablet formulation uses natural antioxidants to enhance the body's production of collagen, melanin and keratin for firmer and more hydrated skin that is better protected from the sun. Furthermore, by enhancing your melanin levels, the supplement allows skin to develop a naturally deeper and longer-lasting glow following exposure to the sun.
It should be noted that Natural Glow should not be used as sun protection on its own but in addition to typical sunscreens.
naturisimo.com (opens in new tab)
Salt & Stone
Salt & Stone is a unisex, organic skincare brand from Los Angeles, founded by a professional snowboarder looking to create all-natural products that could withstand endurance sports.
In keeping with that mission, the brand's lightweight SPF 30 is formulated with natural ingredients that will withstand a long day in the sun. It includes Hyaluronic Acid and Ashwagandha to soothe and moisturize the skin, while Non-Nano Zinc Oxide blocks UVA and UVB rays.
mrporter.com (opens in new tab)
Seventy-One
Seventy-One sunscreen is made for surfers. Its super water-resistant formula offers intense protection that is ideal for those who are spending extreme amounts of time in the sun and water. The sunscreen sticks are particularly handy, just chuck one in your beach bag and regularly apply for speedy sun protection.
niche-beauty.com (opens in new tab)
Vacation
Vacation is a new sunscreen brand inspired by the colourful beachside vibe of 1980s Miami. The brand was born out of Poolside FM, the popular online radio station that blends party-ready summer tracks with 1980s VHS visuals.
A sunscreen produced by a radio station might seem like a guaranteed way to get a sunburn, but Vacation actually works. The brand even worked with Dr. Elizabeth Hale, Board Certified Dermatologist and a VP of The Skin Cancer Foundation, to develop its formulation. If that wasn't enough, they also collaborated with perfumers Carlos Huber (Arquiste) and Rodrigo Flores-Roux (Givaudan) to develop Vacation's signature fragrance.
freepeople.com (opens in new tab)
The Grey
The Grey is a men's skincare range designed to blend the sumptuous feel and effectiveness of female skincare with the straightforward simplicity of most men's skincare brands.
The brand's Daily Face Protect sunscreen does just that, with a rich, velvety texture and long-wear convenience. The cream has been treated with a special encapsulation processing technique that ensures consistent SPF value while using fewer filters.
That gives the cream an ultra-lightweight and breathable texture that is ideal for supersensitive and blemish-prone skin.
Ultra Violette
Ultra Violette's sunscreen is specifically designed to be worn with other skincare and make-up products, making it an ideal match for those who regularly wear foundation.

A particular favourite is Ultra Violette's Lean Screen SPF 50+ Mattifying Zinc Skinscreen. It's notable among sunscreens as a high-SPF, physical/mineral cream that doesn't leave a chalky residue. It's especially well suited to acne-prone skin, since its mattifying texture combats oiliness, and zinc is a natural blemish combatant.
beautybay.com (opens in new tab)
La Prairie
La Prairie's Cellular Swiss UV Protection Veil is quite possibly the most luxurious sunscreen ever made. The brand began selling skincare in 1978, but its roots go back to the famed Clinique La Prairie, which opened in 1931. Located on the edge of Lake Geneva, the Swiss retreat has offered rejuvenation treatments to clients ranging from Pope Pius XII, to Winston Churchill and Marlene Dietrich.
The methods of Clinique La Prairie have been translated into the Exclusive Cellular Complex, an essential element of all La Prairie products and one so highly protected that its components are produced in two separate labs and then blended in a third, to ensure that no single chemist has access to the formula.
The Exclusive Cellular Complex certainly sets La Prairie's sunscreen apart, making the UV Protection Veil a transformative skincare treatment as much as an SPF, designed to make skin appear visibly brighter, clearer, and smoother within days.
harrods.com (opens in new tab)
Black Girl Sunscreen
Black Girl Sunscreen is specifically designed with women of colour in mind. It is reef-safe, cruelty-free, vegan, and water-resistant for 80 minutes. Most notably, it leaves absolutely no ashy white residue.
The brand's founder, Shontay Lundy, hopes that creating a sunscreen for women of colour will encourage more conversation around sun safety and education. 'I named my product Black Girl Sunscreen because there are a lot of people who still think having dark skin means that you have full sun protection. While we do have more natural protection than people with lighter skin tones, we're still at risk for burns, cosmetic sun damage and, most importantly, skin cancer,' says Lundy.
Black Girl Sunscreen uses a unique blend of natural ingredients for its highly moisturising, silky smooth texture. These include sunflower seed oil for combatting redness, avocado for hydration, cacao for an even completion, and blemish-fighting jojoba.
target.com (opens in new tab)
Murad
City Skin Age Defense Broad Spectrum SPF 50 is a mineral sunscreen created for indoor and outdoor use. It is designed to shield skin from UVA and UVB rays, as well as 89 per cent of blue light from screens. Murad's sunscreen is also designed to fight against harmful pollutants encountered by city-dwellers every day, making it ideal for those who live in urban areas or those who spend most of their day on screens.
cultbeauty.com (opens in new tab)
Mary Cleary is the Beauty & Grooming Editor of Wallpaper*. Having been with the brand since 2017, she became an editor in February 2020 with the launch of the brand's new beauty & grooming channel. Her work seeks to offer a new perspective on beauty, focusing on the pioneering personalities, product designs, and transformative trends within the industry.