The future of Hermès Beauty with its new creative director Gregoris Pyrpylis
In an exclusive interview, make-up artist Gregoris Pyrpylis discusses his new role as creative director of Hermès Beauty, next steps, and how he first fell in love with make-up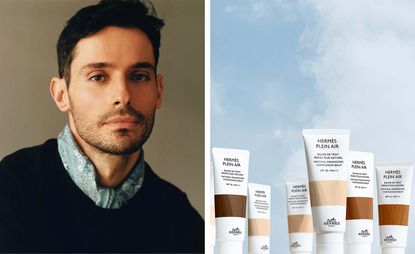 (Image credit: press)
If Hermès Beauty is all about elegance, as its new creative director Gregoris Pyrpylis says, then the iconic brand couldn't have found a better representative for its newest metier.
The Athens-born make-up artist has the good looks and affable charm of a Golden Age leading man, coupled with an exceptional technical skill that has made him a celebrated name within the industry.
Pyrpylis has been enlisted to further develop the Hermès Beauty line which, after launching its first range of lipsticks in 2020, has grown to include blush, nail polish and foundation. His appointment earlier this year came on the eve of the brand's Plein Air launch, a capsule collection that includes two highlighters, a powder brush, mattifying blotting papers, and a cream complexion balm that, in this beauty editor's opinion, has the ability to make even blemished skin look like it has been airbrushed to perfection.
Gregoris Pyrpylis spoke to Wallpaper* from the Hermès HQ in Paris about his new role and his plans for the future.
Wallpaper*: Why did you want to work with Hermès Beauty?
GP: What really attracted me to this position is that I would be part of an artistic collective, which is supervised and directed by Pierre-Alexis Dumas, who oversees the artistic vision of the house, Pierre Hardy, who is designing the Hermès Beauty objects, and Christine Nagel, who is the director of olfactory creations. My role is to bring a vision of beauty and femininity to the house that is expressed through colours and textures.
W*: Can you explain what your role will entail?
GP: In this new job I'm going to work with the team to come out with new launches every six months – we have Rose Hermès, now we have Plein Air, and at the end, we will have a whole range of beauty – and I'll be talking to the press and working on campaigns.
I'll also be working as closely as possible with the people in the boutiques. This is not something Hermès is asking me to do but it is something I want to do. I've been a make-up artist for 15 years and my best education came from working as a salesperson in a boutique. It allowed me to really know how people felt about the product – the formula, the pay-off, the colour. That is why for me it's very important for me to directly hear the desires of our customers.
W*: What sparked your interest in beauty and how did you hone your craft?
GP: One day, back in 2004, a very dear friend of mine and I were getting ready to go out and when she started to do her make-up, I asked if I could do it for her to, you know, just to have a nice moment. I did it and I was a bit mixed up, but in that moment of doing her make-up I felt so so good.
So the next week I went to make-up school, because I wanted to learn more and, by the end, I was working as a salesperson for MAC cosmetics and eventually started working with an agency in Athens.
So that's how it started and eventually, I moved to Paris, in 2012. I assisted the legendary make-up artist Tom Pecheux and worked as a skincare artist for Bioderma. After that I got a contract with Shiseido and was working as a celebrity make-up artist before joining Hermès at the beginning of 2022.
So beauty was never a goal, it just came naturally. I did it for me. I did it because I wanted to feel great when I was applying make-up. And I also wanted to be the cool friend who knows how to do make-up.
W*: How does your vision align with the vision Hermès?
GP: When it comes to beauty, I am on a constant quest to achieve the wellbeing of a person rather than just apply some colour. I don't like transformative make-up. My goal is to use make-up to reveal the personality of someone and to express a facet of that personality that they might not have even known they had.
By that I mean how just the gesture of applying, say, a beautiful dark shade of red can be so empowering for some people. It's something I learned a lot about when I was working with actresses. When they arrive on set they seem like everyday people, but the moment they have their signature make-up applied, they become something else. Their make-up is transformative, but it's transformative from the inside, and I find that so inspiring.
I think that Hermès has the same vision. Whether it's beauty or leather goods, or silk, it's more about revealing the personality rather than masking and transforming it.
When Thierry Hermès founded the house in 1837, he was creating harnesses and later saddles, and the reason he became so famous was because these objects looked so beautiful but were also very comfortable. So this idea of revealing, and also bringing comfort, is in the DNA of the house.
W*: How do you define beauty?
GP: For me, beauty is definitely not a trend. I understand that we have to be connected to our time, but the main priority of beauty is to make women and men feel comfortable in their looks. Beauty is here to reveal, or to sublimate but definitely not to transform. You have to [accentuate] the singularity and uniqueness of each person, otherwise we would all look the same. We would be like robots.
INFORMATION
hermes.com (opens in new tab)
Mary Cleary is the Beauty & Grooming Editor of Wallpaper*. Having been with the brand since 2017, she became an editor in February 2020 with the launch of the brand's new beauty & grooming channel. Her work seeks to offer a new perspective on beauty, focusing on the pioneering personalities, product designs, and transformative trends within the industry.