Baz Luhrmann on creativity, that iconic scene in Romeo + Juliet, and collaborating with Bombay Sapphire
We speak to legendary film director and creative maestro Baz Luhrmann for the launch of 'Saw This Made This', his latest campaign with gin label Bombay Sapphire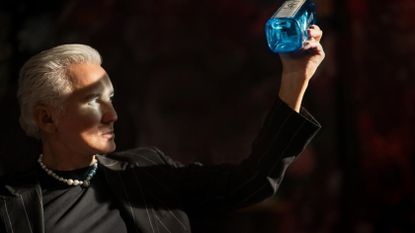 (Image credit: Bombay Sapphire)
Bombay Sapphire is joining forces with film director and creative maestro Baz Luhrmann for its latest campaign, 'Saw This Made This', which launched globally on 12 October. A creative call-to-arms, the campaign invites people to harness their own creativity, capturing and sharing their inspirations on social media. 'I wanted to do something that was giving back because I never know if I'm going to make something again,' Luhrmann tells Wallpaper* over Zoom in early October 2022.
'The Bombay Sapphire initiative is a way of doubling down on something I believe in and I want to put out there, which is that I honestly believe everybody is inherently creative.' Throughout the campaign, Luhrmann will share on social media the #SawThisMadeThis submissions he finds most inspiring.
'Creativity is more important than ever because I believe we are through a period of time where we truly feel helpless. Events like the pandemic have left us with a sense of powerlessness, and that can be exploited very easily by others,' Luhrmann reflects. 'So what can we do that's positive? Recognise within yourself that you can be creative.'
Involving hundreds of artists and creators from a variety of disciplines, the campaign will feature before-and-after 'Saw This, Made This' videos and photos. Mixologists around the world, meanwhile, have taken inspiration from their resident cities to create unique Bombay Sapphire cocktails.
The challenge of exploring creativity with a carte blanche approach is a thrilling if daunting prospect. So how does Luhrmann suggest getting the creative juices flowing? 'It can be something as simple as going for a walk. But it can be something as seemingly undisciplined as disco dancing all night,' he offers.
He recalls hitting a block while filming the now-iconic scene in Romeo + Juliet where the protagonists first meet, and how he found inspiration in the most surprising place: the toilets of a nightclub in Miami. 'I'm in the bathroom washing my hands, not even thinking about the film. There was a fish tank dividing the men's and ladies', and a woman came in. If I'd been thinking about it, or looking for inspiration, I wouldn't have found it. Sometimes you've got to walk away so that it comes to you.'
As part of the campaign, advertising director Juan Cabral has conjured a short film that pays homage to Argentine writer and poet Jorge Luis Borges' 1945 short story, The Aleph, which describes a point in space that contains all other points – anyone peering into this infinity can see every angle of the universe simultaneously, without distortion or confusion. The evocative film, shot on the streets of Cabral's home city of Buenos Aires and accompanied by Claude Debussy's Arabesque, invites viewers to see the world as a gallery peppered with often-surprising vignettes of artistry and beauty. 'What he does is quite reflective and poetic,' says Luhrmann of Cabral. 'He really understood the notion of "Saw This, Made This".'
The campaign will culminate in 2023 with a global showcase of creativity in partnership with arts institutions in New York and London, including the Design Museum. 'We can all be creatively stirred and turn something seemingly ordinary into our own potential masterpiece,' says Tim Marlow, chief executive and director of the Design Museum, in a statement.
Luhrmann and Bombay Sapphire invite budding and established creatives to take part in the movement on social media by tagging their posts with @BombaySapphire #SawThisMadeThis, with a chance of their creations being included in the showcase. 'If you get up and unleash your own inner creativity, you can change the pattern of your life – that's a creative act,' adds the director. 'You're having agency upon time, space and the things around you. It's liberating.'
Information
bombaysapphire.com/sawthismadethis (opens in new tab)