Does the vampire facial work? We make a blood sacrifice to Dr Barbara Sturm to find out
Dr Barbara Sturm's infamous vampire facial is an anti-ageing treatment that uses your own blood. Wallpaper's Mary Cleary gives it a shot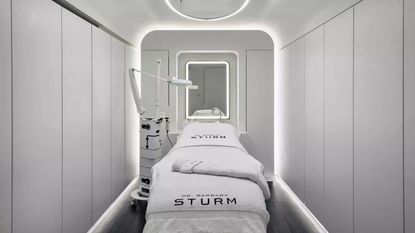 (Image credit: Dr Barbara Sturm)
Wallpaper* Newsletter
Receive our daily digest of inspiration, escapism and design stories from around the world direct to your inbox
Thank you for signing up to Wallpaper. You will receive a verification email shortly.
There was a problem. Please refresh the page and try again.
On a recent sunny afternoon I had two vials of blood drawn from my arm and reinjected back into my face.
You might read that sentence and think it sounds like pure madness, or you might recognise it as a description of Dr Barbara Sturm's 'vampire facial' (and you might still consider that madness).
Even for the most adventurous beauty connoisseurs, the vampire facial is divisive. Its extensive celebrity endorsement (most notably from the Kardashians) inspires fascination and allure, and its backstory helps too. The treatment was originally developed by Dr Barbara Sturm, a German orthopaedist-turned-skincare-mogul whose eponymous brand creates some of the most popular luxury beauty products on the market.
But before Dr Sturm was a beauty industry icon, she was a doctor in Düsseldorf injecting US basketball star Kobe Bryant's knee with proteins derived from his own blood to reverse career-threatening degradation of the area.
Eventually, Sturm decided to translate the methods of the 'Kobe Treatment' into skincare and the 'vampire facial' – more formally, the Platelet-Rich Plasma (PRP) facial – was born as an anti-ageing method designed to brighten, tighten and reduce hyperpigmentation of skin. Unlike Botox or fillers, PRP does not change the composition of your face. Its power lies in its ability to suddenly, subtly make you look like a fresher version of yourself.
The vampire facial: a skincare holy grail
The medical-miracle origin story, the celebrity backing, the high price point and the promise of unparalleled, instantaneous results have made the vampire facial a skincare holy grail… but then there's the blood.
When I told people I was getting the vampire facial, the reactions ranged from envious awe to poorly concealed horror. Because, on the one hand, there is always an insatiable appetite for anything that can make us look healthier, younger, more beautiful; and, on the other, using our own blood to do it feels vaguely primaeval, the stuff of horror stories, and can provoke questions about exactly how far we are willing to go to achieve a certain definition of beauty.
So does it work?
No matter where you stand on the philosophical playing field, there's one question everyone wants the answer to – does this thing actually work?
To find out for myself, I went right to the source with an appointment at Dr Sturm's London clinic. To begin, my blood was drawn and the vials placed in a centrifuge to extract a high concentration of plasma. The practising doctor then used a syringe (especially designed by Dr Strum) to insert the plasma into my face, placing a particular focus on the area under my eyes and along my cheekbones.

As I was nervous about getting the injections, the doctor – a Columbia University-trained medic with a background in emergency and skin cancer – eased my fears by explaining that, since the treatment uses your own blood, there is no chance of an allergic reaction and, besides some initial redness, most patients need little to no down time after the treatment.
The injections took only a few minutes, and by the time the resulting blood mask (the one you see in all the Instagram selfies – plasma is spread over your face as well as injected) was wiped off, I was out of the office in less than 30 minutes.
First blood: the results for Mary Cleary
So that was the procedure – painful but quick – but how about the results? I'll preface this section by saying that I bruise easily, which the doctor noted after his first injection. After the procedure, my face was red and slightly bruised, but ultimately fine.
By the time I got home, the bruise around my right eye had blossomed into a full-blown black eye, and while that was my experience, I have spoken to others who have walked away with nothing more than a few days of redness. Like every treatment, the results are a matter of your particular skin make-up.
Black eye aside, my skin did look significantly fresher, my pores were smaller, and the general darkness around my eyes was reduced. I sometimes use foundation or highlighter to counteract drabness and discoloration, but haven't felt the need to do so since the treatment. It is, in essence, like walking around with a permanent filter on – not radically changed but perceptibly, generally improved. This is only a few weeks in, but the full effect of the procedure is meant to come to fruition after three months and last for up to 18 months.
Ultimately, for me, the vampire facial delivered on what it promised. Whether it's worth the price in your own blood is up to you.
Receive our daily digest of inspiration, escapism and design stories from around the world direct to your inbox
Mary Cleary is the Beauty & Grooming Editor of Wallpaper*. Having been with the brand since 2017, she became an editor in February 2020 with the launch of the brand's new beauty & grooming channel. Her work seeks to offer a new perspective on beauty, focusing on the pioneering personalities, product designs, and transformative trends within the industry.